Public Recordings, New Dramatics: an editorial meeting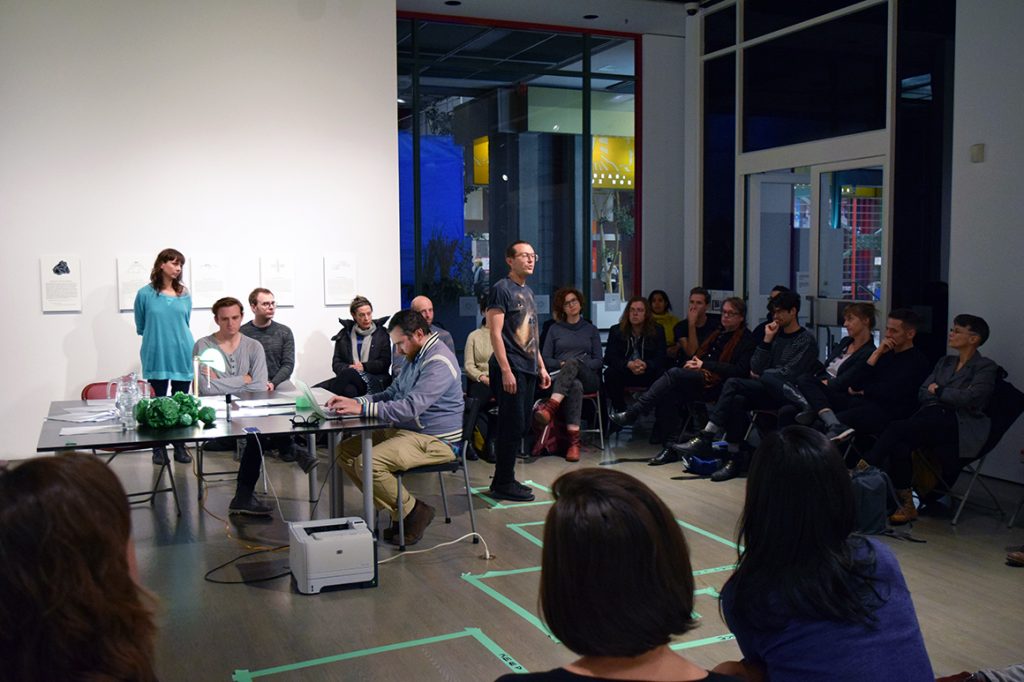 Wednesday, October 26
Doors open at 6 pm
Performance at 6:30 pm
Free admission
So much contemporary art combines practices of writing and performing together, in that order–so why does so little position itself as drama? Does this avoidance point to a failure of tradition, community or documentation? What does it say about the optics of collaborative practice, about power?
A magazine fits neatly into the gap between these questions.
Long-time collaborators inside and outside of Public Recordings, Evan Webber and Frank Cox-O'Connell had a problem with theatre that turned the company into the editorial committee for its first serial publication, planned to launch in 2017. New Dramatics presents texts, scripts, plays and scores that precede underseen and unseeable performance, playfully calling this writing dramatic literature.
Rehearsing writing
New Dramatics' format places two unpublished texts together with a commissioned essay that crosses the distance between them. Zine-making, unsurprisingly, shares a procedural resemblance to rehearsing. So New Dramatics gets made live. Where better to wonder what the new dramatics is?
In a singular event presented by the Leonard & Bina Ellen Art Gallery, the editorial committee uses the live situation to feel the space between Evan and Frank's Little Iliad and Nadia Ross and George Acheson's 7 Important Things. Writer and performance-maker Jacob Wren publicly creates an essay that crosses the gulf.
Concept and creation: Frank Cox-O'Connell and Evan Webber | Created in collaboration with: Ame Henderson, sandra Henderson and Jacob Wren | Design: Jeremy McCormick
---
PUTTING REHEARSALS TO THE TEST
It's not about models, it's about modeling
August 30 – October 29, 2016
Martin Beck, Rainer Bellenbaum, Merlin Carpenter, Harun Farocki, Marie Claire Forté and Alanna Kraaijeveld in dialogue with Sophie Bélair Clément, Hanako Geierhos, Richard Ibghy & Marilou Lemmens, On Kawara, Krüger & Pardeller, Achim Lengerer (in collaboration), minimal club, Regina (Maria) Möller, Yoko Ono, Falke Pisano, Constanze Ruhm, Klaus Scherübel, Wendelien van Oldenborgh, Katarina Zdjelar
Curated by Sabeth Buchmann, Ilse Lafer and Constanze Ruhm