SOVEREIGN ACTS II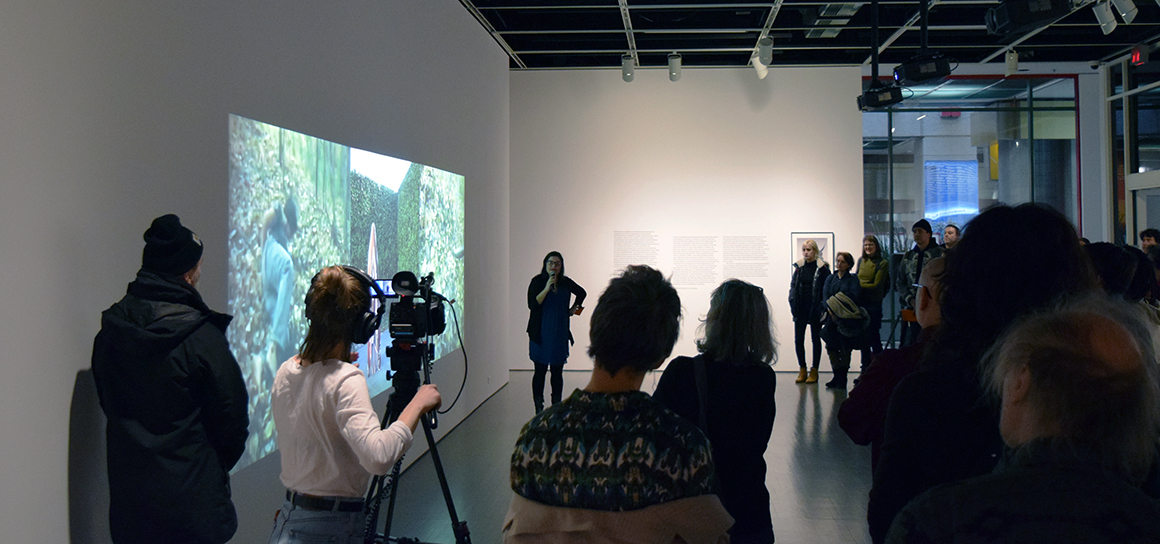 Saturday, January 21
Curator's Tour: 1:30 pm – 2 pm
Opening: 2 pm – 4 pm

A video of the Curator's Tour is available in the Audio | Video section.
---
Multilingual Tours
Tuesday, February 7, 5:30 pm
Tour in Urdu with Kanwal Syed
Kanwal Syed is a PhD student in Art History at Concordia University
·
Thursday, February 16, 5:30 pm
Tour in Farsi with Shirin Fahimi
Shirin Fahimi is a MFA Studio Arts student in open media at Concordia University
·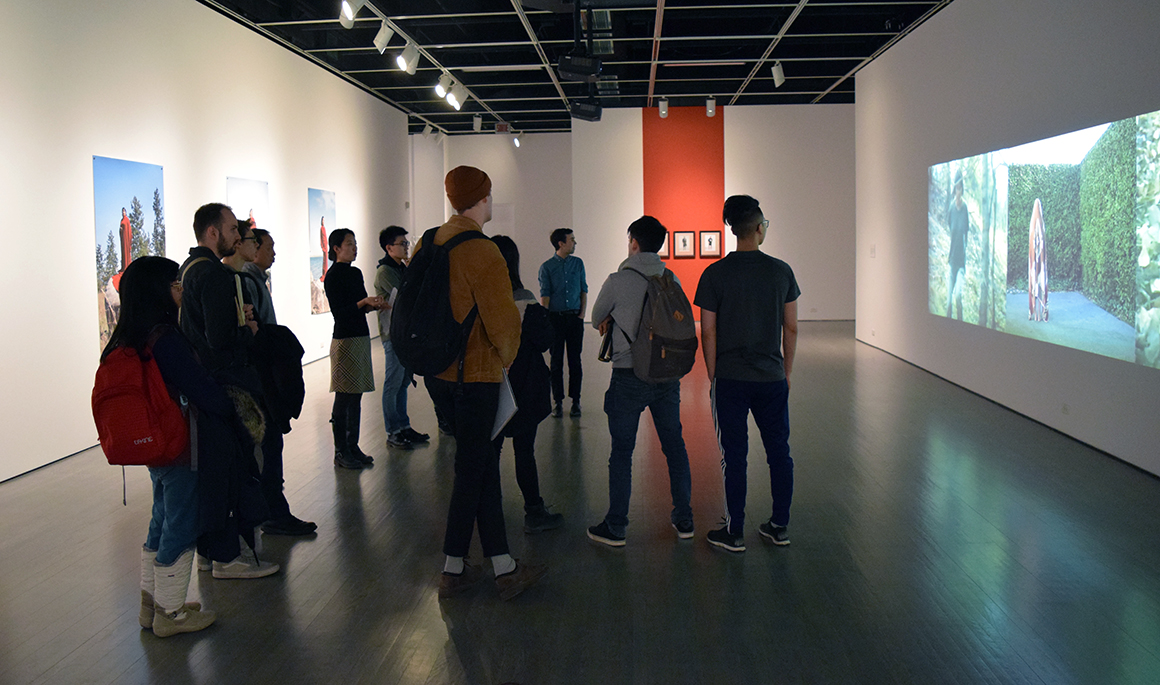 Tuesday, March 7, 5:30 pm
Tour in Mandarin with Tianmo Zhang
Tianmo Zhang is a MA student in Art History at Concordia University
As members of Taklif : تکلیف, Nima Esmailpour, Shirin Fahimi, and Kanwal Syed would like to thank Priya Zoe Jain for her assistance in the outreach for their respective tours and participation in the multilingual tour program.
Taklif : تکلیف is an imaginary platform and travelling library project that promotes the (un)learning practices associated with the Black, the Indigenous, and People of Colour communities through art and dialogue.
Free admission and no reservation required for all tours.
---
Lecture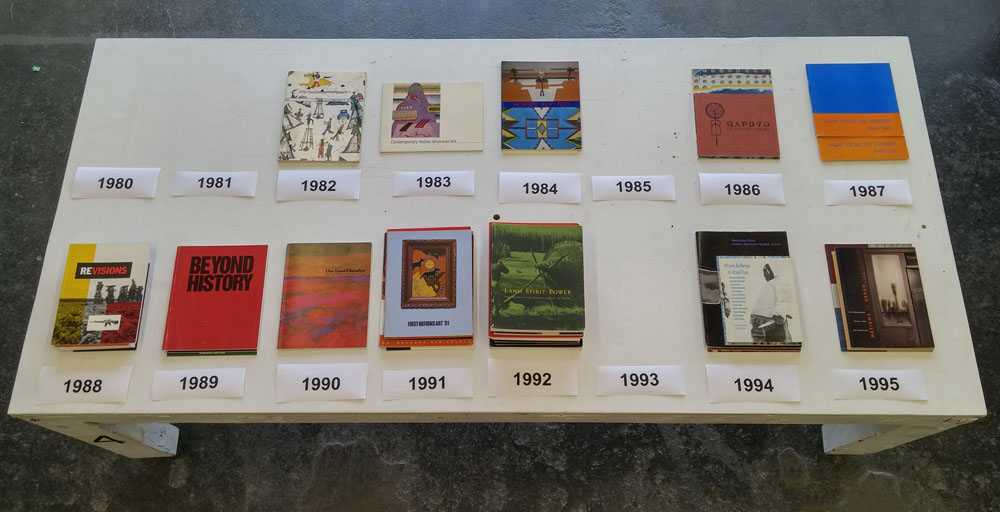 Monday, January 30, 5 pm – 7 pm
Researching Contemporary Indigenous Art in Public
Richard W. Hill, Canada Research Chair, Indigenous Studies, Emily Carr University of Art and Design, Vancouver
Since 2015, Richard Hill has been conducting research toward a book on Contemporary Indigenous Art from 1980 to 1995. In March 2016 he began a regular column on the Canadian Art website, a forum where he could "think out loud in public about questions and controversies arising" from this research. This talk will simultaneously address the primary motivations for researching this period, why he has attempted to make parts of the research process public in advance of the completion of the book and what it has been like to do so.
Richard William Hill is Canada Research Chair in Indigenous Studies at Emily Carr University of Art and Design. Hill taught full-time in the Art History program at York University, beginning in 2007 and leaving as Associate Professor in 2015. As a curator at the Art Gallery of Ontario, he oversaw the museum's first substantial effort to include Indigenous North American art and ideas in permanent collection galleries. Hill's essays on art have appeared internationally in numerous books, exhibition catalogues and periodicals. His regular column Close Readings, featuring extended reviews of contemporary Indigenous art, began in FUSE Magazine in 2013 and now continues in C Magazine. He also has a regular column at canadianart.ca. He is currently on the editorial board of the journal Third Text.
As part of First Voices Week – facebook.com/firstvoices
At the Gallery, free admission

A video of the lecture is available in the Audio | Video section.
---
Local Records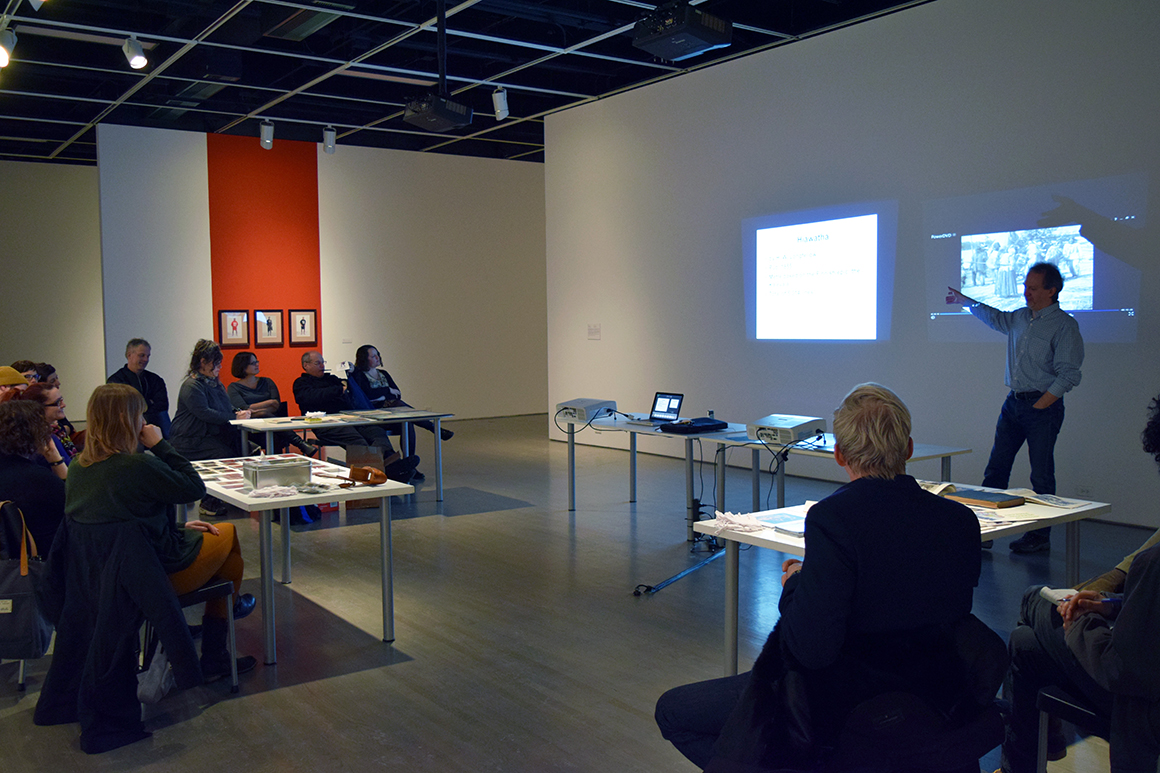 Wednesday, February 8, 5:30 pm – 7:30 pm
Hiawatha Play and Pageants, Garden River First Nation, 1901-1969
Karl Hele, Associate Professor and Director of First Peoples Studies Program, Concordia University
Workshop led by Karl Hele on questions of resistance, resilience, and representation found within the history of the Hiawatha Pageant and Play as performed by people from Garden River First Nation.
Since 1901 to the current day members of Garden River First Nation have staged various plays to non-Native and Native audiences in Canada, the United States, and Europe. From 1901 to 1969 the community annually staged a version of the Hiawatha play, which it based on Henry Wadsworth Longfellow's "The Song of Hiawatha." During the same period community members also performed a variety of plays that celebrated their history and culture. These dramas concentrated on the historical and 'mythical' Ojibwa past, which ended when civilization arrived. While these dramatic narratives appear to represent the rise and fall of Indigenous traditions, the undertones carry different messages. The idea of Hiawatha, beginning with the poem's release in 1854, also captured Western imaginations leading to multiple stagings of the play by various non-Indigenous peoples as well as the creation of a plethora of cultural artifacts. Moreover each performance of Hiawatha by the Ojibwa delivered a message to the audience concerning colonialism and Indigenous peoples. As such, these performances represent a multifaceted dialogue with the colonizer and a unique window on how history performed can carry several meanings. Specifically, this workshop will examine issues of appropriation and re-appropriation as well as how the Anishinaabeg adopted and adapted European assumptions concerning 'Indians'. This session will seek to address the questions surrounding agency, colonialism, (re)appropriations, and understandings through visual imagery and written texts by examining a range of materials associated with the Hiawatha plays (pictures, post cards, play books, films, newspaper reports, musical scores, etc) drawn from my personal collection and some archival records shared by Chicago Film Archives.
Karl Hele is a member of the Garden River First Nation (Anishinaabeg/Chippewa), as well as the Director of and Associate Professor in First Peoples Studies Program at Concordia University. He completed his Ph.D. in History from McGill University in 2003, titled "'By the Rapids': The Anishinabeg-Missionary Encounter at Bawating (Sault Ste. Marie), c.1821 -1871." Additionally, Dr. Hele has published 13 articles, edited four collections of papers, co-edited three editions of the Algonquian Society proceedings, and wrote two monographs about the alienation of his reserve's land as well as reviewed books for Urban History Review, Canadian Journal of Native Studies, and H-AMINDIAN@H-NET.MSU.EDU. Dr. Hele has also acted as a peer reviewer for Social Science and Humanities Research Council grants and journals such as the Canadian Historical Review, Journal of the Canadian Church Historical Society, Canadian Journal of Native Studies, and Journal of Mennonite Studies. Dr. Hele has presented his research at numerous academic conferences and given several invited lectures in Canada, United States, Mexico, and Poland. He is also a member of the Great Lakes Research Alliance for the Study of Aboriginal Arts and Cultures and co-founder of the Center for the Study of Indigenous Border Issues.
At the Gallery
Local Records is a program that pairs exhibitions with relevant archival holdings in Montreal. Animated by a guest researcher each seminar coordinates encounters and discussions around a selection of primary documents, offering a local lens through which to consider the exhibition and a point of departure for new research.
---
Response
Tuesday, February 14, 5:30 pm
Critical commentary by Lindsay Nixon
In a recent text for Canadian Art, critic and curator Richard William Hill asks: "Was Indigenous art better in the 1980s and early '90s?" Similar ventures into canonizing Indigenous art have led a new generation of artists and visual historians to rejoin: better for whom? The 1980s and 1990s were a dead period for Indigenous queer, trans, and two-spirit art. This is not only an issue of representation, but also an issue of Indigenous governance and a sign of unbalanced relations. Whose identities have we allowed in the gallery and who have we not? Dayna Danger and Adrian Stimson are two of the many Indigenous artists who are creating from their bodies, genders, and sexualities like never before in Indigenous art histories. Danger and Stimson boldly resist the boundaries of what we consider to be Indigenous art, restoring their beings, bodies, genders, sexualities, and reproductive lives from colonial institutions through play, self-representation, and sexual self-determination.
Lindsay Nixon is a nehiyaw-saulteaux-Métis curator, writer, community organizer, and MA student in Concordia University's art history department. They are the co-founder of the Indigenous Arts Council, and the editor of IAC's Indigenous literary arts, art, and art criticism journal, mâmawi­-âcimowak. They are also the co-founder of the Black Indigenous Harm Alliance. Nixon's work has appeared in Malahat Review, Room, GUTS, Briarpatch, and other publications. They currently hold the position of Indigenous Editor at Large for Canadian Art magazine. Lindsay currently resides in Tio'tia:ke/Mooniyaang, unceded Haudenosaunee and Anishinabe territories (Montreal, QC).
Lindsay's research explores the confluence of Cree, Anishinabe, and Métis kinship, identities, and communities in the prairies of colonial Canada and the Northern United States, through art practices that negotiate cultural hybridity. Their work also addresses contemporary issues of relationality, kinship, and love through Indigenous feminist art practices.
At the Gallery
·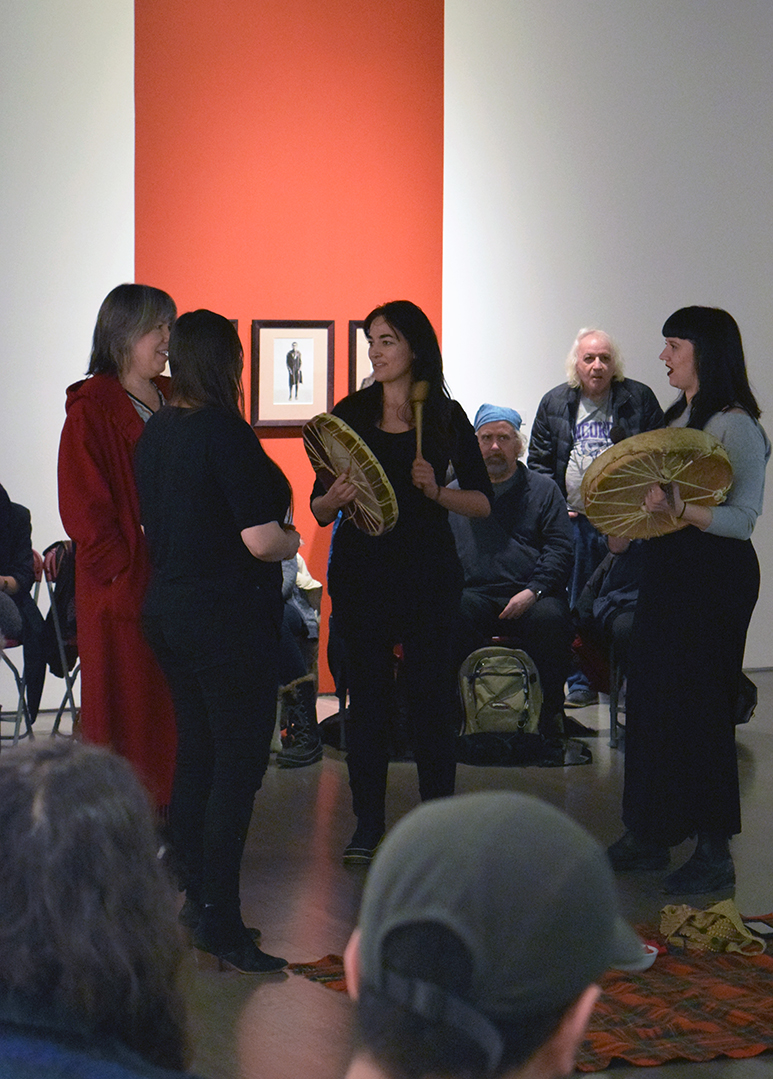 Tuesday, February 28, 5:30 pm
Indigenous women's drum group, Odaya, responds to the exhibition by way of a concert.
Odaya is a Non-Profit Organization registered in 2007. At that time, most of its founding members were working for Quebec Native Women´s Association in Kahnawake. These dynamic, creative and engaged Aboriginal Women draw their strength from their ancestral heritages. They aim to help raise awareness within the population about the diverse and complex realities of Aboriginal Peoples, as well as the injustices and wounds due to Colonialism. Odaya is also active at creating bridges between Indigenous Peoples worldwide. Its mandate is to create, sing and celebrate the richness of First Nations cultures while creating and supporting projects and events that promote the rights of Indigenous Peoples and women. In the last few years, Odaya was part of many artistic events such as the Accès-Asie Festival, Multi-Montréal Festival, Présence Autochtone Festival and the 400th anniversary of Quebec City. Odaya has also been invited to be part of the International Peoples conference on Arts for Social Transformation (Philippines, 2011) as well as the World Social Forum (Tunisia, 2013).
At the Gallery

Videos of the critical commentary by Lindsay Nixon and the Odaya concert are available in the Audio | Video section.
---
January 21 – April 1st 2017
Curator: Wanda Nanibush
Rebecca Belmore, Lori Blondeau, Dayna Danger, Robert Houle, James Luna, Shelley Niro, Adrian Stimson, Jeff Thomas