ᐊᕙᑖᓂᑦ ᑕᒪᐃᓐᓂᑦ ᓄᓇᑐᐃᓐᓇᓂᑦ
Among All These Tundras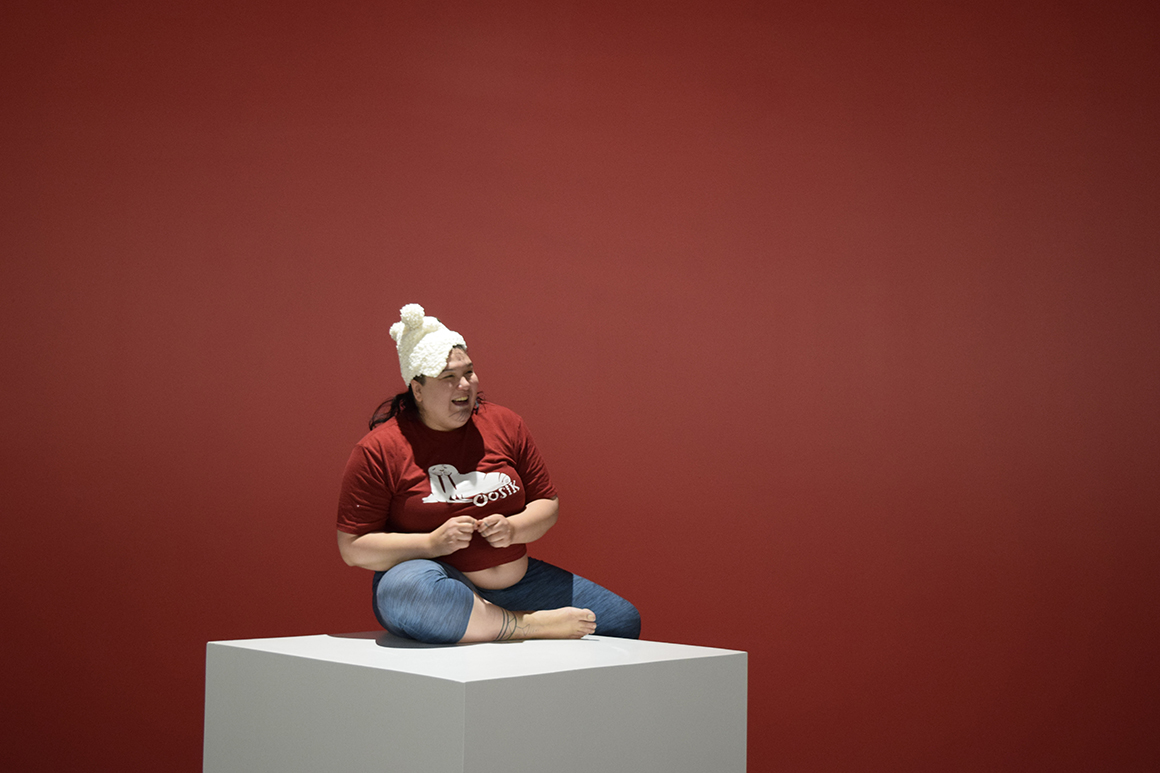 OPENING
Saturday, September 8, 3:00 pm – 5:00 pm
Free admission
At the Gallery
Facebook event
---
performance
Saturday, September 8, 3:00 pm – 5:00 pm
Monday, September 10, 3:00 pm – 5:00 pm
siku/siku by Allison Akootchook Warden
In Alaskan arctic communities the Iñupiaq word siku names both ice and methamphetamine. For her two-part performance Warden addresses both senses of the word, considering the social and personal consequences of colonization and means of resistance through language revitalization.
Free admission
At the Gallery
---
Conversation
Tuesday, September 11, 5:30 pm
With curators Amy Prouty and Charissa von Harringa, and artists Asinnajaq, Jade Nasogaluak Carpenter, Taqralik Partridge, Inuuteq Storch, and Allison Akootchook Warden.
Walking through the exhibition, curators Amy Prouty and Charissa von Harringa, and artists Asinnajaq, Jade Nasogaluak Carpenter, Taqralik Partridge, Inuuteq Storch, and Allison Akootchook Warden discuss the works presented, the artists' practice, and the questions and issues raised in Among All These Tundras.
Free admission
At the Gallery
Facebook event
---
LECTURE
Thursday, September 13, 5:30 pm
The Encounter Between Nation States and Indigenous Peoples, Ánde Somby (Associate Professor in the Faculty of Law, University of Tromsø)
How many legal shapes can the encounter between a nation state and an Indigenous people take? This presentation traces the various approaches taken when a nation state has established its presence in a territory already populated. Does the state simply use the people already living there as resources along with the riches that the territories offer? For example, as slaves? Or do they just cleanse the territories of these people? Do they criminalize the people or tolerate their presence until worthier interests emerge? Or are the people educated and integrated? Does the state consult them? Give them veto power? Or even the right to propose initiatives themselves? We will follow this line of inquiry with examples from history as well as from today's reality to analyze the encounter between nation states and Indigenous peoples.
Free admission
At the Gallery
Facebook event
---
Concert
Saturday, September 15, 6:00 pm – 9:00 pm
Ánde Somby
Nina Segalowitz & Lydia Etok
The animals inside the man and the man outside the animals
Are we simply humans? Or are there animals inside of us? Plants? Landscapes?
This is the question underlying Ánde Somby's performance, during which he "yoik-impersonates" birds, insects and animals. Inspired by the pre-Christian Sámi concept of transformation—that a human could change into an animal and back again—Somby considers our current moment when many birds and animals' lives are on the line. How would they comment, for example, on pollution?
With opening performance of Inuit throat singing by Nina Segalowitz and Lydia Etok
Entry fee : $5 – 10
La Sala Rossa, 4848 boul. St-Laurent
Co-presentation with Suoni per il popolo and CKUT 90.3
Facebook event
---
Conversation
Wednesday, October 3, 5:30 pm
Mobilizing 'Nipivut' (Our Voice), Gabriel Uqaituk, Annie Pisuktie and Steven Puskas.
Gabriel Uqaituk and Annie Pisuktie of Nipivut, Montreal's first Inuktitut radio show, and Stephen Puskas discuss Inuit-led radio as a way of understanding urban Inuit experience and identity. Meaning 'Our voice' in Inuktitut, Nipivut has been on-air since 2015 and is the only campus community radio show in the country broadcast predominately in Inuktitut. Attentive to the Truth and Reconciliation Commission's calls (no. 84–86) for more Indigenous language programming across Canadian media, the show is a much needed media outlet focused on urban Inuit affairs produced for and by Inuit. On this panel, the contributors reflect on their work on the show, Nipivut's role in community development and the history of Inuit community radio broadcasting.
Free admission
At the Gallery
Facebook event
---
Tour in arabic
Wednesday, October 10, 5:30 pm
Exhibition Tour in Arabic by Emma Haraké (MA student, Art Education, Concordia University) of the exhibition Among All These Tundras.
Throughout the year the Leonard & Bina Ellen Art Gallery offers commented tours in a number of languages. Guides introduce and address the principal concepts behind the exhibition before focusing on a few select works.
Tours are free and open to anyone interested in discussing and learning more about contemporary art.
Free admission
At the Gallery
Facebook event
جولة باللغة العربية مع ايما حركة (طالبة ماجستير، التربية الفنية، جامعة كونكورديا)
الأربعاء ١٠ تشرين الأول، الساعة ١٧:٣٠
رافقوا ايما حركة في جولة باللغة العربيّة على معرضنا.
على مدار العام، يقوم غاليري Leonard & Bina Ellen Art Gallery في جامعة كونكورديا بتقديم جولات إرشاديّة على معارضهم بلغاتٍ عدّة، حيث يقوم الأدلّاء بتعريف ومعالجة المفاهيم الأساسية لكل معرض، ملقيين الضوء على أعمالٍ مختارة. الزيارات مجانية ومتاحة لجميع الأشخاص المهتمين بالتعلّم والمناقشة والتعرّف أكثر على الفن المعاصر.
الدخول مجاني
رابط الحدث على الفيس بوك
---
response
Tuesday, October 16, 5:30 pm
La Toundra où qu'elle soit, se ressemble
A lecture by Joséphine Bacon
The Tundra, wherever it is, looks alike! It teaches us the immensity of the Earth. Joséphine Bacon responds to the exhibition vis-à-vis her own practice.
Born in 1947, Joséphine Bacon is an Innu poet from Pessamit. Director, lyricist, and author, she is considered as one of the guiding lights of Québec. She has worked as a translator and interpreter for elders, patiently learning how to listen to their words and the traditional knowledge they hold. Bacon frequently says that she is not a poet but a nomad at heart who speaks a language that is full of poetry wherein echo these elders who have marked her life. With these nomads and their love of open spaces in mind she published her first collection "Bâtons à message/Tshissinuashitakana" with Mémoire d'encrier in 2009. "Nous sommes tous des sauvages", in collaboration with José Acquelin, followed in 2011, "Un thé dans la toundra/Nipishapui nete mushuat" in 2013, and, most recently, "Uiesh – Quelque part" in 2018. As a filmmaker she has directed "Tshishe Mishtikuashisht – Le petit grand européen" (1997) and "Ameshkuatan – Les sorties du castor" (1978).
Lecture in French
Free admission
At the Gallery
Facebook event
---
Screening and performance
Tuesday, October 23, 5:30 pm
In the final week of Among All These Tundras, an evening presenting Maria Helander's latest short video Eatnanvuloš lottit (Birds in the Earth) (2018) followed by a performance by Taqralik Patridge.
Free admission
At the Gallery
Facebook event
More details to come…