BLUES KLAIR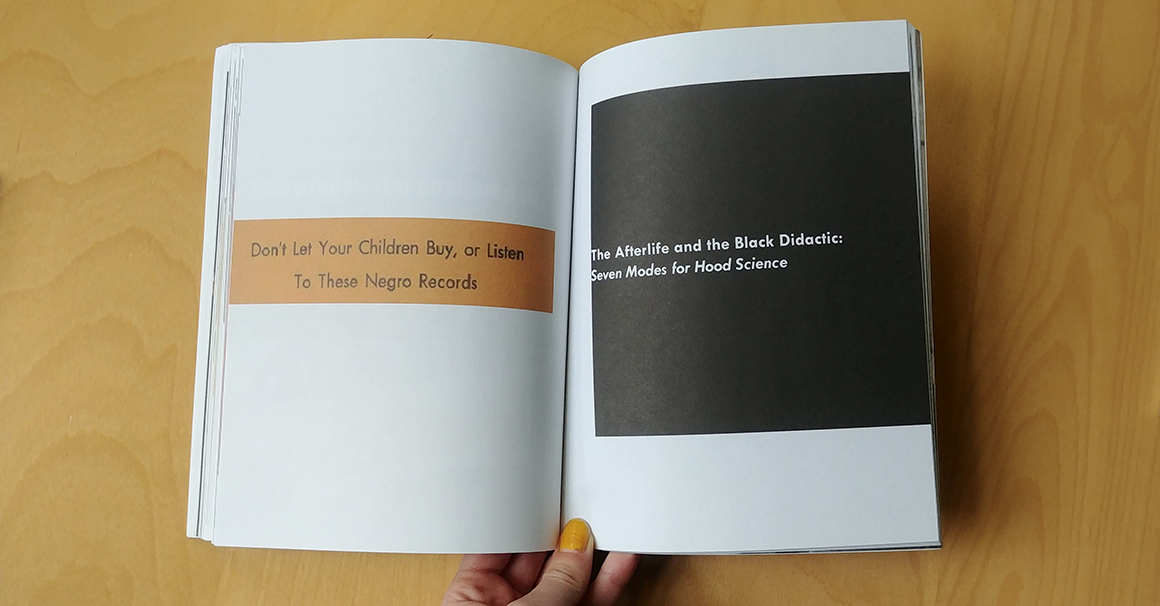 Harmony Holiday, Hollywood Forever (Fence Books, 2017)
OPENING
Saturday, November 17, 3:30 pm – 5:30 pm
Free admission
At the Gallery
Facebook event
DIALOGUE
Saturday, November 17, 4:00 pm
Dialogue between Vincent Meessen and Sylvano Santini.
Sylvano Santini is a professor in the Literary Studies Department at Université du Québec à  Montréal. He teaches late semiotics, theories of the relation between text and image, and the avant-gardes. He is preparing a study on "cine-fiction," a term he coined to define the performative relation of literature to cinema. Researcher with Figura, centre de recherché sur le texte et l'imaginaire, he has organized and moderated numerous activities. He is co-editor of the recently published Le cinéma de Marguerite Duras : l'autre scène du littéraire ? and director of the cultural magazine Spirale and Spirale Web.
In French
Free admission
At the Gallery
Facebook event
PERFORMANCE
Tuesday, November 27, 5:30 pm
Exilic Hope/We Don't Disappear
Harmony Holiday
Considering themes of absence, minor histories, and the black radical tradition as introduced in Blues Klair and the research methods they provoke, Los Angeles-based poet and choreographer Harmony Holiday has been invited to present a new performance working with audio and video archives that extend from, surround and inform her practice.
Holding the figure of the exile and the Uncle Tom archetype in mind, Holiday listens, looks, and responds to archives issued from the Black Arts. Approaching archives as spaces that demand and bait encounter, Holiday explores how improvisation opens to rites of passage and ritual, how dance and literature can revivify and chorus with this material, and how we owe embodied engagement to and are responsible for its generational wealth.
Could exile be what happens when exodus is deferred? How is it that some Black mystics go missing from the collective memory or really just vanish, as Albert Ayler and Henry Dumas did? Or as Sun Ra, Amiri Baraka, Abbey Lincoln, Billie Holiday, and Assata Shakur, among others, have. How can acts of mythmaking and reclamation reassemble their legacies, priming reception to and in face of their self-imposed aesthetic exile or just missingness?
Free Entry
At the Gallery
Facebook event
Harmony Holiday is a writer, dancer, archivist, and the author of four collections of poetry Negro League Baseball, Go Find Your Father/A Famous Blues, Hollywood Forever, and A Jazz Funeral for Uncle Tom, forthcoming. She also founded and runs Afrosonics, an archive of jazz and everyday diaspora poetics and Mythscience a publishing imprint that reissues and reprints work from the archive. She worked on the SOS, the selected poems of Amiri Baraka, transcribing all of his poetry recorded with jazz that has yet to be released in print and exists primarily on out-of-print records. Harmony studied rhetoric and at UC Berkeley and taught for the Alvin Ailey American Dance Theatre. She received her MFA from Columbia University and has received the Motherwell Prize from FenceBooks, a Ruth Lilly Fellowship and a NYFA fellowship. She is currently working on a book of poems called M a à f a and an accompanying collection of essays and memoir entitled, Reparations: Thieves Who Stole my Blue Days, as well as a biography of jazz singer Abbey Lincoln.