OWERÀ:KE NON AIÉ:NAHNE Filling in the Blank Spaces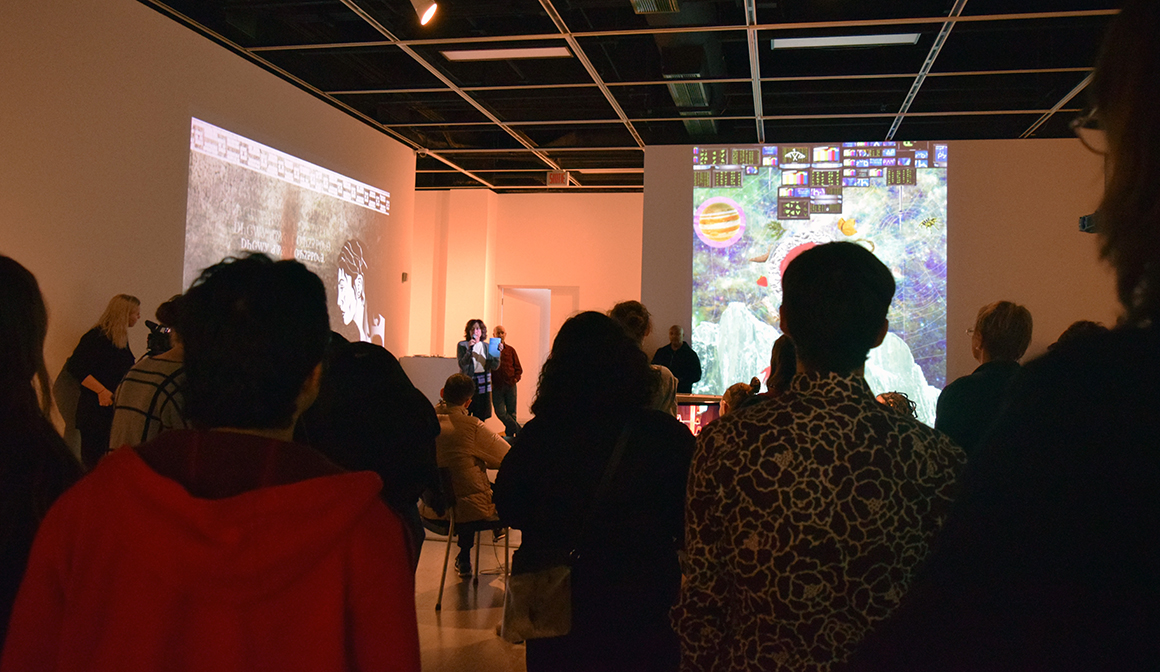 Opening
Saturday, November 4, 2017, 3 – 5 pm
---
Panel discussion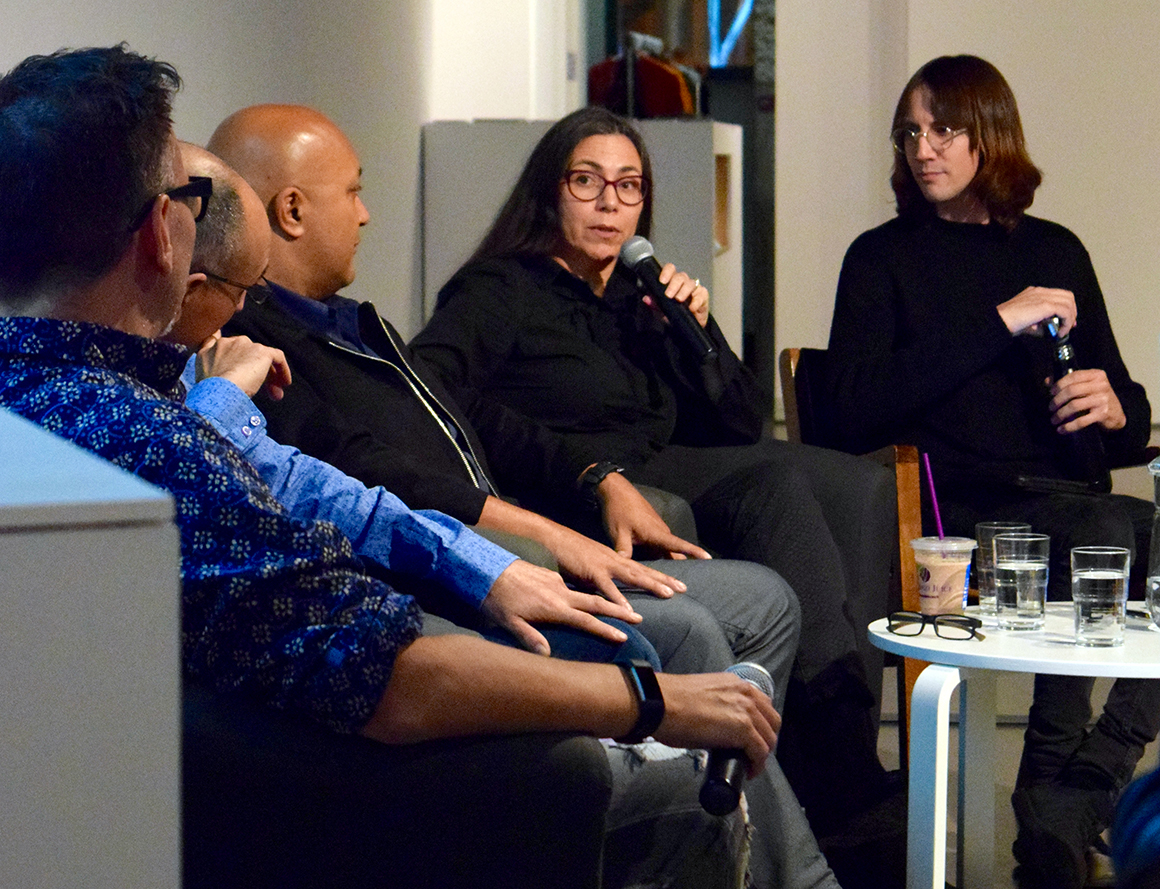 Monday, November 6, 2017, 5:30 pm
"CyberPowWow and the First Wave of Indigenous Media Arts"
Jason Edward Lewis, Archer Pechawis, Ryan Rice, and Skawennati
Moderated by Mikhel Proulx
Twenty years ago—far before the clean interfaces and social networks of today's digital culture—a group of artists launched CyberPowWow. It became the largest platform for network-based art made by Indigenous artists. This ambitious project emerged from remarkable forces in the 1990s, including Indigenous cultural activism, new media technologies and significant developments in Canadian art institutions. During the panel discussion, CyberPowWow's creator and three of its participants looked back at this ground-breaking project.
A video of the panel discussion is available in the Audio | Video section.
Jason Edward Lewis is a digital media poet, artist and software designer. He founded Obx Laboratory for Experimental Media, where he leads research/creation projects exploring computation as a creative and cultural material. He is a Trudeau Fellow, and University Research Chair in Computational Media and the Indigenous Future Imaginary as well as Professor of Computation Arts at Concordia University, Montreal. Before joining academia, Lewis spent a decade in Silicon Valley exploring early digital and networked media at industrial research labs and design firms. Lewis is Cherokee, Hawaiian and Samoan, and was born and raised in northern California.
Performance, theatre and new media artist, filmmaker, writer, curator and educator Archer Pechawis was born in Alert Bay, BC in 1963. He has been a practicing artist since 1984 with particular interest in the intersection of Plains Cree culture and digital technology, merging "traditional" objects such as hand drums with digital video and audio sampling. His work has been exhibited across Canada, internationally in Paris, France and Moscow, Russia, and featured in publications such as Fuse Magazine and Canadian Theatre Review. Archer has been the recipient of many Canada Council, British Columbia and Ontario Arts Council awards, and won the Best New Media Award at the 2007 imagineNATIVE Film + Media Arts Festival and Best Experimental Short at imagineNATIVE in 2009.
Archer has worked extensively with Native youth since the start of his art practice, originally teaching juggling and theatre, and now digital media and performance. He is currently a member of the Indigenous Routes collective, teaching video game development to Native girls: indigenousroutes.ca
Of Cree and European ancestry, he is a member of Mistawasis First Nation, Saskatchewan.
Mikhel Proulx researches contemporary art and digital cultures. He is a PhD student and faculty member in the department of Art History at Concordia University, Montreal. Mikhel's research considers Queer and Indigenous artists working with networked media, and he has curated exhibitions across Canada, Europe, and the Middle East.
Ryan Rice, Kanien'kehá:ka of Kahnawake, Quebec, is the Delaney Chair in Indigenous Visual Culture at OCAD University. His curatorial career spans over twenty years in museums and galleries. Rice served as the Chief Curator at the IAIA Museum of Contemporary Native Arts in Santa Fe, NM. He has also held curatorial positions at the Aboriginal Art Centre (Ottawa, ON), named curatorial fellowships with the Art Gallery of Greater Victoria (Victoria, BC) and the Walter Phillips Gallery (Banff, AB), and was Aboriginal Curator-In-Residence at the Carleton University Art Gallery. He received a Master of Arts degree in Curatorial Studies from the Center for Curatorial Studies, Bard College, New York; graduated from Concordia University with a Bachelor of Fine Arts and received an Associate of Fine Arts from the Institute of American Indian Arts, Santa Fe, New Mexico. Rice's writing on contemporary Onkwehonwe art has been published in numerous periodicals and exhibition catalogues, and he has lectured widely. Some of his exhibitions include ANTHEM: Perspectives on Home and Native Land, FLYING STILL: CARL BEAM 1943-2005, Oh So Iroquois, Scout's Honour, LORE, Hochelaga Revisited, ALTERNATION, Soul Sister: Re-imagining Kateri Tekakwitha, Counting Coup, Stands With A Fist: Contemporary Native Women Artists and ARTiculations in Print. Rice was also a co-founder and former director of the Aboriginal Curatorial Collective and currently sits on the Art Gallery of Ontario's Education Council, Ontario Association of Art Galleries and the Native American Arts Studies Association board.
Skawennati makes art that addresses history, the future and change from an Indigenous perspective. She produces machinimas—movies made in virtual environments—still images, sculpture and textile works.
Her pioneering new media projects have been presented in New Zealand, Hawaii, Ireland and across North America in major exhibitions such as "Now? Now!" at the Biennale of the Americas, and "Looking Forward (L'Avenir)" at the Montreal Biennale. Her award-winning work in is included in both public and private collections.
Born in Kahnawà:ke Mohawk Territory, Skawennati holds a BFA from Concordia University, and lives in Montreal.
---
Lecture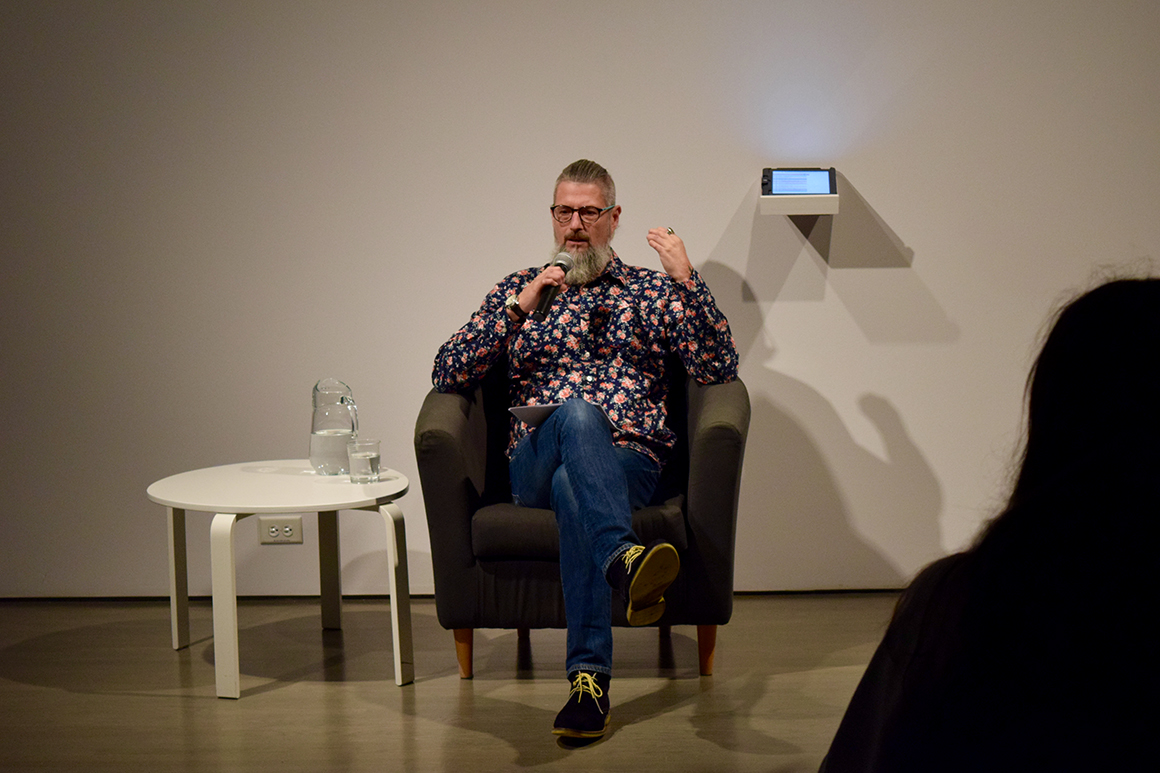 Thursday, November 16, 2017, 5:30 pm
"Remembering Tomorrow: AbTeC and the Indigenous future (and past) imaginary"
A lecture by Steven Loft
Steven Loft is a Mohawk of the Six Nations with Jewish heritage. He is currently the Director of the Creating Knowing and Sharing: The Arts and Cultures of First Nations, Inuit and Métis Peoples program with the Canada Council for the Arts. A curator, scholar, writer and media artist, in 2010 he was named Trudeau National Visiting Fellow at Ryerson University in Toronto. Loft has also held positions as Curator-In-Residence, Indigenous Art at the National Gallery of Canada; Director/Curator of the Urban Shaman Gallery (Winnipeg); Aboriginal Curator at the Art Gallery of Hamilton; and Producer and Artistic Director of the Native Indian/Inuit Photographers' Association (Hamilton). He has curated group and solo exhibitions across Canada and internationally, written extensively for magazines, catalogues and arts publications, and lectured widely in Canada and internationally. Loft co-edited the books Transference, Technology, Tradition: Aboriginal Media and New Media Art (Banff Centre Press, 2005) and Coded Territories: Indigenous Pathways in New Media (University of Calgary Press, 2014).
A video of the lecture is available in the Audio | Video section.
---
Workshop Series
The workshops series are led by Skawennati, Jason Edward Lewis and the AbTeC production team and comprises four workshops across four weeks in November. Participants are taught tools and methods in the emerging technique known as machinima—filmmaking in virtual environments.
WEEK 1: Introduction to Second Life/AbTeC Island
Tuesday, November 7, 10 am – 12 pm
WEEK 2: Future character design with Indigenous participants
Tuesday, November 14, 10 am – 12 pm
WEEK 3: Intro to machinima demo
Friday, November 17, 2 – 4 pm
Prerequisite: Participants must have participated in Workshop 1
WEEK 4: Machinima workshop
Friday, November 24, 9 am – 5 pm; Saturday, November 25, 9 am – 5 pm
Prerequisite: Participants must have participated in Workshop 3
More information about the workshop series here.
---
OWERÀ:KE NON AIÉ:NAHNE
FILLING IN THE BLANK SPACES
An exhibition-forum on the research and creative work of Aboriginal Territories in Cyberspace
November 4 – December 2
A project by Jason Edward Lewis and Skawennati