SIGHTINGS 35
PEDESTRIANS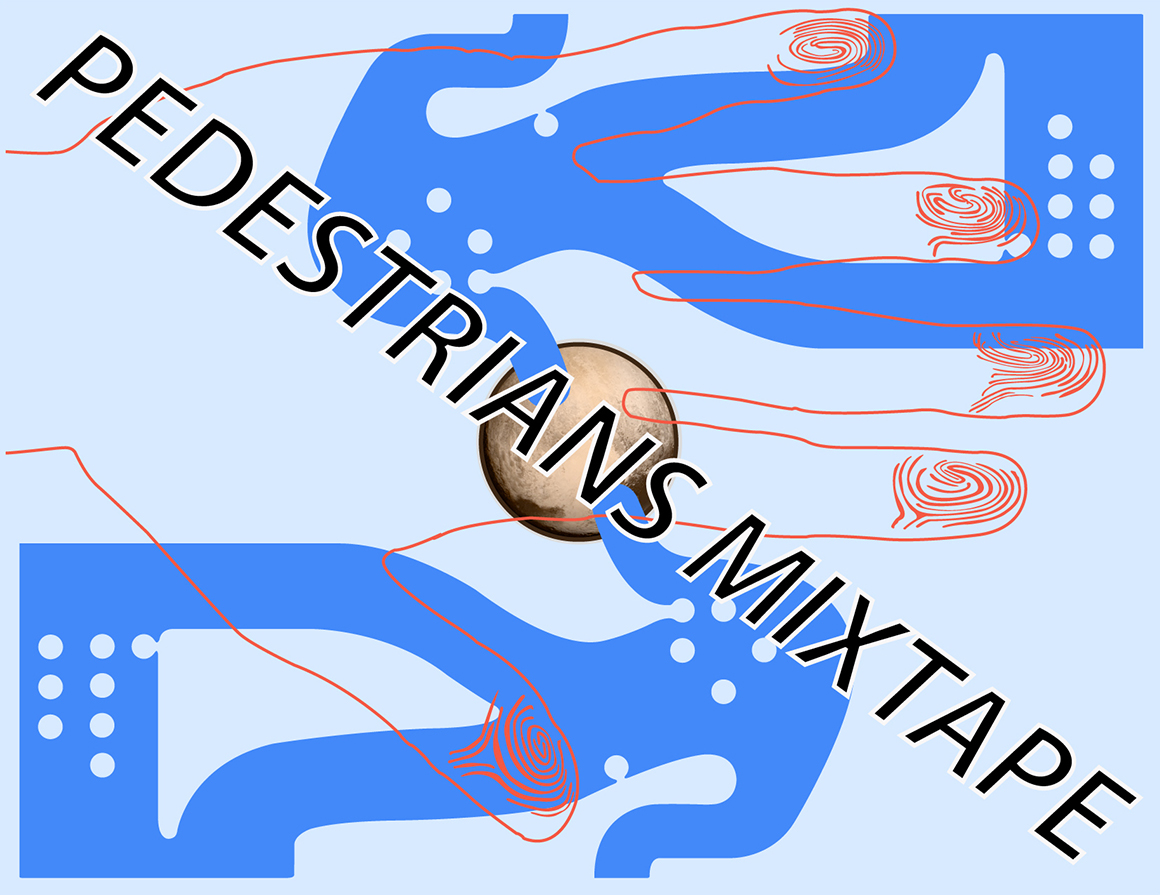 Pedestrians Mixtape
Organized by Elly Reitman
Featuring: Max Guy, Rindon Johnson, Coco Klockner, Alx Velozo and Julian Yi-Zhong Hou
Tuesday, August 16, 2022
New time for the event: 6 PM
Zoom, YouTube
In English
Free, online
On August 16, Reitman will present Pedestrians Mixtape, a compilation of audiovisual segments responding to the conceptual themes of the installation Pedestrians and the theme of fiction. Turning the SIGHTINGS cube into an experimental radio booth, Reitman will broadcast online a curated program of works by different artists and collaborators.
This public program is part of SIGHTINGS 35, presented from May 23 to September 11, 2022 on the ground floor of the Hall Building of Concordia University: 1455, blvd. De Maisonneuve West, accessible weekdays and weekends from 7 am to 11 pm.
PROGRAM
Max Guy, We are worst bent by invisible hands (excerpt), 2022, 5 min. 20 sec.
A video of a metronome with a voiceover of the artist reading from We Are Worst Bent and Troubled By Invisible Hands, which is a chapter in an untitled bildungsroman about a necromancer that he writes in his spare time.
Alx Velozo, Follow My Tracks, 2020, 6 min. 07 sec.
In this performance a track of hospital hold lines, a chronically ill protest lecture, and a disco pop ballad are compiled to score disabled movement across a cornstarch covered floor. The performance leaves the trace of the artist's movements and cane in the cornstarch residue.
Rindon Johnson, Flux in 3 Parts, 2022, 5 min. 23 sec.
Flux in 3 Parts are 3 memories of 3 times and 3 different places, some are the artist's.
Coco Klockner, the kiss, 2018, 16 min. 46 sec.
A two-channel video (flattened for one-channel output) that probes two figures: the undercarriage of a failing 1990 Toyota pickup truck and the artist's body in 2018.
Julian Yi-Zhong Hou, Panpsychic Sound Floor, 2022 (work in progress), 6 min. 25 sec.
Panpsychic Sound Floor is an experimental work in progress involving trance states, dictating the unconscious and the imagination.
BIOGRAPHIES
Read more
Elly Reitman (b. 1990) lives as a guest on unceded Indigenous lands in Tioh'tià:ke / Montreal. They received a BFA from The Cooper Union and an MFA from the Milton Avery Graduate School of the Arts at Bard College, and studied Acupressure and TCM Naturopathy at École Setsuko. Recent projects include exhibitions at Joe Project, Baba Yaga, CAVES, Gern en Regalia, 321 Gallery and Baader-Meinhof, and performances at Bard College, PAM, 99 Scott, Sculpture Center and the Rialto Theatre.
Max Guy lives in Chicago, IL. Guy works with paper, video, performance, assemblage and installation. He uses fast, ergonomic, ways to make poetry of the world, filtering it through personal effects. Guy received his BFA in 2011 from Maryland Institute College of Art and his MFA in 2016 from Northwestern University.
Rindon Johnson is an artist and writer. He is the author of Nobody Sleeps Better Than White People (Inpatient, 2016), the VR book Meet in the Corner (Publishing-House.Me, 2017), Shade the King (Capricious, 2017) and The Law of Large Numbers: Black Sonic Abyss (Chisenhale, Inpatient, SculptureCenter 2021). His newest book of poems Ever Given is forthcoming from Inpatient Press in September 2022. He was born on the unceded territories of the Ohlone people. He lives in Berlin.
Coco Klockner is an artist and writer in Brooklyn, NY, USA. Using sculpture, sound, and video, their work operates as a byproduct of oblique studio processes and systems of thought surrounding the circulation of ideology. Recent exhibitions of their work include LUBOV (NYC), White Columns (NYC), The Luminary (STL, MO), Guadalajara90210 (CDMX), and Bass & Reiner (San Francisco, CA).
Alx Velozo is a trans and disabled artist and educator raised in North Florida swamps, currently residing in Baltimore, Maryland. Their installations and performances combine cultural imaginations of illness, touch, the medical industrial complex, and kinesthetic learning models. They most recently received their MFA from Virginia Commonwealth University, and previously received a BFA from Cooper Union. Velozo has exhibited, taught, and facilitated in New York, New Jersey, Philadelphia, Richmond, Miami, Chilchota, MX, and Montreal.
Julian Yi-Zhong Hou (b. 1980) is a multidisciplinary artist born in Edmonton, Alberta, Treaty 6 territory, and currently resides in Vernon, on the unceded land of the Syilx peoples of the Okanagan Nation. His work centres around contemporary mystical subjects including consciousness, divination ritual practice and research, and symbology. His work has been the focus of solo and group exhibitions at Zalucky Contemporary, Toronto; 8-eleven,Toronto; Artspeak, Vancouver; and the Vancouver Art Gallery. His most recent work, Grass Drama, has been shown in parts at Malaspina Printmakers Society, Vancouver (2021), Contemporary Art Gallery, Vancouver (2020), Cassandra Cassandra, Toronto (2019); Unit 17, Vancouver (2018); and in Charcuterie 4 (2018).
Close
SIGHTINGS 35
This public program is part of SIGHTINGS 35, presented from May 23 to September 11, 2022 on the ground floor of the Hall Building of Concordia University: 1455, blvd. De Maisonneuve West, accessible weekdays and weekends from 7 am to 11 pm.