Thinking again and supposing. Trajectory of an exhibition
Sarah Greig + Thérèse Mastroiacovo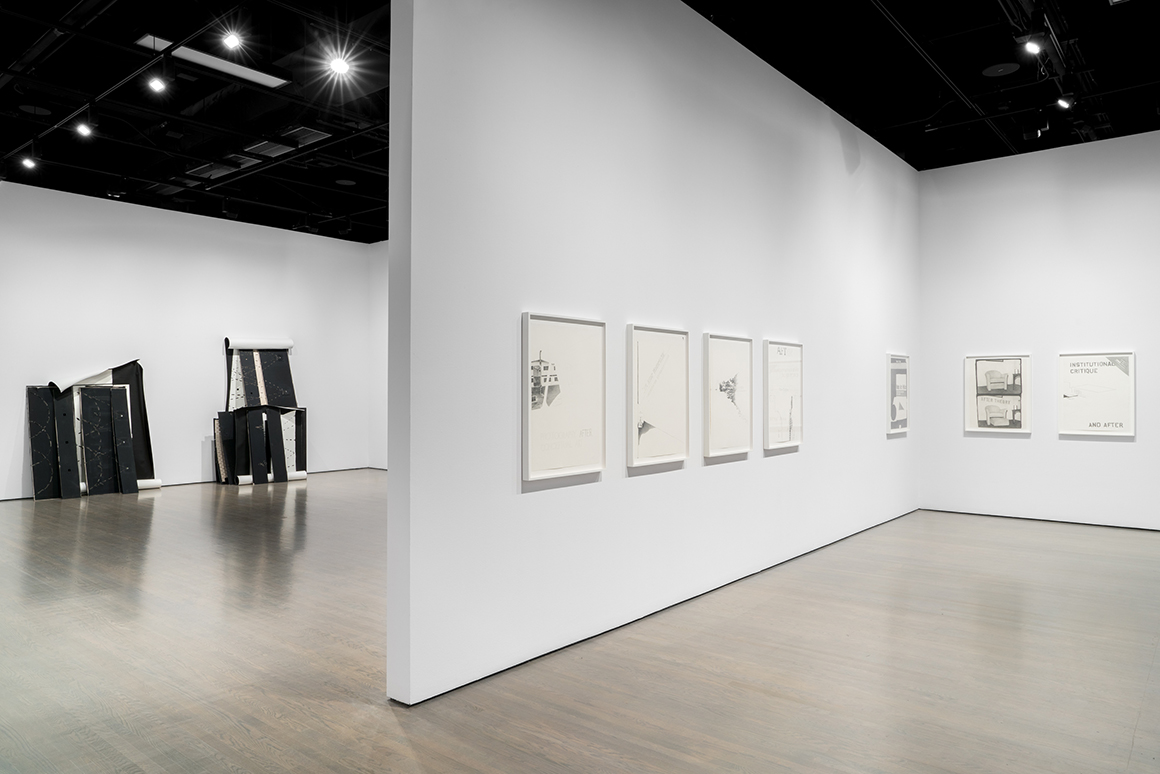 جولة باللغة العربية
الثلاثاء ٢٧ سبتمبر ، 5:30 مساءً
في الغاليري
مجاناً، بالعربية
انضموا إلى الفنانة والباحثة لين قديح في جولة ومحادثة باللغة العربية  لمعرضنا الحالي "التفكير مرة أخرى، ثم الافتراض- مسار معرض‫".
من تنسيق ميشيل تيريولت، يجمع المعرض أعمال سارة غريغ وتيريز ماستروياكوفو للنظر في التزامهما المتبادل بالرسم المفاهيمي والعمل الفني بمسار مفتوح واستراتيجيات العرض‫.
كجزء من برنامج متكرر، تخصص هذه الجولات مساحة للمتحدثين باللغة العربية في مونتريال للاجتماع في المعرض والمشاركة في التبادلات النقدية حول الفن المعاصر وصنع المعارض.
Tour in Arabic
Tuesday, September 27th, 5:30 PM
In the Gallery
Free, in Arabic
Join educator and artist Lynn Kodeih for a tour in Arabic of our current exhibition Thinking again and supposing. Trajectory of an exhibition. Curated by Michèle Thériault, the exhibition brings together works by Sarah Greig and Thérèse Mastroiacovo to consider their mutual commitment to conceptual drawing, open-ended processes, artistic labour, and strategies of display.
Part of a recurrent program, these tours reserve space for Arabic speakers in Montreal to meet at the Gallery and engage in critical exchanges on contemporary art and exhibition making.
Conversation: Sarah Greig and Eric Lewis
Tuesday, October 4, 6:00 PM
In English
Free, at the Gallery
In this guided discussion with Sarah Greig, we will open up space to consider her work in Thinking Again and Supposing. Trajectory of an Exhibition from a number of perspectives/views and conceptual locations. Precisely how do these works reveal process, and what process or processes? How is the gallery visitor implicated in these works, how do they enter into the process? What histories of seeing and documentation are being revealed here, and why? How is structure, process, action and improvisation being treated, and themselves improvised with? We will tour the exhibit stopping to focus on particular works, Greig's graphic score important among them, and also have time to invite the audience to ask questions, to enter into the process of entering into her process, acts which themselves can be seen as bringing into full actuality the works being shown.
Read more
Eric Lewis is a Professor of Philosophy at McGill University, whose research focuses on the aesthetics, ontology and politics of improvisatory arts. His books include From Fruit to Root: Medea Electronique's Interactive Archive of New Media Art, Intents and Purposes: Philosophy and the Aesthetics of Improvisation, Improvisation and Social Aesthetics, and The Video Art of Sylvia Safdie. He is active both as an improvisor on brass and electronics, and as an art curator.  He is a member of Medea Electronique, an Athens-based collective of new media artists, runs the Koumaria improvised art residency, is the president of Arts in the Margins, director of Laboratory of Urban Culture, and sits on the management team of International Institute for the Critical Study of Improvisation.  He is presently writing a book on Jeanne Lee, focusing on how experimental vocal techniques have been used in acts of identity formation by black women artists.
Close
Local Records: Sonia Sheridan Fonds with AM Trépanier

Thursday, October 20, 2:00 PM – 5:00 PM
In French and English
Free, at the Médiathèque, Cinémathèque québecoise, 335 boul de Maisonneuve E.
RSVP: robin.simpson@concordia.ca
In art lingo, a study typically refers to a work that captures a moment with a future composition in mind, or an exercise aimed at building skills for who is executing it.
As artists, Sarah Greig and Thérèse Mastroiacovo place study at the heart of their practice, asserting a "generative 'unfinishedness'" in their works. Their rigorous processes of image capture and (re)generation through drawing correlate with the dynamic thinking behind the Generative Systems program, created and directed by artist Sonia Landy Sheridan (1925-2021). On offer at the School of the Art Institute of Chicago from 1970 to 1980, this unique program focused on the transmission between artists, industrialists, scientists, and students, and was anchored to the technical apparatuses—copiers of all sorts, analogue synthesizers, computers, software, and video cameras—found in the classroom. For the lab coat-garbed students who passed through the program these technologies became at once the subject and the tools of study.
The archives of the vast undertaking that made up Generative Systems are preserved in the Sonia Sheridan fonds, acquired by the Daniel Langlois Foundation in 2005 and transferred to the Cinémathèque Québécoise in 2011, where they are kept today. The documents within underscore Sheridan's role as a precursor in the fields of art, media, technology, and pedagogy. From a selection of prints, technical drawings, personal notes, pedagogical material, slides and videos, this workshop will examine the study as a generative method at the heart of creative practice.
Read more
AM Trépanier is an artist-researcher, editor, and master's student in Media Studies at Concordia University in Tiohtià:ke/Mooniyang (Montreal). They are a research assistant for the Digital Intimacy, Gender & Sexuality Lab and member of the Feminist Media Studio, both at Concordia. Their academic research examines the intersections between art and activism, self-determination, information infrastructure, as well as feminist and queer critiques of media and technology. Since 2018, they have co-directed with Laure Bougault the journal Cigale, a bilingual publication dedicated to the publication of artists' writing. Their writing on art and culture has been published in various journals and magazines, such as Public Parking, Termes (Galerie Leonard & Bina Ellen), OEI, Cigale, Sabir, Spirale, Synoptique: Online Journal of Film and Moving Image Studies et Architecture | Concordia.
Close
Quatuor Bozzini
Tuesday, October 25, 6:00 PM
Free, at the Gallery
On the evening of Tuesday, October 25 join us again at the Gallery for a final event with Quatuor Bozzini who will perform a live string interpretation of a graphic score composed by Sarah Greig, the study of which can be found in the exhibition.