REPRISE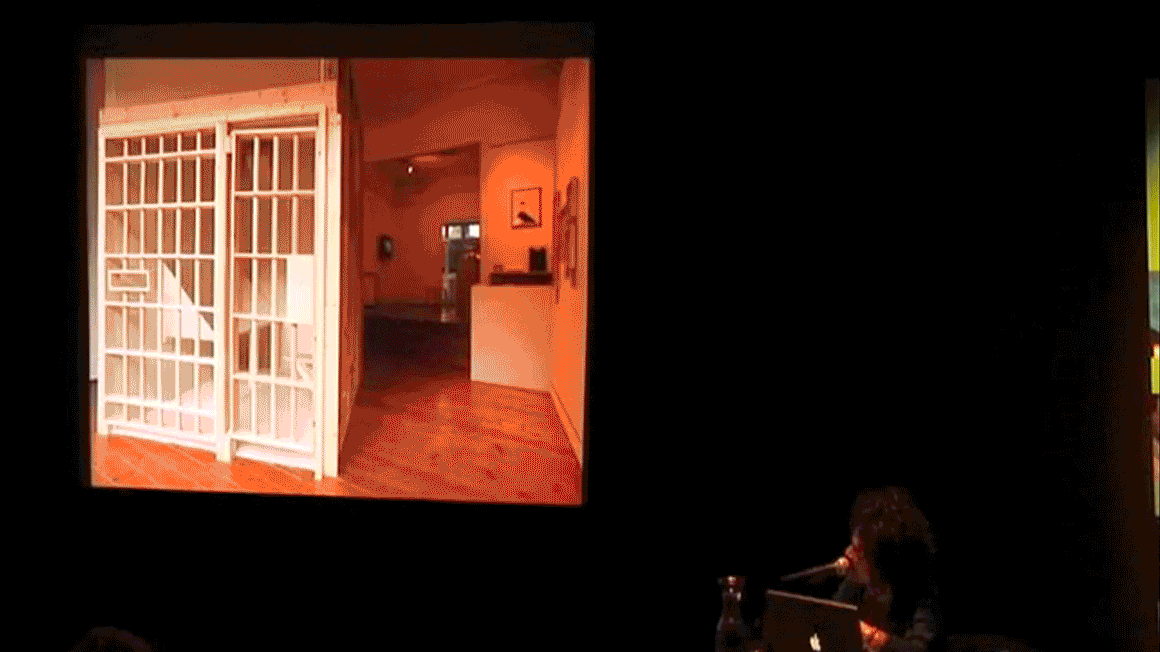 The online program Reprise reactivated the Leonard & Bina Ellen Art Gallery's public programming archives through a series of responses to selected events from the past decade (2010-2019). In a bimonthly dispatch from May to August, each iteration invited a guest proximate to a past event—either directly involved in its realization, witness to it, or in dialogue with it at the time—to reflect on the stakes in reviewing and renewing the ideas, positions and conversations from the standpoint of today.
Reprise sought to promote a dialogue between the past and the present by linking audio and video documentation of a lecture, performance, or discussion with critical writing and retrospective study.
May 15
Nika Khanjani responds to the lecture The House That Herman Built by Jackie Sumell – February 10, 2010
Read more
"to laugh is liberty"
– Herman Wallace as cited by Jackie Sumell
This project answers a demand for focus by asking us to imagine wildly. "The House That Herman Built" was a collaboration between artist Jackie Sumell and Herman Wallace, a Black Panther in solitary confinement for 34 years in Louisiana's Angola Prison. Over years of correspondence and many visits, they worked on answering a simple and astonishingly intimate question: what kind of house would a man who has lived in a six-by-nine cell for three decades design? There is a precision to that question and this project that captures our distracted attention, draws us in, and from there begins the real conversation: prison abolition.
For many, many people, abolitionism is a big ask. And it is. It asks that we change our collective relationship to justice and face up to immense trauma. How do we, as artists and activists, inspire these massive changes when we're all bombarded with so much tragedy? Sumell is a New Orleans resident, so when she calls this onslaught "the River of Sadness," she's speaking from experience about being collectively overwhelmed. A person can only take so much pain before going numb. She understands the emotional challenge of dreaming big.
Sumell describes herself as an "interrupter." She wants to push back against everything that desensitizes us. All the many aspects of this project with Wallace—international exhibitions, artist talks, books, an Emmy Award-winning documentary—work together to interrupt how we see things just long enough for us to come to our senses. Long enough for us to see very clearly that what we have taken as normal—the caging of humans—is unconscionable.
Is there a better goal for an artist than to bring us back to our senses? Where Sumell discovers a source of alienation, she offers connection; for individualism, collective care; for suspicion of one's neighbour: block parties, second lines, laughter, cheering for the New Orleans Saints winning their first ever Super Bowl. Who Dat!
And in place of steel, concrete, and barbed wire, she and Wallace have offered us birch, glass, and rhododendrons.
Over the last ten years, the River has only accelerated. And yet so has the public conversation about prison abolition. Now what? Ten years on, this artist talk reminds me that we have an amazing legacy in which to pull inspiration, strategies, and songs to carry us through. I'm reminded how Sumell, through her collaboration with the Angola 3, was able to keep it all in perspective.  She still does—it's not surprising that her practice now includes gardens, plants, and an apothecary.
If the Angola 3—Robert King, Herman Wallace, and Albert Woodfox—could come through the most extreme hardship with their spirits intact, with resolute kindness and hard-won laughter, surely we can find our own resilience. We have no excuses. Sumell and Wallace have drawn our attention to an ocean of collective imagination.
Bio
Nika Khanjani is a multidisciplinary storyteller. She pulls from her lived experience as an immigrant growing up in a diverse working-class community to tell stories of human resilience and how we heal from adversity. She often combines landscape photography, subtle sound design, and portraiture to invoke internal states responsive to political and historical forces. Her work has been screened internationally. Nika is a settler on unceded Kanien'kehá:ka Territory.
Close
May 29
Felicity Tayler responds to Jean-Philippe Warren's lecture "Les hippies québécois: tendances locales d'un phénomène global" as part of public programs organized for Traffic: Conceptual Art in Canada, 1965-1980 – February 8, 2012.
Read more
These days, my memory plays tricks on me.
When you invited me to write this response to Warren's talk, I heard your own memory of me flickering across your mind, you wondered: "I am not sure you were there or rather don't remember, but you did participate in the book, saw the exhibition and were certainly aware of his lecture."
Was I at this talk? Where was I?
In this video, a sociologist shows us how countercultural ways of living parallel the demands of direct protest action. Jean-Philippe Warren looks back to the 1960s and 1970s as a heady moment when Québec reinvented itself as a culture, a nation, a social imaginary and economic reality. He teases out the tensions between the expansive hopes of a generation surging with media and music, and the reactionary forces that worked to slow down or reverse an accelerating rate of social and economic change.
The video camera frames Warren seated in front of the documentation of Raymond Gervais' performance piece, 12+1= (1976). Gervais' piece is a sound installation, with 13 turntables playing records simultaneously. It is now exhibited as a still photograph. Was this talk part of the 2011 retrospective Raymond Gervais 3 x 1? No. Warren, and the photograph, are situated inside the 2012 exhibition Traffic: Conceptual Art in Canada, 1965-1980. The turntable piece was in both exhibitions. Was I also in both places?
If I was there in 2012, listening to Warren, my ears would have been tuned to his talk through anticipation of the Printemps érable (Maple Spring)—a season of several waves of strike and protest actions rejecting and reimagining neoliberal economies. Hundreds of thousands of people poured into the streets shortly after this talk. I would have engaged with Warren in a similar manner to Fanny Latreille's archival excavations (see her Youth Pavilions exhibition at Skol, 2019)[1] seeking out a local history, a kind of voluntary ancestry, to build upon in a collective inter-generational reinvention of the world in equitable ways.
Today, I find I'm watching this talk through the lens of online videoconferencing. Attuned to the moments when the mic is dropped (16:40) or when Warren plays a video on the screen behind him and apologizes for the sound quality (19:00). Spoiler alert: The talk ends with Warren's observations that the dreams of the 70's generation dissipated through reintegration with heteronormative family structures, and the harsh realization that precarious employment was not sustainable. Today, I want to remember a different end for this talk—in the manner of Ragnar Kjartansson's "The Visitors,"[2]—all of us watching this video in separate rooms leave our various ambiguous states of domesticity, coming together outside to sing the last stanza of a song we all know the words to, walking out together into the expansive promise of springtime grass… On commence à se parler d'un poème, On commence à parler doucement…[3]
[1]Fanny Latreille: Youth Pavilions. Centre des arts actuels Skol. Montréal, Sept. 5 – Oct. 19, 2019. http://skol.ca/en/programming/fanny-latreille-youth-pavilions/
[2]Ragnar Kjartansson, The Visitors, multi-channel video installation filmed at Rokeby Farm, New York, 2012.https://www.youtube.com/watch?v=qOxG711lb0E
[3]Renée Claude, Le début d'un temps nouveau, 1970.https://www.youtube.com/watch?v=yKy3C172ztg
Bio
Felicity Tayler is the E-Research Librarian at University of Ottawa Library, with a PhD in Interdisciplinary Humanities from Concordia University. She has an exhibition practice that engages with the symbolic value of countercultural movements in Québec. Her writings have been featured in anthologies and in Mémoires du Livre/Studies in Book Culture, Canadian Literature and the Journal of Canadian Art History.
Close
June 12
Eric Fillion responds to the lecture Les lectures bâtardes de Patrick Straram by Sylvano Santini – February 12, 2019
Read more
PATRICK STRARAM'S BASTARD LISTENING?
Anyone who is familiar with the work of Patrick Straram knows that it is steeped in jazz. Louis Armstrong's "West End Blues" was thus a good starting point for a lecture by Sylvano Santini, presented in response to Vincent Meessen's exhibition Blues Klair. "Musical metaphor," Santini argued, allows us to examine Straram's bastardization as expressed in his writing and readings. Are we then to understand that there is a connection between bastard writing/reading and bastard listening when it comes to the former Lettrist lefty turned "champion of the counterculture?"
In the summer of 1965, Parti pris magazine published an essay in which Straram theorizes about his bastardy, describing it as the result of his uprooting (the rejection of his bourgeois Parisian family and his motherland) and his trouble integrating into Quebec society. His difference, that is, his position as an "intellectual immigrant," oppressed him in his efforts to join his Parti pris colleagues in their transition from French Canadians to Québécois. His bastardization was both social and cultural.
But it was also intellectual because it grew out of his refusal to be subservient to any one group. In an article published in Globe in 2011, Santini states that Straram's bastardy allowed him to invent a necessary "middle ground between counterculture enthusiasts and Marxist-Leninist revolutionaries" at the turn of the 1970s. This was expressed as a "hybrid, composed, blended" form of writing that reflected "a lifestyle that was also a reading style," as Santini clarified in his lecture for Blues Klair. To read Straram was then to "move away from apathetic thinking" and dogma to imagine, and even experience, the world differently.
That said, Straram did not approach jazz through what we may call bastard listening even if, for him, the music was an integral part of the soundtrack for a revolution in the making. As I explain in the edited volume Avec ou sans Parti pris (Nota bene, 2018), when Straram wrote about bebop and free jazz, he promoted a kind of committed listening. His interest in these musical practices was based on well-established opinions and fixed principles about their symbolic and social significance.
It is folk-rock, rather, that belongs to the "middle ground" that Santini describes. Straram speaks highly of this genre in his article "Electric Music for the Mind and Body," written in California in 1968. In it, he juxtaposes, with some degree of hyperbole, two major forces: "youth as a new class" and "folk-rock as a sonic universe that dialectically synthesizes every musical possibility and presupposes the participation-manifestation of those who listen to it—and literally live it." The albums he discovered along the way (Fraternity of Man and The Grateful Dead, among others) coloured his travels, gave rhythm to his writing, inspired new becomings, and stirred the Homo Ludens within him. Straram's listening style was much like his reading style: bastardly in its multiple conceptual and experiential referents.
We therefore have to substitute the "Rock Coast Blues" of Country Joe and the Fish for the "West End Blues" of Louis Armstrong if we want to know where a bastard listening of "rock n' soul music as guerilla warfare" will take us.
So come on, pull out that turntable.
Eric Fillion (University of Toronto)
Translation Jo-Anne Balcaen
Bio
Eric Fillion is a postdoctoral fellow in the Department of History at the University of Toronto. He holds a PhD in History from Concordia University. His research explores the social and symbolic importance of music, within countercultures and in Canadian international relations. He is the founder of the Tenzier archival record label and the author of JAZZ LIBRE et la révolution québécoise.
Close
June 26
Alexandre St-Onge responds to the presentation Re: Henri Rousseau, le tourne-disque et la recréation du monde by artist Raymond Gervais – November 19, 2011
Read more
AVEC RAYMOND
Alexandre St-Onge
There is no doubt in my mind that Raymond Gervais's work has left an indelible mark on me. In the following text, I will attempt to pay tribute to him by idiosyncratically synthesizing several concepts drawn from an analysis of his particular universe. This text is thus the result of two performative translations carried out while viewing Gervais's artist talk Re: Henri Roussseau, le tourne-disque et la recréation du monde, originally given on November 19, 2011, in conjunction with the part of Nicole Gingras's exhibition Raymond Gervais 3 x 1 presented at the Leonard and Bina Ellen Gallery during this same period.
***
IMPROVISATION BASED ON THE FIRST TEN MINUTES OF THE ARTIST TALK
0'00"
The enigma of Rousseau on Radio-Canada: the Egyptians and war. The painting as it was back then, the numbers, UBU and Park Extension. Naïveté contained in the memory of record sleeves adorned with a sphere devoured by maneless lions, the place of a dozen sleeves… America, the dream, and she who sleeps at Quebec in the form of spinning stars. A news flash and many small monkeys.
10'00"
DATA ANALYSIS
CREATION OF A SCORE BASED ON AVERAGE LAPSE OF TIME BETWEEN RELEVANT WORDS
INTERPRETATION OF THE SCORE STRUCTURING THE SECOND PERFORMATIVE TRANSLATION, ITSELF ACTIVATED EVERY 24 SECONDS DURING THE ARTIST TALK
10'24"
An autonomous entity is already present in the room, it rises up as an eschatological fashion show catwalker. A seductive struggle slantwise and fruits of penal labour, the operatory junctures of gender. Astral hissing through mortal coils in the very muffler where this installation unfurls itself for all institutional and revolutionary faculties to hear. Among maneless lions, ancestral space is occupied by pink duck tape stuck all over the walls of practical reason. Change is after all but interplay between bars projected by a mind waiting patiently outside the local hair salon. Gluey deep down in the handbag of relationship between terms of coarse grain studying in the basement all painted dark black. An apparatus teeming with small monkeys suggests a traveller's equation to the countryside in so many certified machines. Why does our arbitrator carry the wind to the end of glassy structure? Surely but for a satchel, dehierarchizing before binding networks and their borders askew in a store-bought car opening paths to wholly unsubmissive lands. Gravestone saddles erase towers at the crossroads of ever-emerging error. On the left, sculptural osteoporosis. On the right, autonomy. Omniscient viewpoint is useful for fighting the flu from without, but no-one fails to mention obituary timelines. Domestic purpose of computational mystery on immanent cathode ray tube screens; credit union tableaux of suspended vocation achieve origin. The singer's naked voice is transformed into charged particles and becomes the object of desire for a saxophonist well-documented in matters of finger therapy. Carnival itself, a mauve Arduino-dripping wrath of booger night alliances translating the fancy horror of the Cosmos.
57'00"
Translated by Simon Brown
Document of exhaustive process (in French only)
Bio
Alexandre St-Onge is an interdisciplinary artist and sound performer who explores the mutation of the performative body through its sonic, textual and visual mediations. A professor at Laval University's École d'art with a PhD in art practice and theory (UQAM, 2015), he is ever-fascinated by creativity as a pragmatic approach to the ungraspable.
Close
July 10
Jacob Wren responds to the performance New Dramatics: An Editorial Meeting by Public Recordings – October 26, 2016
Read more
There's something about a performance that only happens once, perhaps best summarized by the expression: you had to be there. It's not funny now, when I repeat it, but I promise it was funny at the time. Of course in this particular instance you can also watch the video. Nonetheless, for me it exists in my memory as a performance that only happened once, which gives it a substantially different quality from so many of the other performances I've been involved in over the years. Doing a performance more than once might be the most basic definition of theatre.
When I was invited by Public Recordings to be part of New Dramatics, at first I didn't quite understand what it was, an editorial meeting to discuss publishing performance texts, with the caveat that publishing performance texts possibly went against some of our most fundamental convictions concerning both performance and theatre. Such a proposal was obviously in confluence with many of my most cherished feelings about life and art – I sometimes describe this position as being full of doubt but doing things anyway – and there was the additional advantage that these conflicts would be explored not behind the scenes (where one is generally encouraged to keep them) but live in front of an audience.
Watching the video now I sense jokes and confessions we couldn't possibly have planned, though we certainly did prepare for them. Moments when you open your mouth knowing you're going to say something but don't yet know exactly what it will be, until it's already too late, until it's already been said. You can't take it back. You had to be there.
We of course still haven't published the performance texts. In some ways, the rehearsal for why we should or shouldn't publish them became a form of publishing in and of itself. In my first understanding of the project this wasn't our intention. Yet, in another sense, how could it not have been? To call a performance a form of publishing, or call a book a kind of performance; practices of disciplinary slippage I've always been intrigued by, category errors that raise more questions than they answer. Always an existential endeavor.
Putting a square of tape on the floor and calling it a "page," where the page becomes a place you can say something. Places you can actually say something – something that might, in the process of saying it, become worth conveying – are what I feel the greatest need for in my life. Or, more importantly, to listen to others saying such things, things that are important to them, and that for whatever reason cannot be said elsewhere. And by "saying" I certainly do not only mean speaking. Every kind of contemplative or necessary action. This is the reason I attend and make live performance. Which, at this particular moment in time, none of us are allowed to do.
Bio
Jacob Wren makes literature, performances and exhibitions. His books include: Polyamorous Love Song and Authenticity Is a Feeling. As co-artistic director of Montreal-based interdisciplinary group PME-ART he has co-created works such as: En français comme en anglais, it's easy to criticize, Individualism Was A Mistake, The DJ Who Gave Too Much Information and Adventures can be found anywhere, même dans la mélancolie. His internet presence is often defined by a fondness for quotations.
Close
July 24
Jenny Lin responds to the performance Wendy's Revenge by Tricia Livingston and Walter Scott – January 29, 2016
Read more
Prior to his performance, Walter led a workshop for the Queer Print Club where he candidly shared his process with a group of aspiring queer artists. Wendy: A Workshop on Alter-Egos, Covert Navigation, and Disruption, invited participants to role-play in a reading of Wendy material, before Walter workshopped comics that a few of them had brought along. Together we discussed how one infiltrates spaces through a set of different identities that we either put on ourselves or that others set upon us. How do we use these identities to slip in and out of places, rather than become confined by them, be it through tokenization, pigeon-holing, or reduction? Role-playing allows a shift in viewing from close up to afar, from playing witness to being witnessed.
In Wendy's Revenge, fiction is framed within fiction. Wendy, Walter's graphic novel protagonist and alter-ego, role-plays as Xendy, a space pirate and artist who lives and makes work in her spaceship. As we follow Xendy on her quest to track down the source of her deep-seated pain, roles are revealed and then switched up. In mid-conversation, the curator from Kombucha Planet suddenly identifies as a commercial gallerist after Xendy's spaceship-home-studio becomes an art piece itself, framed, non-consensually, within the walls of the "Institution."
Wendy's Revenge speaks to me through its empathetic examination and transmutation of rage, this by way of Walter's signature synthesis of humour and urgency. Through a live enactment, he shows us that maybe some sort of healing can happen even if "revenge is impossible," even if confrontation with one's wrongdoer is met not only with indifference but blame. Perhaps if one finds a more worthy and compassionate witness, healing can happen from another starting point.
Among its clever references, I see a gracious nod to co-performer Tricia Livingston and her series of crying selfies, Methodologies of Discomfort, when Xinona, played by Tricia, witnesses Xendy burst into cathartic tears.
Throughout the planning and enacting of the workshop and performance, Walter shifted from collaborator, facilitator and artist, and welcomed others to participate in the roleplaying that Wendy makes available. While Wendy allows Walter as an artist to navigate different milieux, he also practices a great relinquishing of control with Wendy, leaving her to circulate on her own in these spaces. Walter has said that Wendy is and isn't himself, same with Winona. The enigmatic yet relatable Wendy is up for anyone to identify with, not to co-opt but to feel seen by or with.
As co-conspirators we might help Wendy to covertly enter various spaces through her multiplicity. At $10 a pop, the Queer Print Club-screenprinted Wendy tote bags sold out that evening at the Gallery, the proceeds, at Walter's request, going to the Native Women's Shelter of Montreal. Left unsigned, these limited-edition bags were to be circulated as objects without being tethered to their original context, the image of Wendy on the bag, like the unexplained hieroglyphic image of Xendy at the end of the narrative, existing both as a framework for potential transformative moments and witness to them.
Bio
Jenny Lin is a visual artist who works with experimental narrative primarily in the form of print-based installations, artists' books and zines. She works collaboratively with Eloisa Aquino as B&D Press, creating zine and installation projects, as well as facilitating zine-making workshops, with an interest in queer content and QTBIPOC communities. She teaches sessionally in the Print Media Program (Concordia), and is a co-founder of the Queer Print Club.
Close
August 7
Nazik Dakkach responds to مُمْتلَكاتMumtalakat, Reading Event by Emma Haraké, Hoda Adra, Farah Atoui, Rabih Chami, Muzna Dureid, Johnny El-Hage, and Ranya Essmat Saad – August 7, 2019
Read more
The title مُمْتلَكات Mumtalakat is moved toward the notion of "belongings" by a translation which, like many others, calls forth incompleteness. The Arabic-speaking ear is met with an impression of lack experienced both as hollowness and as distancing. A rift. Yet this exilic incommunicability may be precisely the place from which the gathering created by Emma Haraké commences its work.
This is why I propose to begin my response by offering linguistic clarification. The term مُمْتلَكات (Mumtalakat), positioned here as a noun, is a past participle derived from the reflexive form of the verb "to own" ملك (malaka), that is إمتلك (im'talaka) or "to have acquired." It simultaneously designates the (now acquired) possessions of a given individual and the historical processes of their aggregation as belongings within personal and collective memories. This makes  مُمْتلَكات (Mumtalakat) a formation capable of allocating possessions at the same time as it interiorizes, gathers and joins them, producing psychic condensations from which each constituent emerges augmented (through sheer number), familiar (through contiguity), and informed (aware of its power).
Emma Haraké manages to circumvent the untranslatable in مُمْتلَكات Mumtalakat. She restores and renews the full meaning of the word and welcomes the cohabitation it implies of both the life of belongings and the part of belonging in life. When Rabih Chami, Johnny El-Hage, Muzna Dureid, Ranyaa Essmat Saad, Hoda Adra and Farah Atoui come together, their encounters overlap, intersect, and allow for the emergence and the densification of the commons. They appear as possessions that are also dispossessions, and as belongings that live outside of belonging. They appear, by turns, as the immigrant's grief, discreet, ever so specific and acquiredonly in the dispersion of a people and their knowledge, as the chilling remembrance of the "départ définitif" so aptly described by Ranyaa Essmat Saad, and as the reviving force that emanates from one's mother tongue when one does not expect it to be spoken.
I had never heard a land acknowledgement expressed in Arabic before مُمْتلَكات Mumtalakat. I am still learning from this decision which dismantles off the bat any presumed innocence of the immigration process within a settler-colonial context. The reverberation of this initial act never leaves the event, it persists throughout its duration, overlaying all voices and restating at least two facts: that one cannot grieve at the expense of another's grief, and that it is impossible to remediate dispossession with dispossession.مُمْتلَكات   Mumtalakat leaves me with the incentive of translating into Arabic(s)—and into the non-Arab dialects, namely Afro-descendant, that are adjacent to Arabness—not only the urgent imperative of returning the unceded lands occupied by our diasporas to their rightful custodians but the very certitude that this restitution will be carried out. As I write this text, the Minneapolis City Council is announcing that it intends to defund its police department. I receive this news as a reminder that all reparations are possible when we gather around their possibility and consider their realization an inevitable certainty.
Translated by Jo-Anne Balcaen and Nazik Dakkach
Bio
Born in Casablanca, Nazik Dakkach lives in Tiohtià:ke (Montréal) where she is finishing a master's in art history at Université du Québec à Montréal. Her texts have been published by MICE Magazine (Toronto), contemtorary (Los Angeles) and Art+Wonder (Winnipeg). She has been involved in a number of arts organizations in Montreal, among them the artist-run centre articule and the collective artivistic.
Close
August 21
Charissa von Harringa responds to the concert The animals inside the man and the man outside the animals by Ánde Somby – September 16, 2018
Read more
A dimly lit bar in Montreal seemed the most agreeably unassuming of spaces to experience the yoik for the first time, the original music of the Indigenous Sámi people of Northern Scandinavia and the Kola Peninsula in Russia, delivered by the equally humble and charismatic Norwegian Sámi legal scholar and yoik artist, Ánde Somby.
Dressed in an exceptionally embroidered black leather ensemble of traditional gákti and čiehgahpir, Somby broke the silence with an intriguing a cappella chant. Following introductions in Sámi and English—which in the frame of Among All These Tundras acknowledged a sensitivity to the importance of language in anchoring identities and belonging to place—we learned that we had just met "The Crow." A masterful storyteller, Somby subtly and skillfully drew his audience into an imaginary circle where we were introduced to impressions of the Sámi language, the Sámi world, and Somby's decolonial pedagogy.
Through the yoik—a vocal musical arrangement characterized by gradual pitch changes to melodic patterns—Somby demonstrated the Sámi respect for and communion with the natural world. We were introduced to the salmon, the fly, the mosquito, the reindeer, and the bear through a range of vocalized sounds which required of its host incredible feats of vocal constraint. The ptarmigan is mimetically reflected in the whimsical fluttering and sailing of the vocal progression. Somby's technical expansions and compressions, accentuations and syncopations enchanted the audience through the storied animisms they brought forth.
Yet Somby's performance also resists exotification; he reconfigures colonial logics by encouraging a learning disposition of openness to diverse knowledge production. Somby's narrative and sonic explications throughout Animals in Man bridge the understanding that yoiks are not mere representations of the natural world. The personal, integral, and cyclical connections between subjects and objects are captured in the reindeer yoik. Living traditions are immaterial registers of knowledge, time, history, and memory, whose aesthetic forms are indissolubly related to Indigenous rights today.
Somby's performance reads as traditional, but style has always been capable of channeling expressive revolt to dispel stereotypes. Prior to its historical silencing, to juoigat was a vital aspect of traditional Sámi social life: for sharing stories and memories, for everyday function and survival. Since the 1970s though, the yoik has been transformed through resurgent practices imparting new uses, meanings, and contexts for performance. The equally subversive aesthetics of a black leather gákti, or Solju's hypnotic fusion of traditional chant with synth sounds, are individuated arguments for the evolving functions and meanings of tradition and culture.
The final agonizing cries of the Wolf, drawn from the depths of its host, remain suspended at the edges of my memory. This crescendo enabled reflection querying how Western-led commodification, globalization, and capital impact intangible cultural heritage. Yet the revolt of the yoik is maintained in its repeated practice, in the intergenerational ties that it binds. It is raw poetic expression of self and nature that is movable and immovable, a story with no beginning and no end.
Bio
Charissa von Harringa is a Doctoral Candidate in Art History at Concordia University in Montréal, Quebec. Her dissertation studies examines the relationship between Circumpolar Indigenous Performance, Institutional Discourse, and Exhibitionary Practice. Charissa holds a bachelor's degree in Anthropology from New York University (2007) and a Master's degree from Concordia University (2016) in Art History. She is the co-curator of the international circumpolar exhibition, Among All These Tundras(2018) presented at the Leonard and Bina Ellen Art Gallery (Montreal, QC), an affiliate of Inuit Futures in Arts Leadership Partnership Grant under the direction of Dr. Heather Igloliorte (Concordia University, Montreal), a Fonds de recherche du Québec—Société et culture scholarship recipient, and the author of several published articles, chapters, reviews, including a forthcoming chapter on artistic modernism in Greenland for Routledge publication,She Is No Gentle Lamb in the Cave of the Werewolf: Women Artists in the Nordic Countries, 1900-1960.
Close
The online program Reprise reactivated the Leonard & Bina Ellen Art Gallery's public programming archives through a series of responses to selected events from the past decade (2010-2019). In a bimonthly dispatch from May to August, each iteration invited a guest proximate to a past event—either directly involved in its realization, witness to it, or in dialogue with it at the time—to reflect on the stakes in reviewing and renewing the ideas, positions and conversations from the standpoint of today.
Reprise sought to promote a dialogue between the past and the present by linking audio and video documentation of a lecture, performance, or discussion with critical writing and retrospective study.