Shuvinai Ashoona
ᓱᕕᓇᐃ ᐊᓲᓈ
Mapping Worlds
ᓄᓇᙳᐊᓕᐅᕐᓂᖅ ᓄᓇᕐᔪᐊᙳᐊᓂᒃ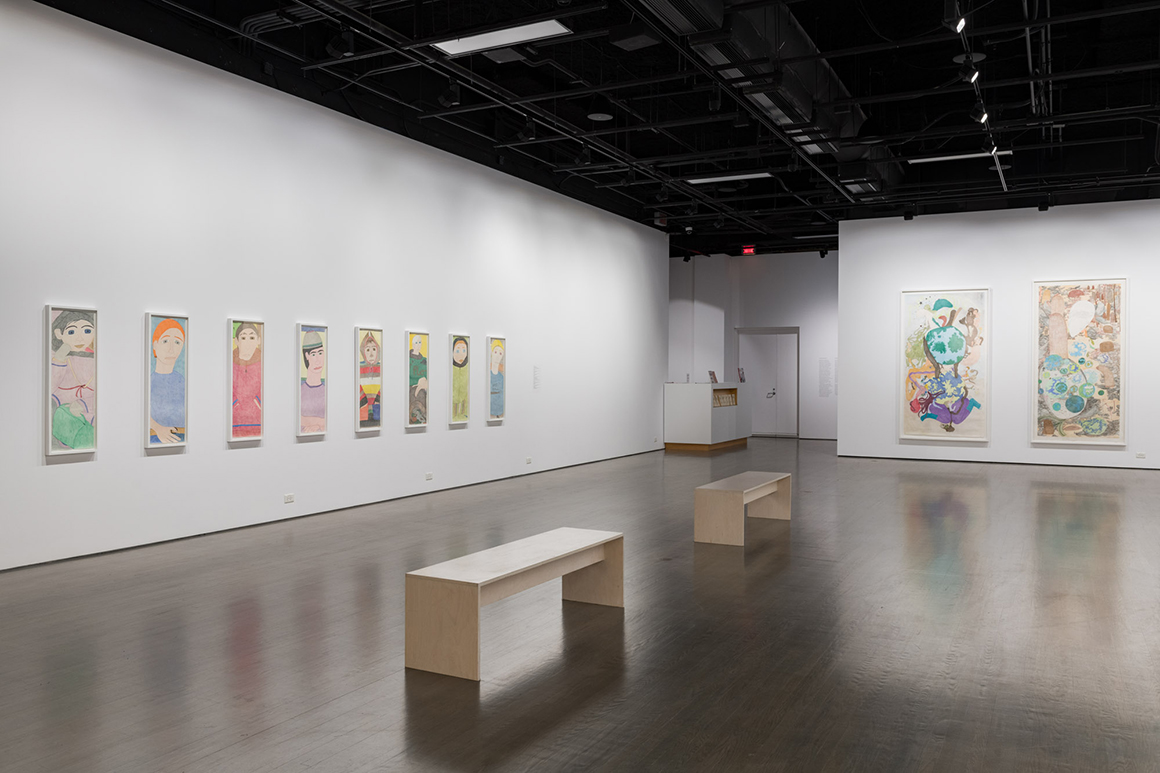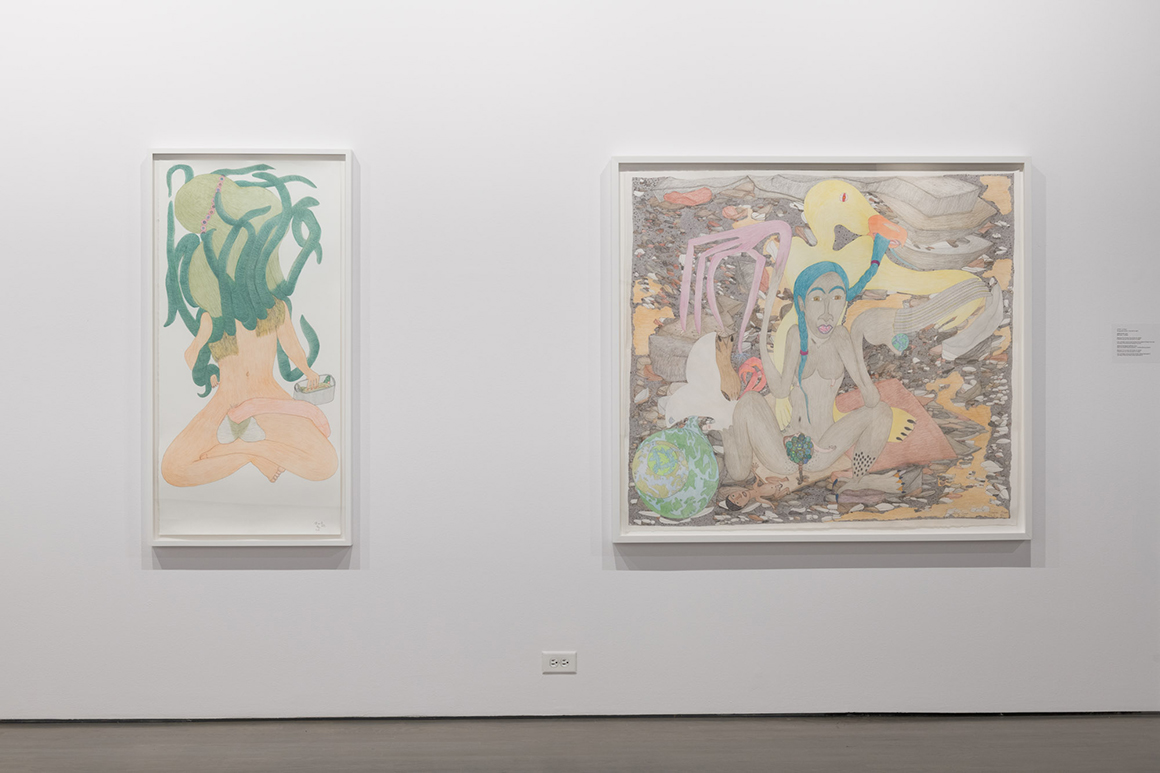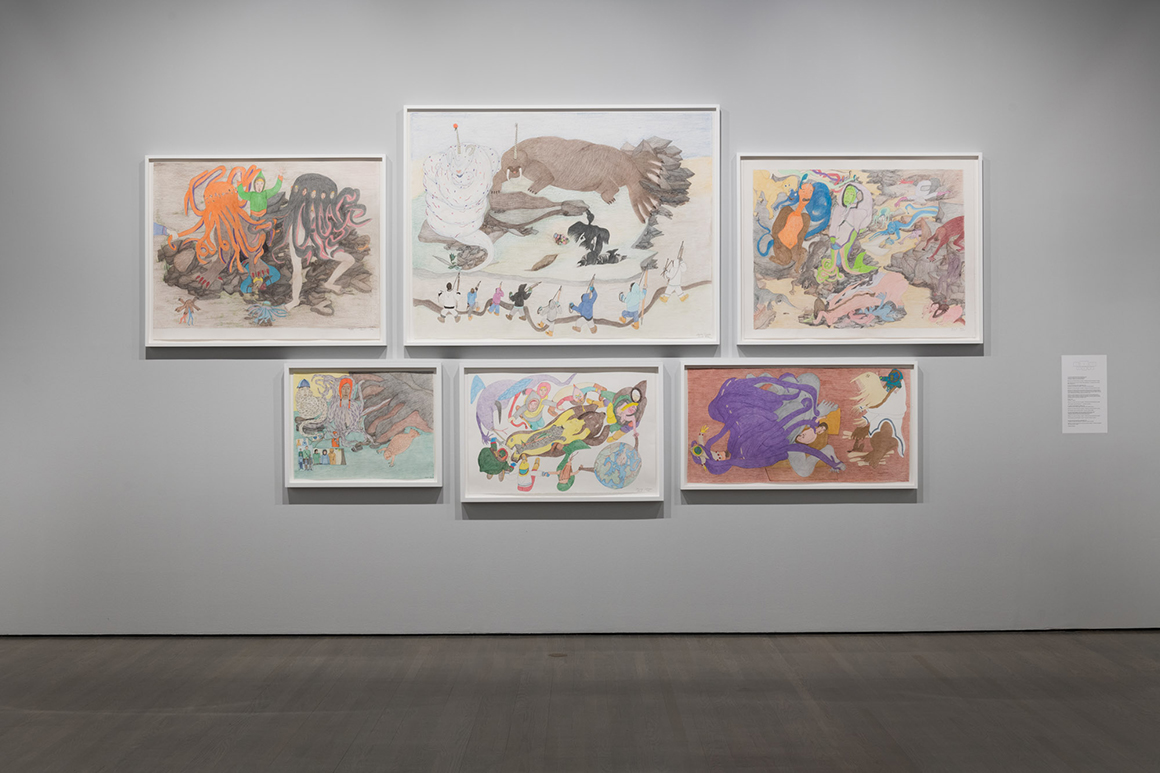 October 31, 2019 – January 18, 2020
Curator: Nancy Campbell assisted by Justine Kohleal
The exhibition is organized and circulated by The Power Plant Contemporary Art Gallery, Toronto. The exhibition and tour are supported by The TD Ready Commitment, Major Donors The Schreiber Sisters, an anonymous Major Donor, Canada Council for the Arts and Ontario Arts Council.
Opening
Wednesday, October 30, 5:30 pm — 7:30 pm
Events
Ways of Thinking
Press Release
Exhibition Floorplan (EN)
Exhibition Floorplan (IN)


ᓄᓇᙳᐊᓕᐅᕐᓂᖅ ᓄᓇᕐᔪᐊᙳᐊᓂᒃ ᑕᑯᑦᓴᐅᑎᑦᓯᓂᐅᔪᖅ ᑎᑎᖅᑐᒐᕐᓂᒃ ᐸᐃᑉᐹᒦᑦᑐᓂᒃ ᑎᑎᖅᑐᒐᖅᓯᒪᔭᖏᓐᓂᒃ ᓱᕕᓇᐃ ᐊᓲᓈᑉ ᐊᕐᕌᒍᓂ ᐊᕙᑎᓂ ᐊᓂᒍᖅᑐᓂ. ᑎᑎᖅᑐᒐᕆᐊᙵᖃᑦᑕᖅᓯᒪᔭᖏᑦ ᑭᙵᕐᓂ ᖃᐅᑕᒫᑦ ᐃᓅᓯᕐᒨᖓᖃᑦᑕᖅᓯᒪᔫᒐᓗᐊᑦ, ᓄᓇᕗᒻᒥ ᑲᔪᓯᑎᑦᓯᑦᓱᓂ ᑎᑎᖅᑐᒐᖃᑦᑕᕐᓂᒥᓂᖓᓂᒃ ᐋᓇᖓᑕ ᐱᑦᓯᐅᓛᖅ ᐊᓲᓈᑉ (1908-1983) ᐊᒻᒪᓗ ᐃᓪᓗᑯᓗᖓ ᐊᓂ ᐳᑐᒍᖅ (1969-2016), ᓱᕕᓇᐃ ᖃᐅᔨᒪᔭᐅᔾᔪᑎᖃᓗᐊᕐᒥᔪᖅ ᓇᒻᒥᓂᖅ ᑲᑎᖅᓱᖅᓯᒪᔭᒥᓂᒃ ᑎᑎᖅᑐᒐᖏᓐᓄᑦ ᐱᓯᒪᑦᓱᑎᒃ ᑕᒫᓂ ᓄᓇᒥᓂ ᐅᑭᐅᖅᑕᖅᑐᒥ ᓄᓇᐃᑦ ᑎᑭᐅᑎᓯᒪᑦᓱᑎᒃ ᐊᖏᔪᐊᓗᓐᓄᑦ ᑑᕐᖓᒐᓛᓗᓐᓄᑦ ᑕᐅᑐᙳᐊᖅᑕᖏᓐᓂᓪᓗ.
ᑖᒃᑯᐊ ᓇᒻᒥᓂᖅ ᑲᑎᖅᓱᖅᓯᒪᔭᖏᑦ, ᒪᑯᐊ ᐃᓄᕉᖅᑲᔪᑦ ᑎᒻᒥᐊᑦ, ᐊᕐᓇᐃᑦ ᐃᕐᓂᐅᖅᑐᑦ ᓄᓇᔪᐊᕐᓂᒃ ᐊᒻᒪᓗ ᓱᓇᑕᖃᙱᑦᑐᑦ ᓄᓇᐃᑦ ᓯᓚᐃᔭᐅᓚᐅᖅᑎᓪᓗᒍ ᑭᖑᕐᖓᓂᓪᓚᑦᓯᐊᕇᑦ ᑭᓯᐊᓂ ᑎᑎᖅᑐᒐᖅᓯᒪᔭᖏᑦ ᑕᑯᑦᓴᐅᑎᒍᒪᑦᓱᒍ ᐅᑭᐅᖅᑕᖅᑐᒥ ᓄᓇᒋᔭᓂ, ᑕᐃᓗᒋᑦ ᐃᓚᐃᓐᓇᖏᑦ, ᑎᑎᖅᑐᒐᖅᓱᓂᓗ ᑕᐃᑦᓱᒪᓂᑕᕐᓂᒃ ᐅᓪᓗᒥᒨᖓᔪᓂᒃ ᐊᓯᐊᓅᖅᓱᒋᑦ ᓄᓇᕐᔪᐊᕐᓄᑦ, ᓲᕐᓗ ᓯᕗᓂᑦᓴᒥᒃ ᑕᑯᓐᓈᖅᑐᖅ. ᐊᒻᒪᓗ, ᖃᓄᑐᐃᓐᓇᑦᓯᐊᖅ ᑕᑯᓐᓈᖅᑕᐅᑎᓪᓗᒍ ᓯᕗᓂᑦᓴᖅ, ᑐᕌᒐᖃᓗᐊᙳᐊᖅᓱᑎᓪᓗ ᐋᓐᓂᖅᑎᕆᓂᐊᓗᓐᓂᒃ ᐃᓄᐃᑦ ᐊᑯᕐᖓᓐᓂ ᓯᓚᐅᓪᓗ, ᐃᓄᐃᑦ ᐅᓇᑕᖅᑐᑦ ᐃᓄᓐᓂᒃ, ᐅᕝᕙᓗ ᐃᓄᐃᑦ ᐊᓯᖏᓪᓗ "ᑕᖅᑳᙶᖅᑐᑦ", ᓱᕕᓇᐃᓪᓕ ᑎᑎᖅᑐᒐᖏᑦ ᓄᓇᕐᔪᐊᕐᒥᒃ ᑕᖅᑳᓂᓗ ᓯᓚᑐᐃᓐᓇᕐᒦᑦᑐᑦ ᓄᓇᕐᔪᐊᑦ ᐃᓅᖃᑎᒌᑦᓯᐊᖅᑑᔮᖅᑐᑦ ᓯᕗᓂᓴᑦᓯᐊᕆᑦᓱᑎᒃ. ᐃᓇᑦᓯᑦᓱᓂ ᐅᕙᑦᑎᓐᓂᒃ ᓄᓇᕐᔪᐊᕐᒥᓄᑦ, ᐃᓗᒥᓄᑦ ᐊᓯᐊᒍᓪᓘᓐᓃᑦ, ᓱᕕᓇᐃ ᐊᔪᕐᓇᖏᒃᑲᓐᓂᖅᑎᑦᓯᔪᖅ ᓯᕕᑦᑐᕆᐊᕆᒍᓐᓇᕐᓂᑎᓐᓂᒃ ᐅᖃᖃᑎᒌᓐᓂᒃᑯᑦ ᓯᓚᐅᑉ ᐊᓯᔾᔨᐸᓪᓕᐊᓂᖓᓅᖓᔪᓂᒃ, ᖃᓄᖅ ᐱᖅᑯᓯᖅ ᐊᐅᓚᓂᖃᕐᒪᖔᖅ ᐅᑭᐅᖅᑕᖅᑐᒥ ᓄᓇᓕᓐᓂ, ᐊᒻᒪᓗ, ᐱᒻᒪᕆᐊᓗᒃ, ᖃᓄᖅ ᐃᓄᐃᑦ ᓴᓇᐅᒐᖏᑦ ᓴᓇᐅᒐᖅᑏᓪᓗ ᑕᑯᑦᓴᐅᑎᑕᐅᕙᒻᒪᖔᑕ ᑲᓇᑕᒥ ᓯᓚᑖᓂᓗ.
Mapping Worlds presents a selection of works on paper produced by Shuvinai Ashoona over the past two decades. Though many of her early drawings depict daily life in Kinngait (formerly Cape Dorset), Nunavut, continuing an artistic tradition begun by the artist's grandmother Pitseolak Ashoona (1908–1983) and first cousin Annie Pootoogook (1969 – 2016), Shuvinai Ashoona is best known for developing a personal iconography with imagery ranging from closely observed naturalistic scenes of her Arctic home to monstrous and fantastical visions.
This personal iconography, consisting of  human-animal hybrid creatures, women birthing worlds and barren landscapes that appear to be post-apocalyptic even though they are inspired by the terrain of her northern home, project the past and present into an otherworldly, almost prophetic future. And, unlike many settler visions of times to come, which  focus on violent clashes between humans and nature, humans and other humans, or humans and otherworldly 'invaders', Ashoona's earthly and extraterrestrial worlds exist within a kinder intergalactic future. By inviting us into her world, inner and otherwise, Ashoona makes it possible to further broaden our conversations about the changing northern landscape, the role popular culture plays in Arctic communities and, importantly, the ways in which Inuit art and artists are presented within Canada and abroad.
Shuvinai Ashoona was born in 1961, in Kinngait, Nunavut, Canada, where she lives and works. Solo exhibitions of Ashoona's work have been organized at Nunatta Sunakkutaangit Museum, Iqaluit (2013); MacKenzie Art Gallery, Regina (2012); Carleton University Art Gallery, Ottawa (2009); and Art Gallery of Alberta, Edmonton (2006). Her work has been shown in group exhibitions at venues including the Esker Foundation, Calgary (2017); Art Gallery of Ontario, Toronto (2017); Mercer Union, Toronto (2016), National Gallery of Canada, Ottawa (2014) and SITE Santa Fe (2014). Most recently, Shuvinai Ashoona received the 2018 Gershon Iskowitz Prize.