Launched in 2012 in celebration of the 50th anniversary of the Leonard & Bina Ellen Art Gallery's Permanent Collection, the SIGHTINGS satellite exhibition program was conceived as an experimental platform to critically reflect upon the possibilities and limitations of the modernist "white cube". For the 2015-16 programming year, artists and curators are invited to examine more closely the invisible mechanisms that condition the production and circulation of art, and to propose new strategies to present them to the public. Focused on the notion of labour and the issues raised by an "immaterial" cultural economy, the projects developed over the next few months will investigate aspects of the art system that are usually overlooked by viewers. Among these are the distribution of roles among art world protagonists (curators, artists, technicians, assistants, programmers etc.); the tensions that govern their respective activities; and the division of labour (between manual and intellectual work, between conception and making, and between creative and discursive production).
SIGHTINGS is located on the ground floor of the Hall Building at 1455 De Maisonneuve Blvd. West
SIGHTINGS 17 The Time of the Work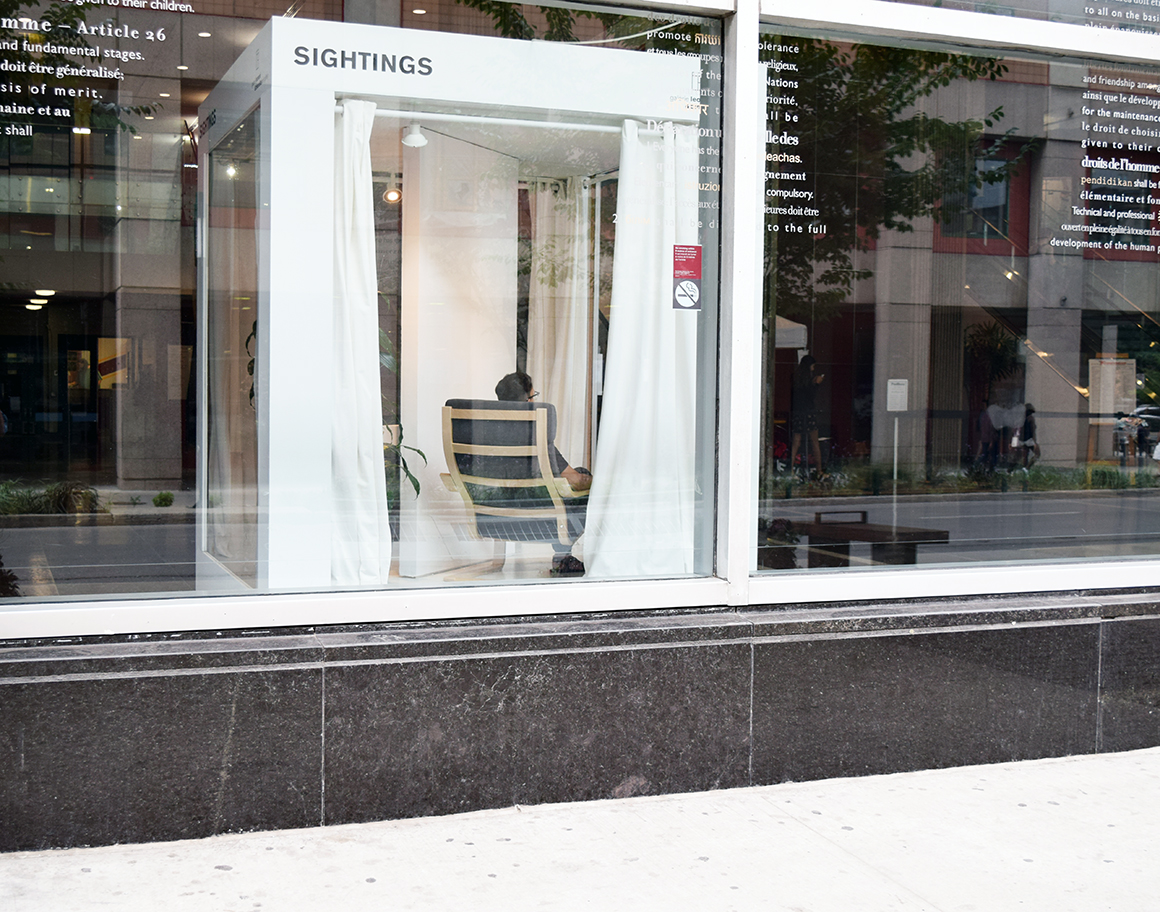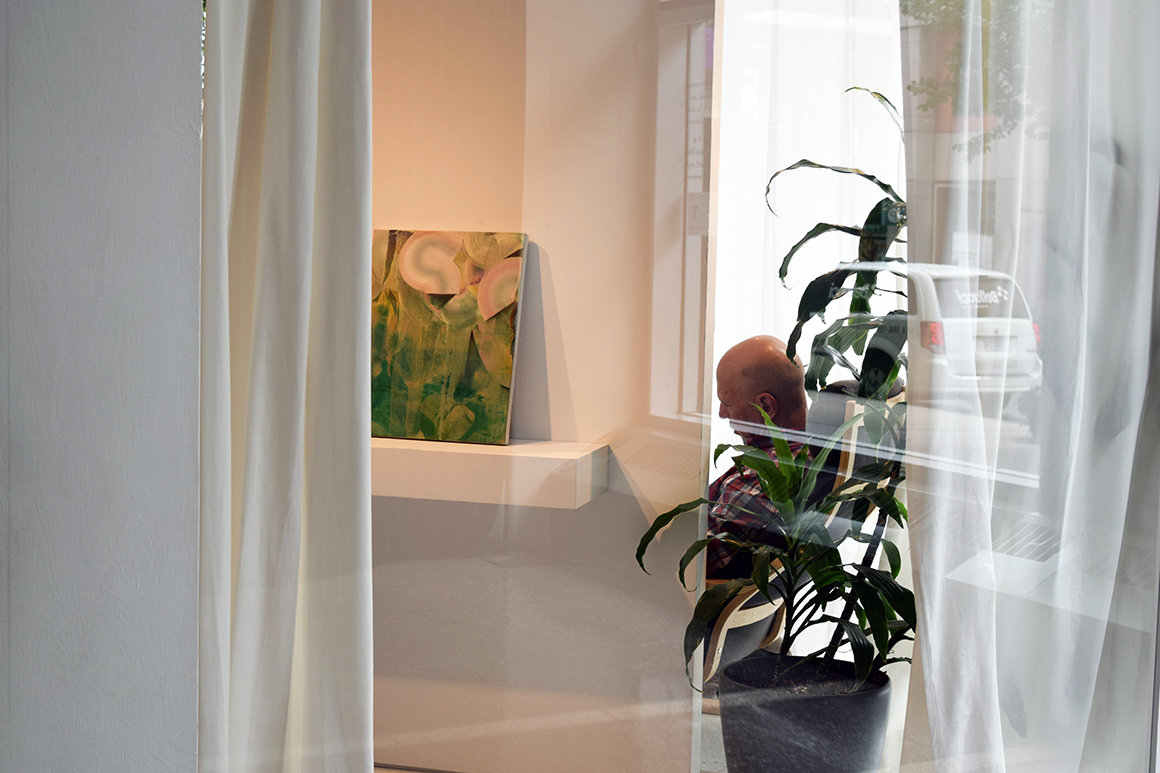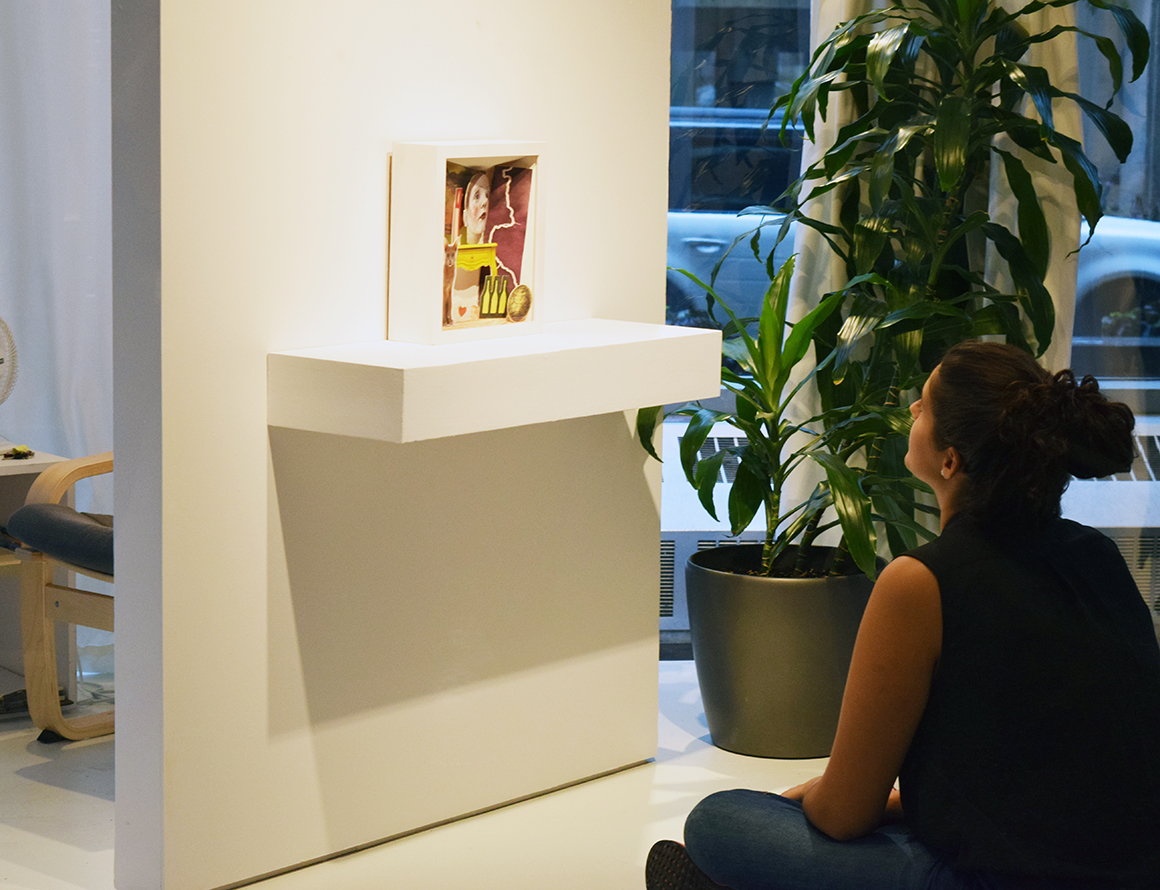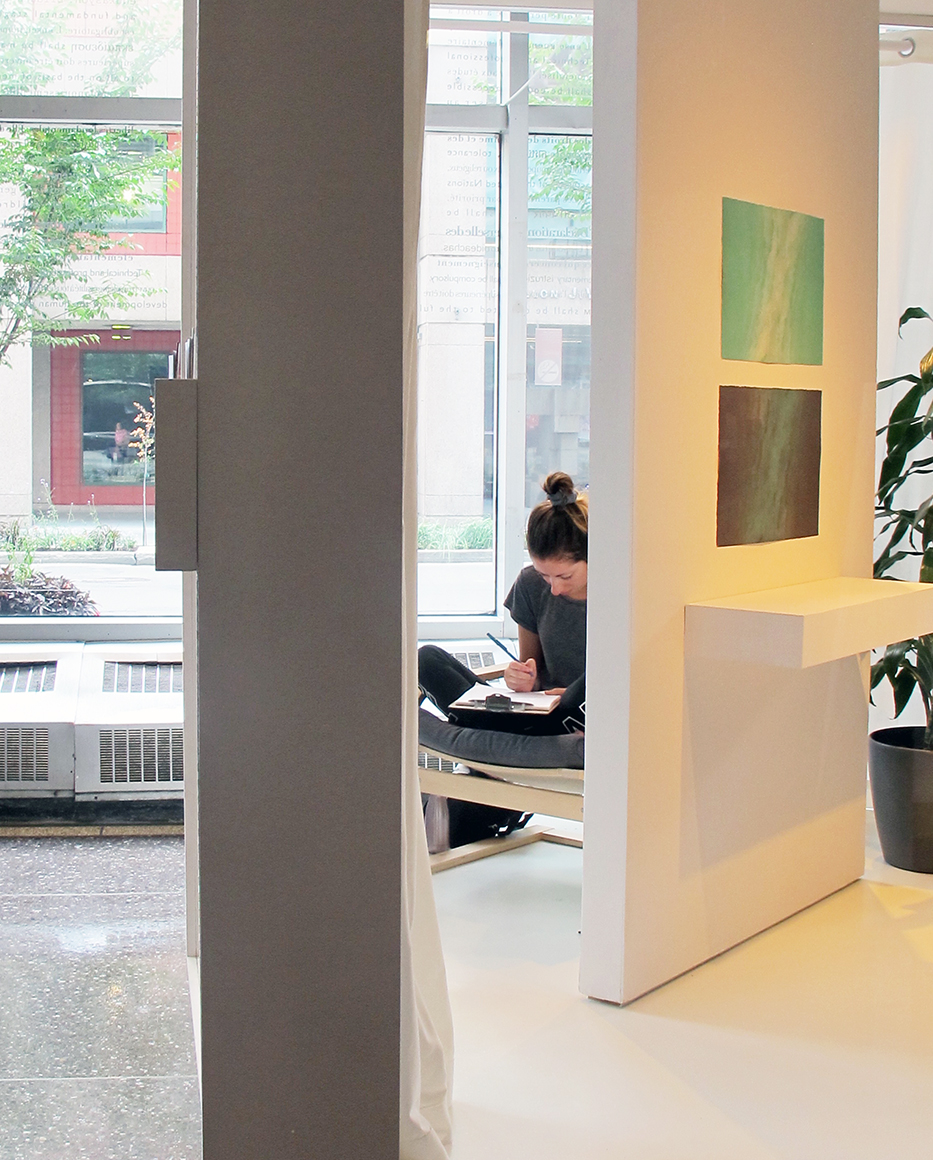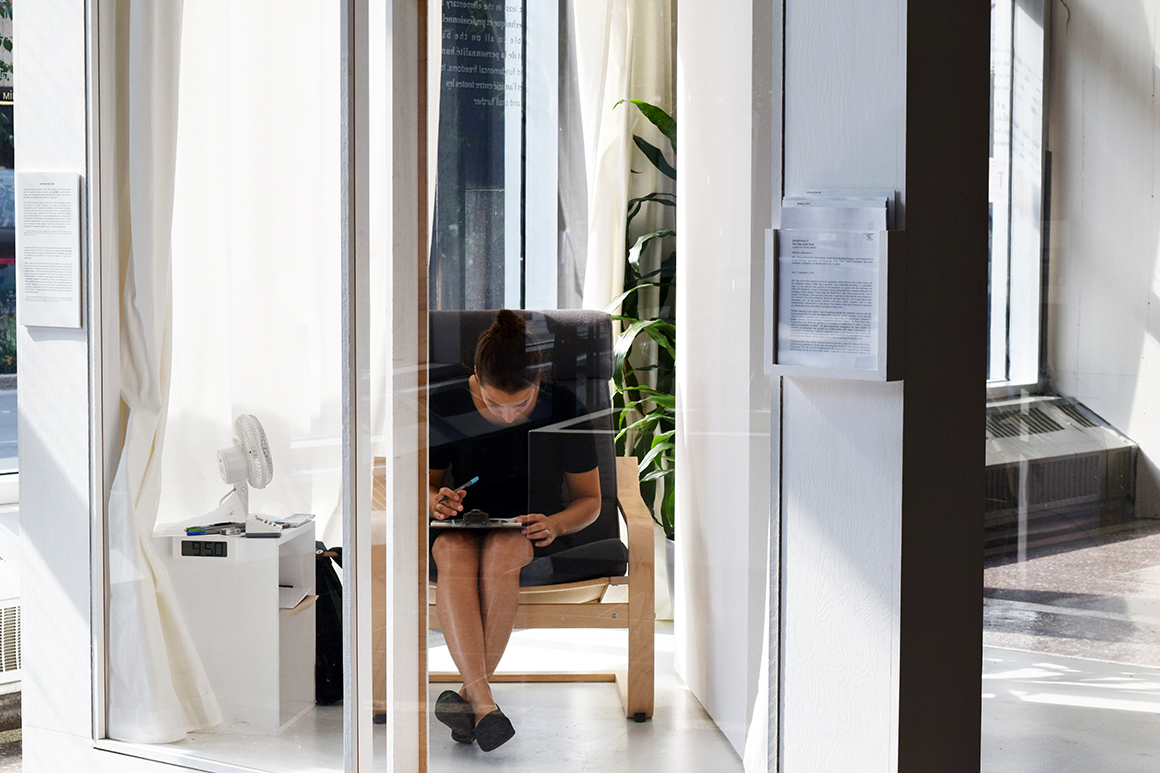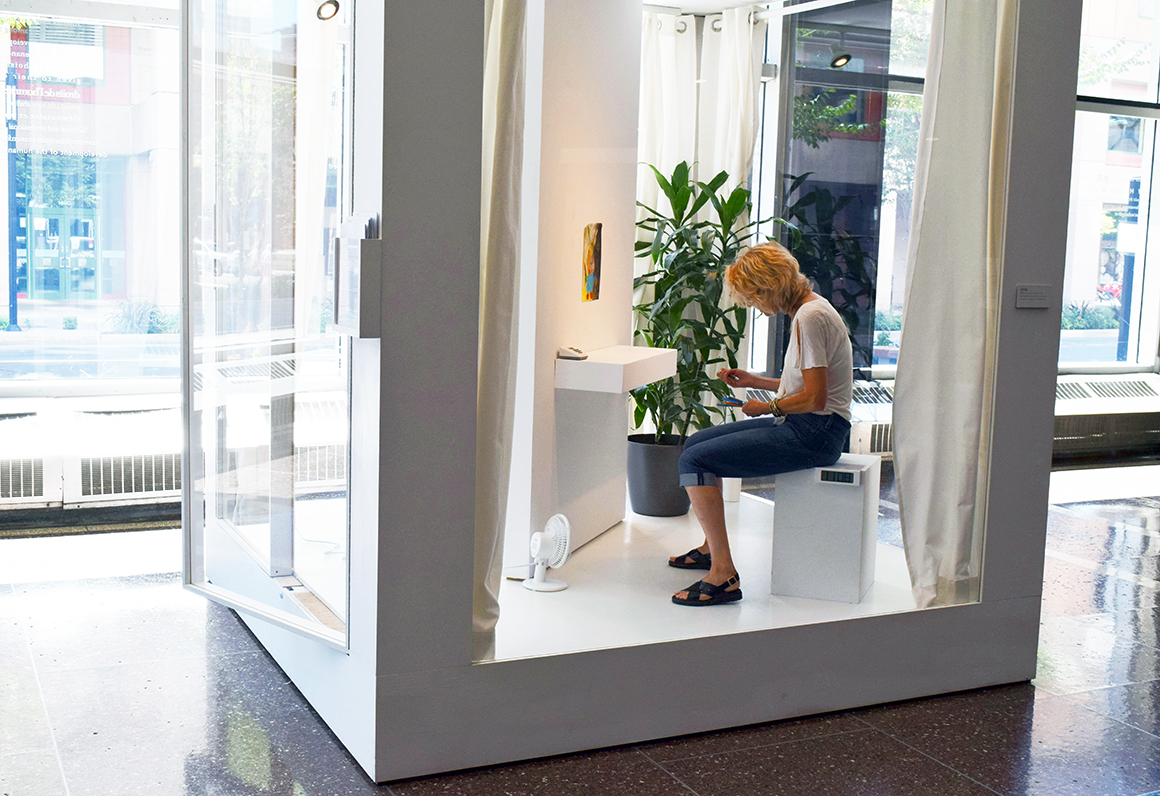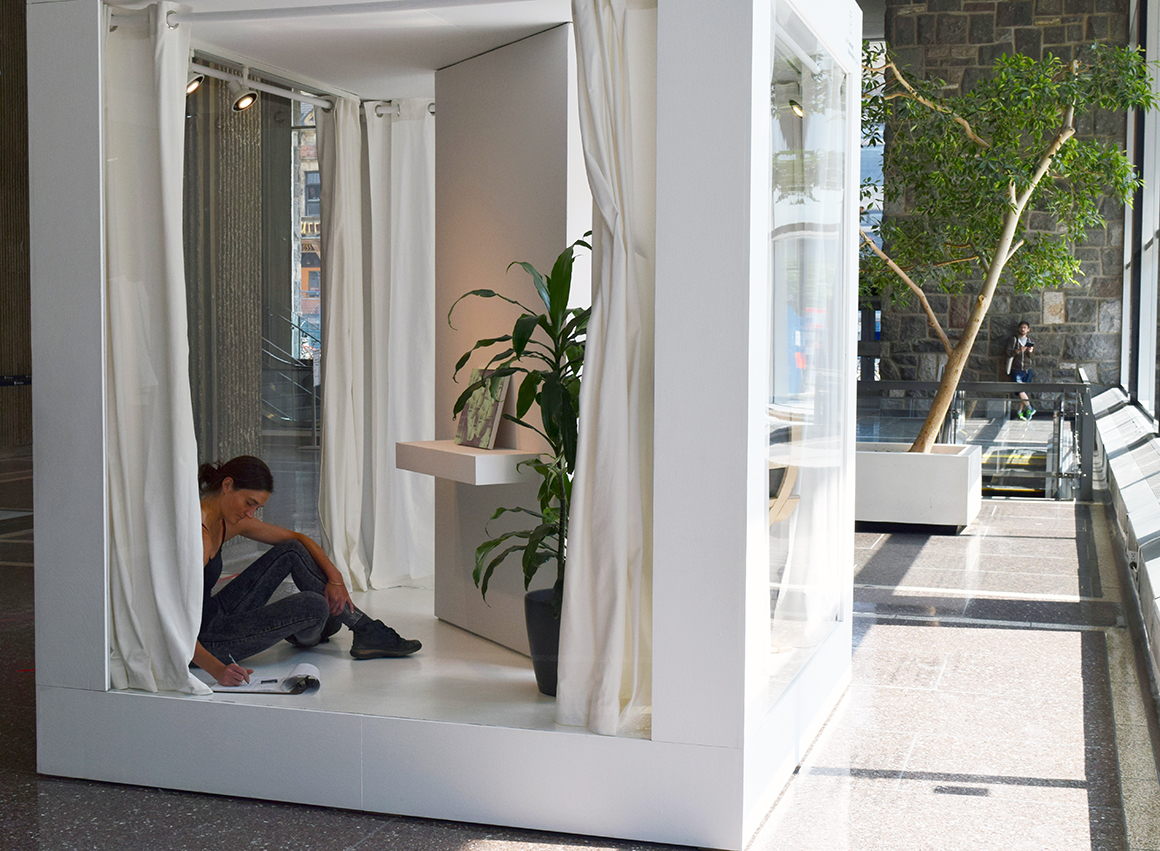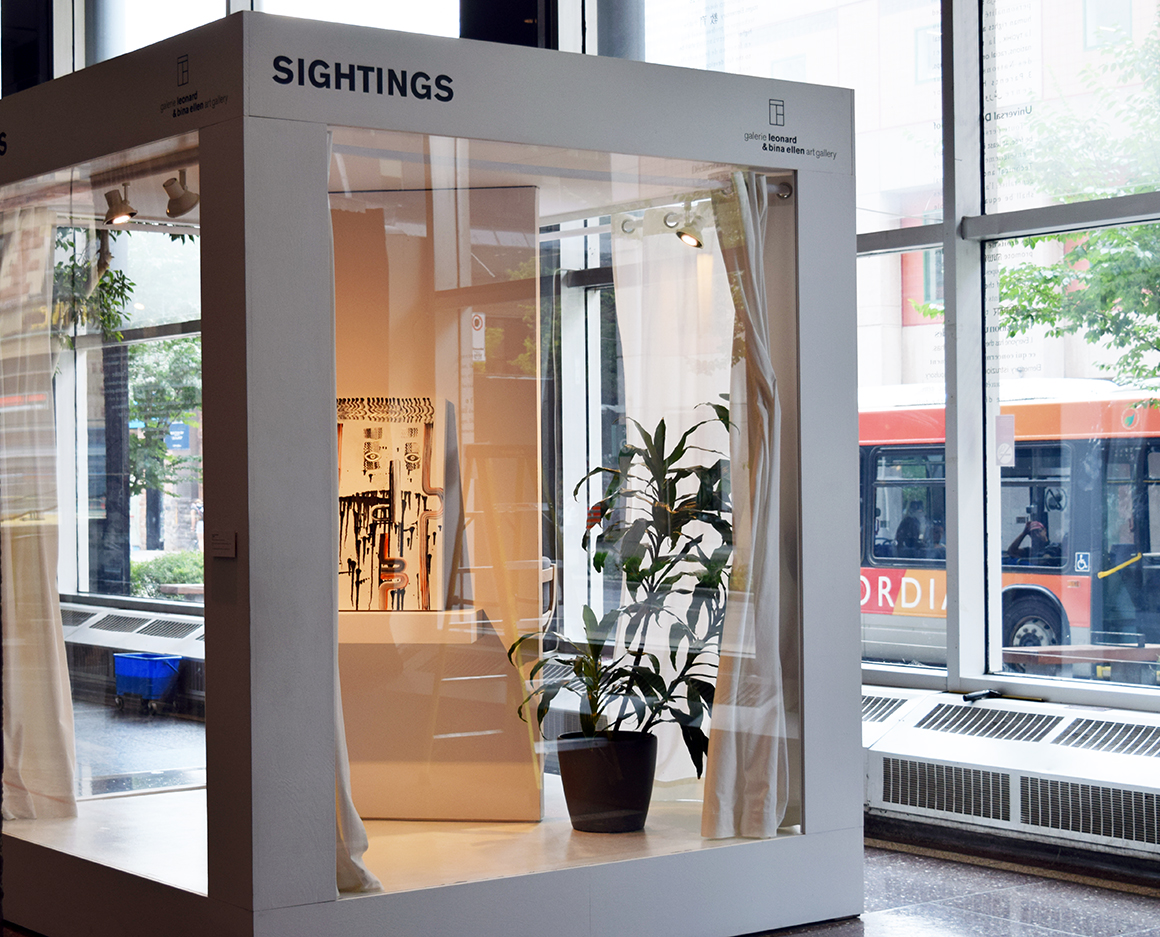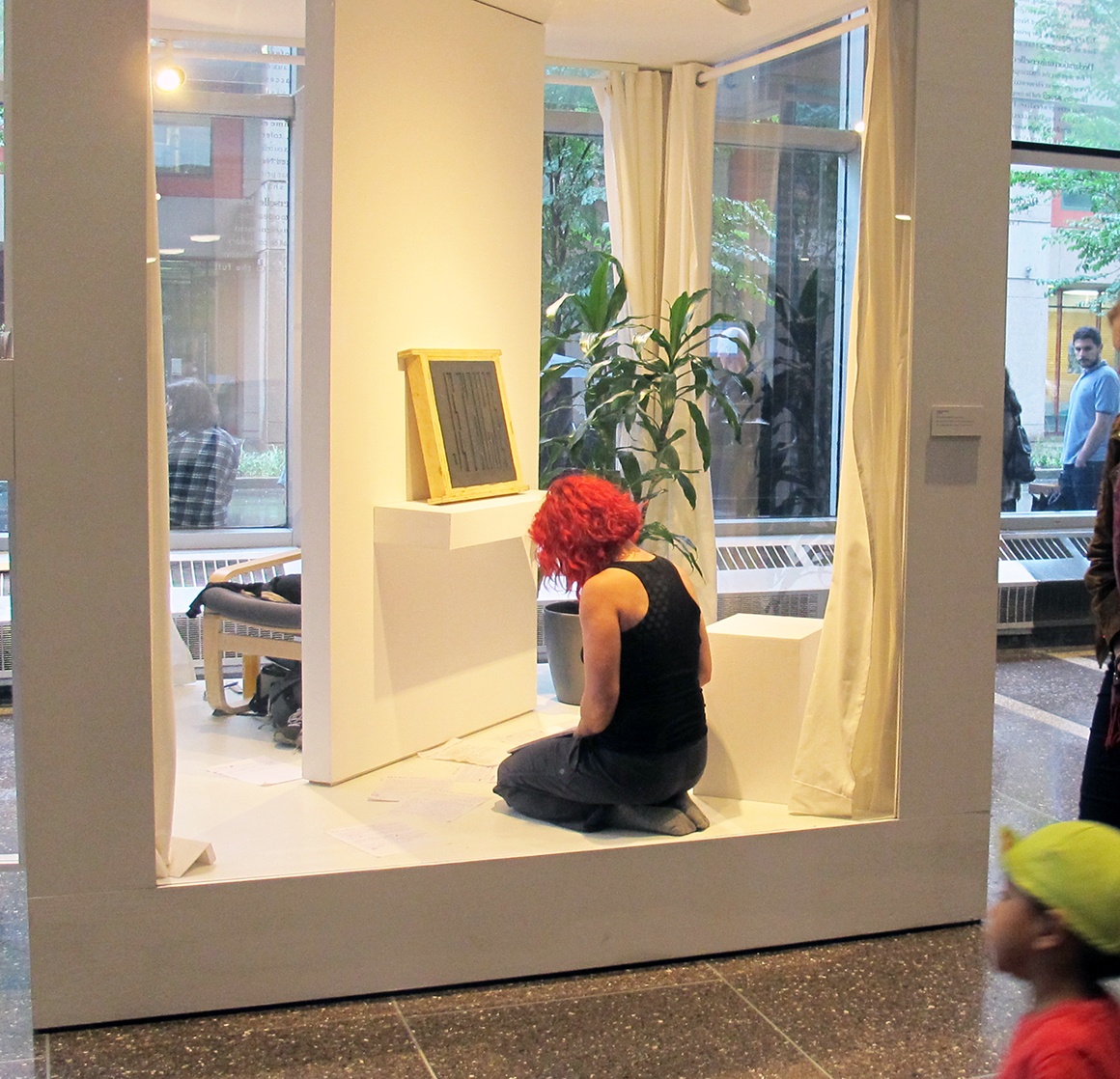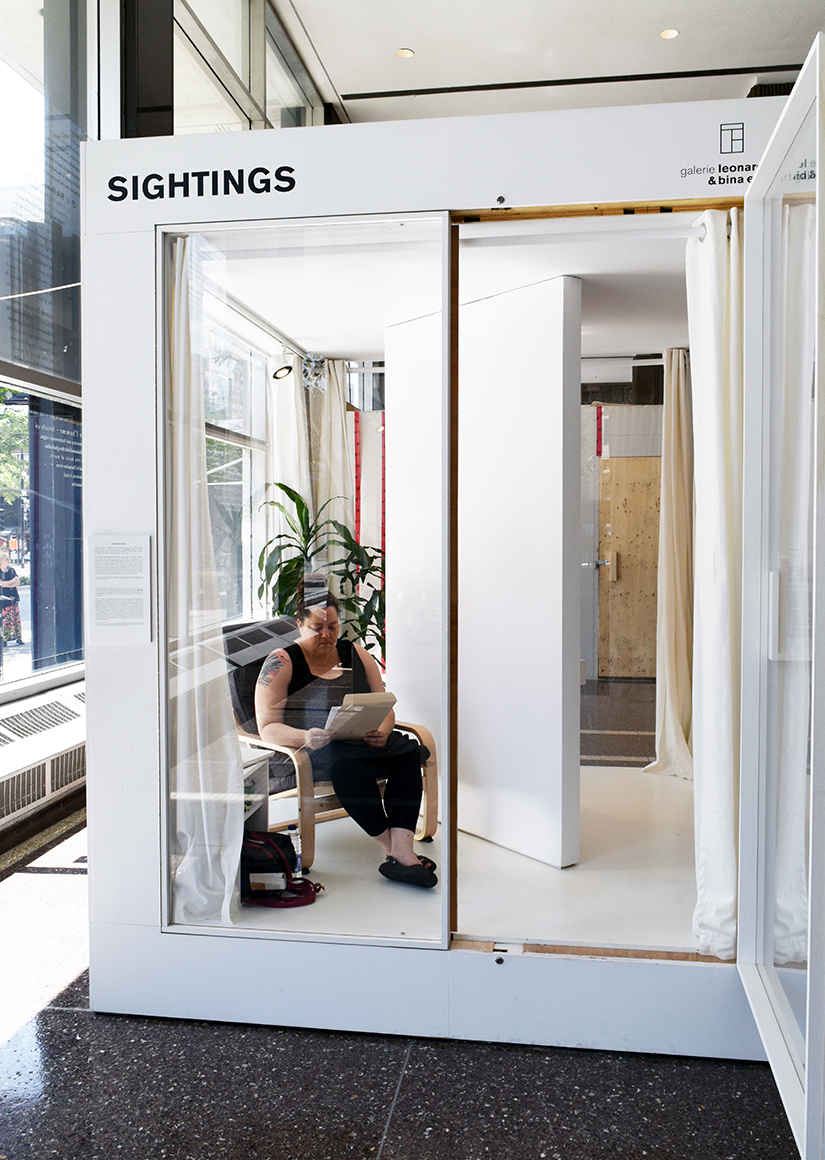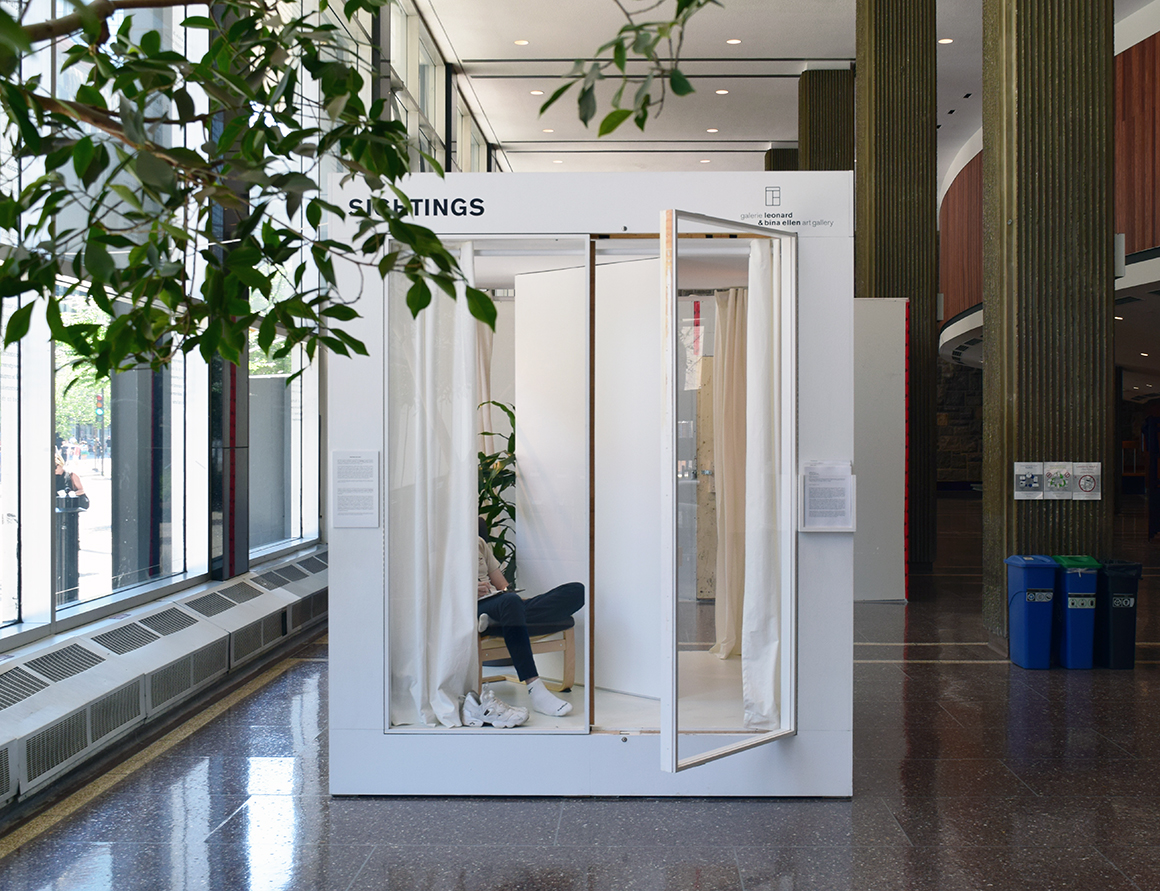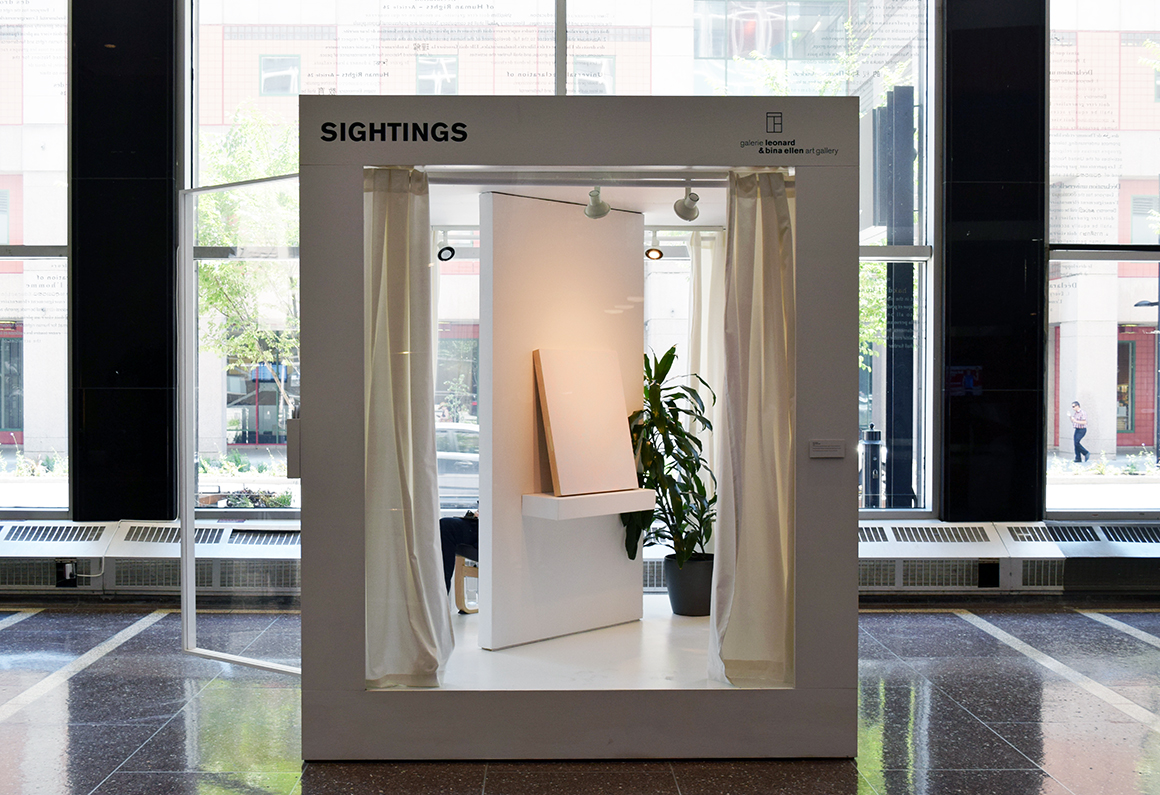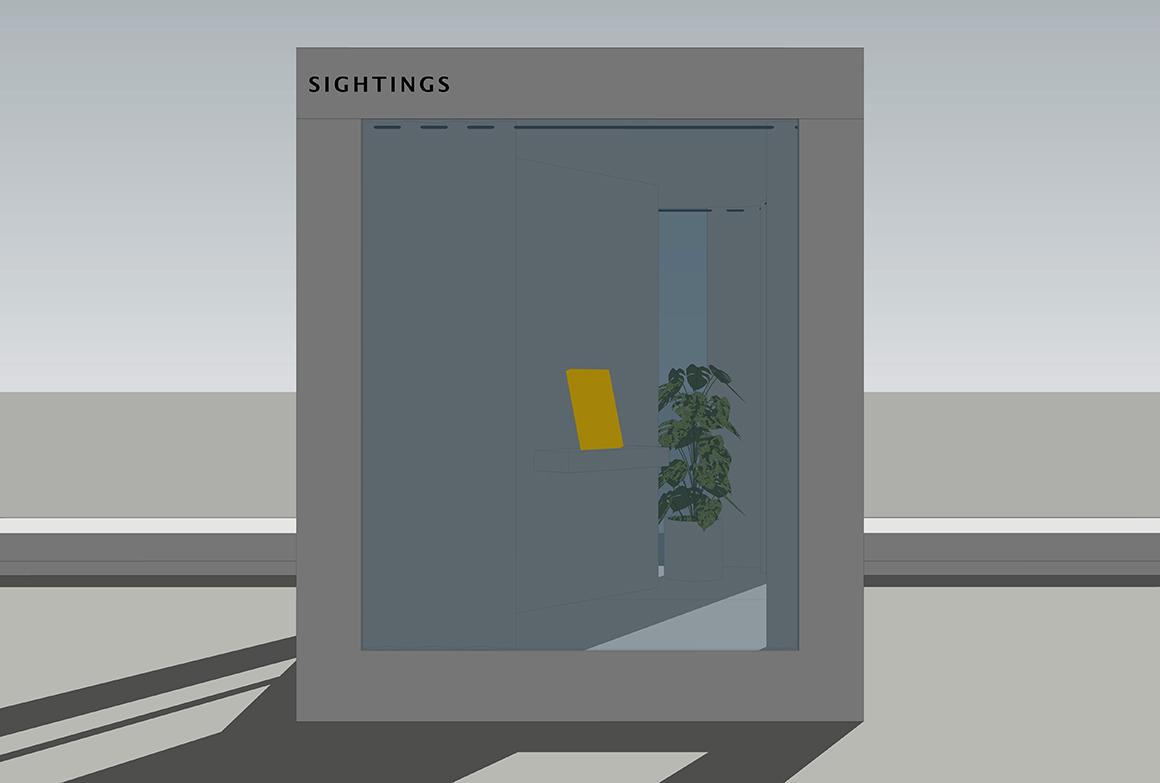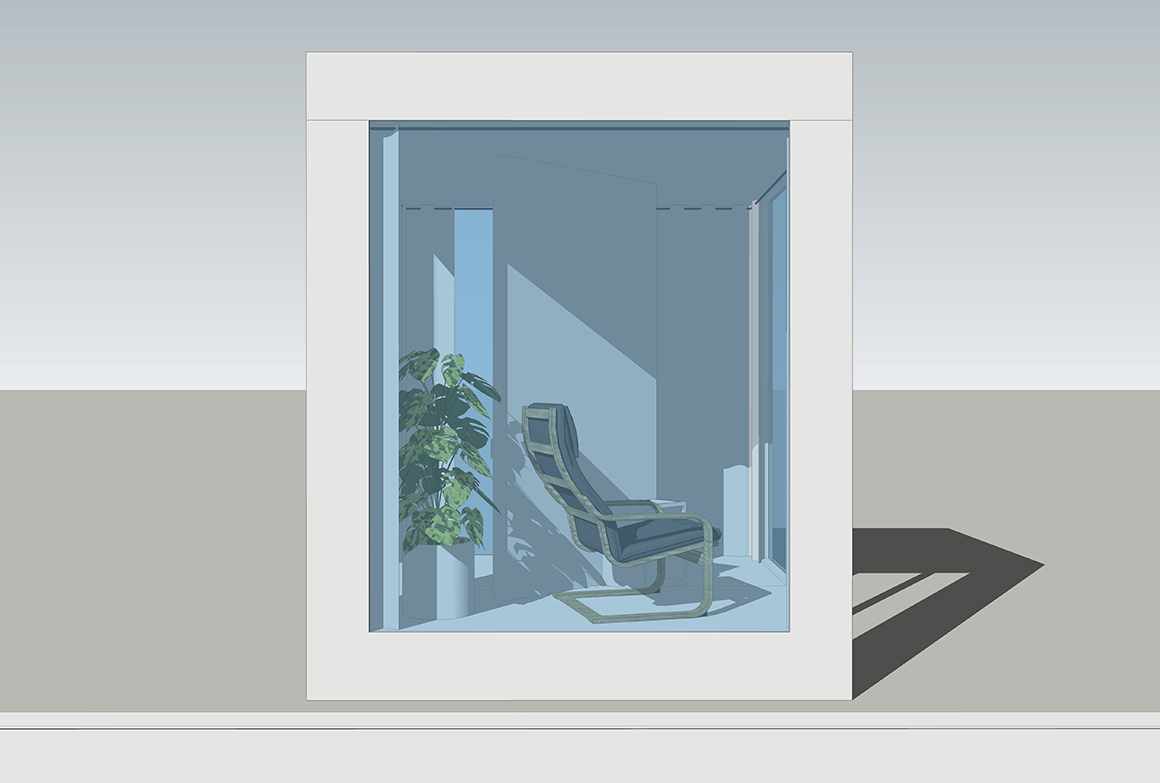 July 4 – September 5, 2016
A project by Nicolas Grenier
With the collaboration of BGL, Sylvain Bouthillette, Pierre Dorion, David Elliott, Brendan Flanagan, Paul Hardy, Annie Hémond-Hotte, Nelson Henricks, Dil Hildebrand, Pierre Julien, Trevor Kiernander, Ben Klein, Guillaume Lachapelle, Luce Meunier, Ève K. Tremblay
Artworks presentation schedule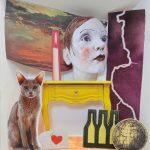 Tuesday, August 16 – Tuesday, August 23: David Elliott, Study for Séance, 2013-2016
Temporal value of exchange: 16 hrs.
Acquirer: Margarida Mafra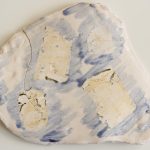 Wednesday, August 24 – Sunday, August 28: Ève K. Tremblay, Contour d'images oubliées (around forgotten images) (all mixed up with majolica), 2016
Temporal value of exchange: 4 hrs.
Acquirer: Bernard Schütze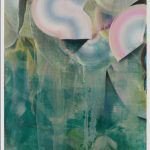 Monday, August 29 – Wednesday, August 31: Paul Hardy, Mystical Performance Anxiety, 2016
Temporal value of exchange: 7 hrs.
Acquirer: Luc LaRochelle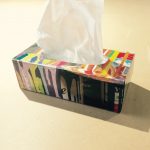 Thursday, September 1 – Monday, September 5: BGL, Nostalgia, 2016
Temporal value of exchange: 9 hrs. 13 min. 3 sec.
Acquirer: Marcel Fournier
The complete schedule is available here.
The SIGHTINGS cube is accessible weekdays and weekends from 7 am to 11 pm all summer.
The Time of the Work proposes an artwork acquisition system that involves neither money nor any utilitarian currency. Rather than a monetary value established according to a speculative logic, it is the subjective time required for the production of a given work that determines the terms of its transaction. As part of this project, several participants have committed themselves to spending a certain amount of time inside the SIGHTINGS cube with an artwork they wish to acquire. The duration of their presence in the cube is equivalent to the time the artist estimates to have devoted to the work's production. Moreover, provided with only a set of paper and pencils, participants carry out this process without a cell phone, tablet, computer, book or other communication, entertainment or work device. The thoughts jotted down during this experience are subsequently given to the artists in exchange for their work.
Without claiming to have found a way of operating outside the commodity economy that has always governed the art world, this project seeks to activate another economy, one in which the value of works is considered not in terms of money, but of time and attentiveness—elements of human experience that are nowadays considered to be new "rarities". As Yves Citton states, "every work of art effectively depends on an economy of attentiveness in order to circulate, which it reconditions in return"1. Art thus innovatively renegotiates the time available for reflection, an increasingly rare resource in a world overrun with digital communication and entertainment. In proposing a reflective experience based on the temporal value (relative and subjective) associated with art, this project also seeks to question the social and ethical relation between the artist's labour and the "labour" of the viewer-acquirer purchasing the work.
Taking inspiration from various economic practices that have, since the Industrial Revolution, used time as an alternative exchange unit, and noting the renewal of "time-banking" practices in recent years,2 The Time of the Work addresses not only the problem of quantifying or "accounting" artistic labour, but also the use of time, which is subjected to the contemporary imperative of productivity. Indeed, what does it mean to spend a more or less lengthy moment "doing nothing" in a space designed to this end, with the implicit aim to acquire an art object?
Through the transformation of the SIGHTINGS cube into a semi-private space, halfway between a living room and a showroom, and by "exhibiting" individuals who usually define themselves as viewers or collectors, this project invites us to reconsider the very notion of the exhibition form and the act of displaying what it aims to question.
Katrie Chagnon
Yves Citton,  "L'économie de l'attention," RDL, no. 11 (May-June 2013), p. 74. Our translation
See, among other things, the project Time/Bank by the artists Julieta Aranda and Anton Vidokle on the e-flux platform at: e-flux.com/timebank/about
---
Nicolas Grenier (1982) received his MFA from CalArts (USA) in 2010 and his BFA from Concordia University (Canada) in 2004. He lives and works in Montreal and Los Angeles, and is represented by Gallery Luis De Jesus Los Angeles and Galerie Antoine Ertaskiran (Montreal). His work has been exhibited regularly in Canada, the US and Europe. Recent exhibitions include Vertically Integrated Socialism (Bruges Triennial 2015, Belgium), Promised Land Template (Biennale de Montréal 2014, Musée d'art contemporain de Montréal and Commonwealth & Council, Los Angeles), One Day Mismatched Anthems Will Be Shouted In Tune (Luis De Jesus, Los Angeles, 2014) and Marginal Revolutions (KUAD Gallery, Istanbul, 2013). His work is part of several private and public collections such as the Loto-Québec Collection, the Progressive Art Collection and the Collection of the Musée national des beaux-arts du Québec.