SYSTEMS
Launched in 2012 in celebration of the 50th anniversary of the Leonard & Bina Ellen Art Gallery's Permanent Collection, the SIGHTINGS satellite exhibition program was conceived as an experimental platform to critically reflect upon the possibilities and limitations of the modernist "white cube." As part of this program, artists and curators are invited to develop projects for a cubic display unit located in a public space at the university, with the aim of generating new strategies for art dissemination.
Since 2015, programming for SIGHTINGS has explored an annual thematic—work/labor, pedagogy, and psychopathologies—that re-examines the exhibition display's formal, conceptual, historical and contextual parameters in light of current sociocultural issues. Focusing on the notion of systems, the 2018-2019 edition addresses how the systematicity of the art world corresponds with that of the real world as considered in its various dimensions (political, social, and economic, among others). Accordingly, this cycle of projects continues the critique of the white cube as a "closed system" at the origin of SIGHTINGS and revisits the legacy of conceptualism by drawing attention to power dynamics, contradictions and flaws inherent to these systems.
The SIGHTINGS program is developed by Katrie Chagnon.
SIGHTINGS is located on the ground floor of the Hall Building at 1455 De Maisonneuve Blvd. West and is accessible weekdays and weekends from 7 am to 11 pm.
SIGHTINGS 25
Safety Orange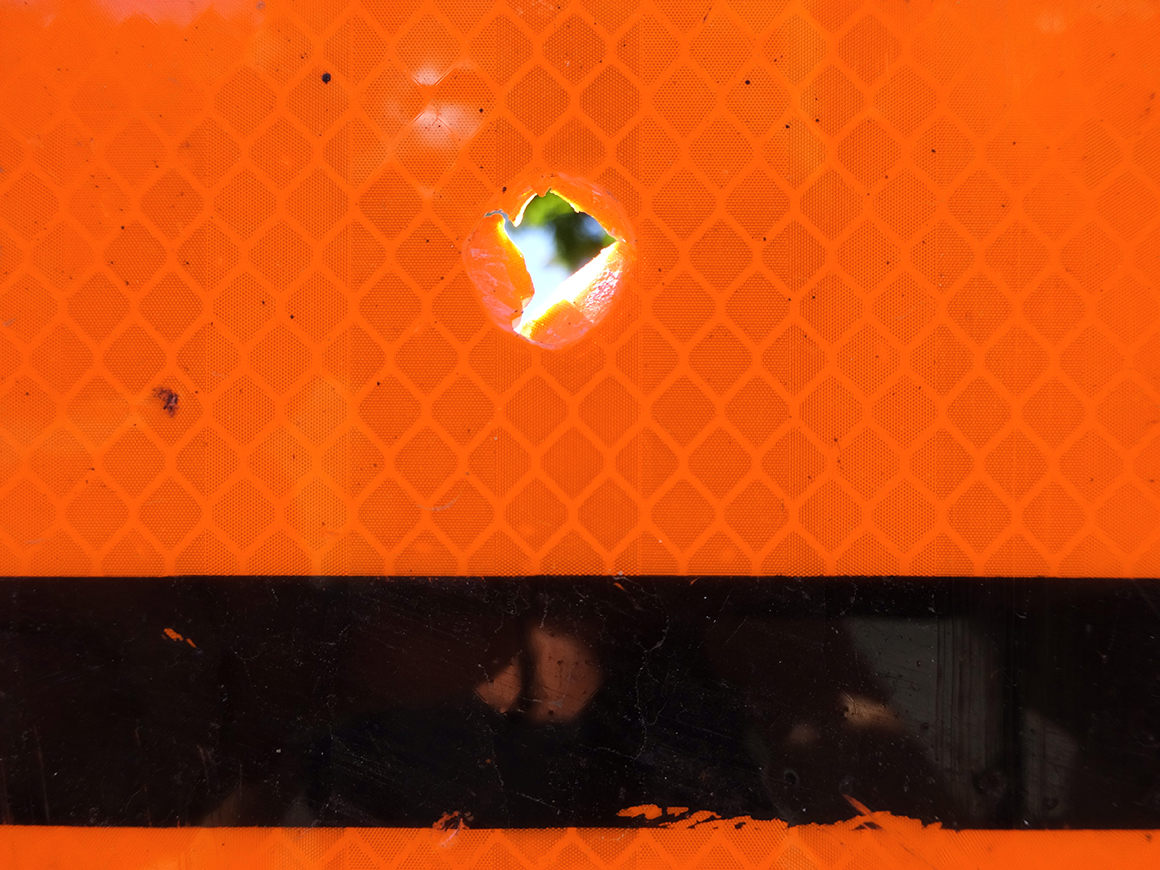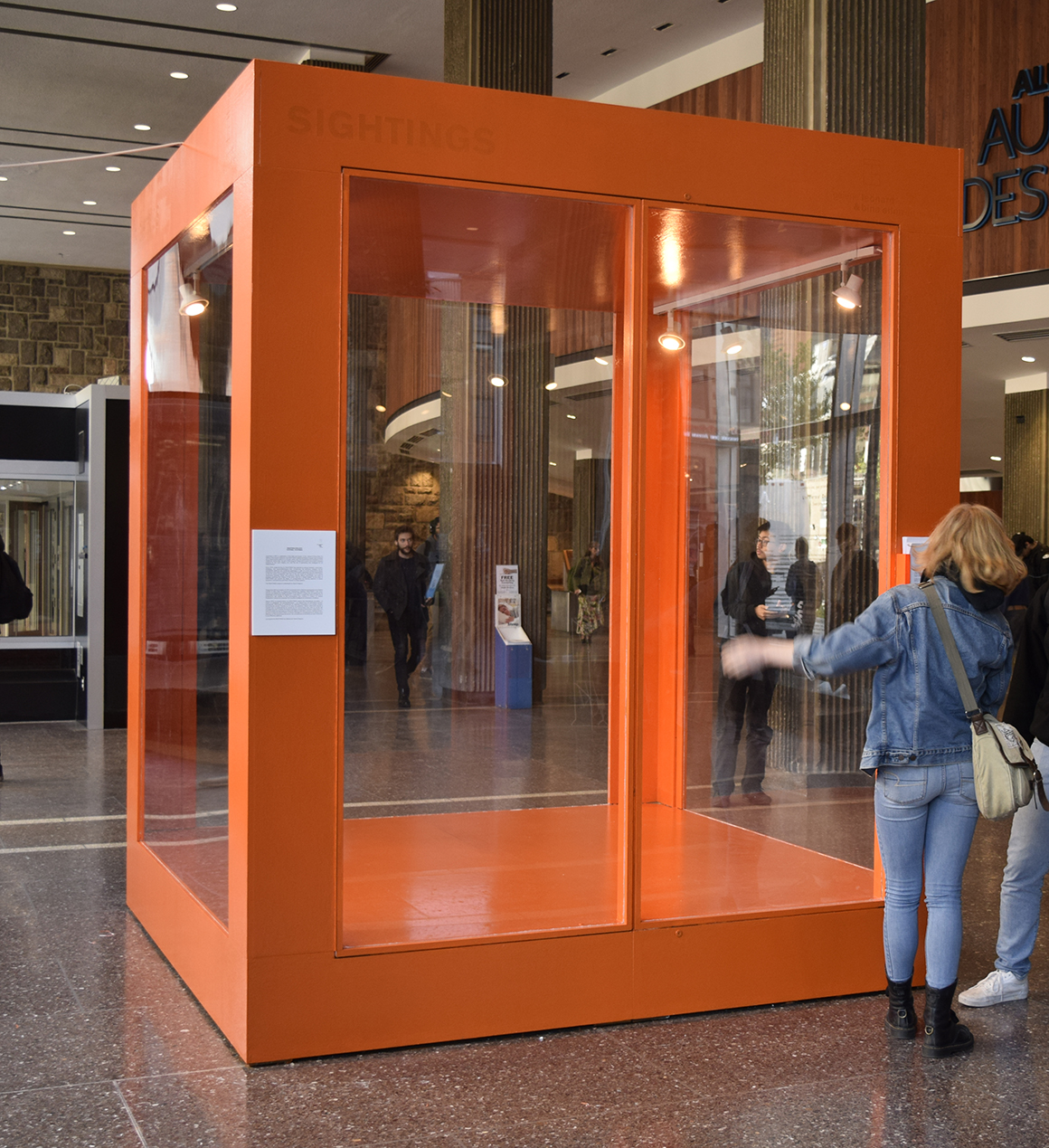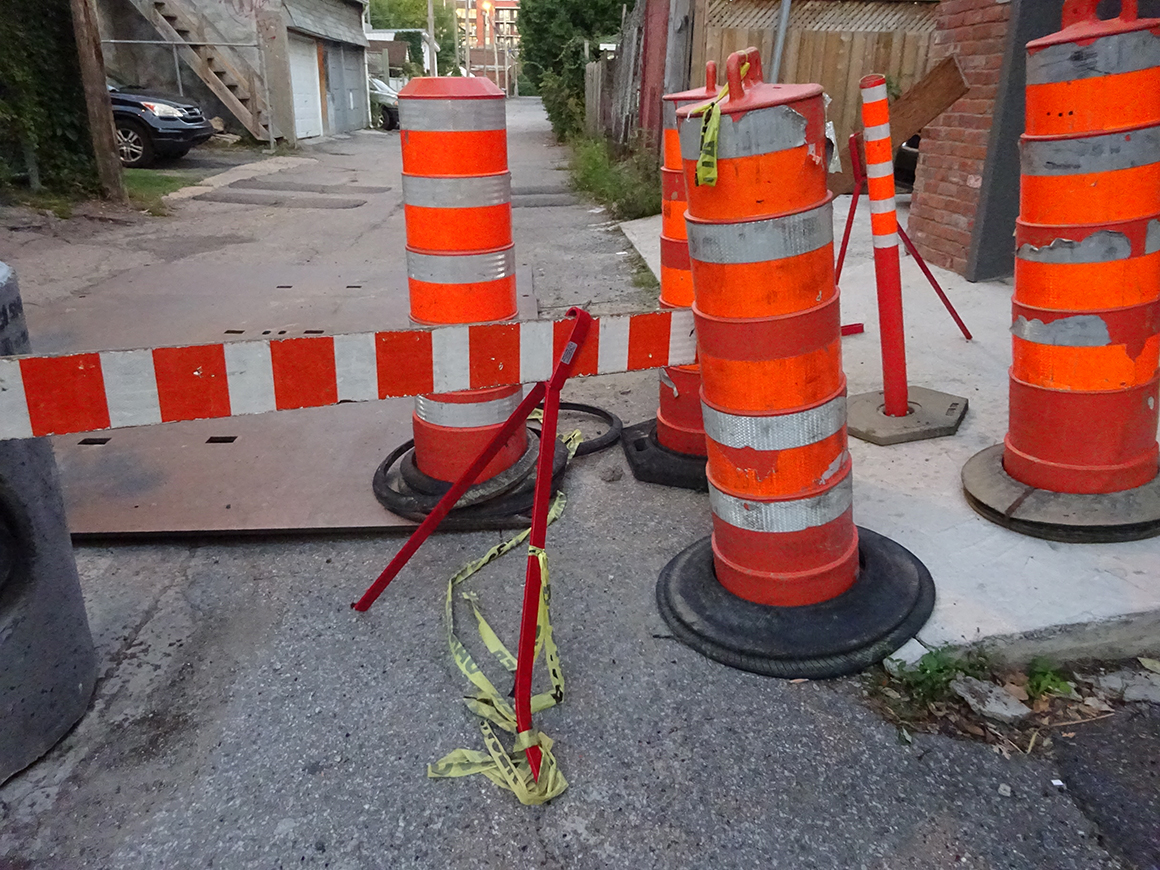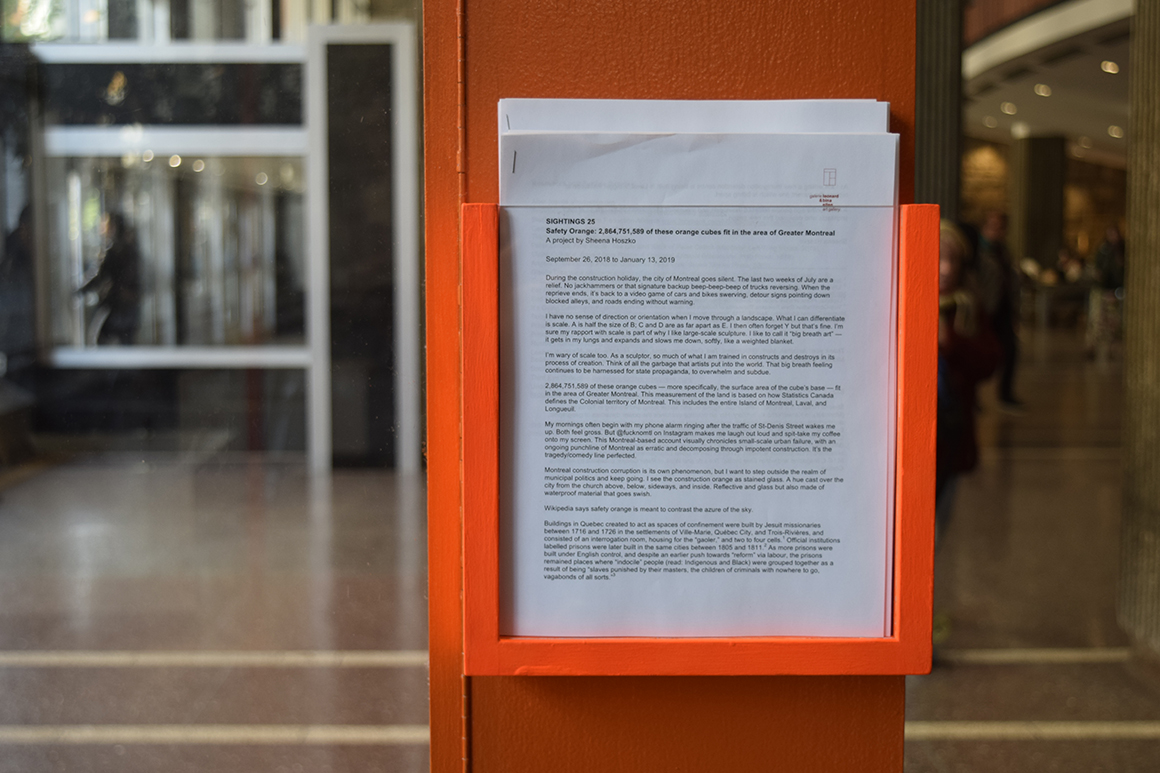 September 26, 2018 – January 13, 2019
Safety Orange: 2,864,751,589 of these orange cubes fit in the area of Greater Montreal
A project by Sheena Hoszko
During the construction holiday, the city of Montreal goes silent. The last two weeks of July are a relief. No jackhammers or that signature backup beep-beep-beep of trucks reversing. When the reprieve ends, it's back to a video game of cars and bikes swerving, detour signs pointing down blocked alleys, and roads ending without warning.
I have no sense of direction or orientation when I move through a landscape. What I can differentiate is scale. A is half the size of B; C and D are as far apart as E. I then often forget Y but that's fine. I'm sure my rapport with scale is part of why I like large-scale sculpture. I like to call it "big breath art" — it gets in my lungs and expands and slows me down, softly, like a weighted blanket.
I'm wary of scale too. As a sculptor, so much of what I am trained in constructs and destroys in its process of creation. Think of all the garbage that artists put into the world. That big breath feeling continues to be harnessed for state propaganda, to overwhelm and subdue.
2,864,751,589 of these orange cubes — more specifically, the surface area of the cube's base — fit in the area of Greater Montreal. This measurement of the land is based on how Statistics Canada defines the Colonial territory of Montreal. This includes the entire Island of Montreal, Laval, and Longueuil.
Read more
My mornings often begin with my phone alarm ringing after the traffic of St-Denis Street wakes me up. Both feel gross. But @fucknomtl on Instagram makes me laugh out loud and spit-take my coffee onto my screen. This Montreal-based account visually chronicles small-scale urban failure, with an ongoing punchline of Montreal as erratic and decomposing through impotent construction. It's the tragedy/comedy line perfected.
Montreal construction corruption is its own phenomenon, but I want to step outside the realm of municipal politics and keep going. I see the construction orange as stained glass. A hue cast over the city from the church above, below, sideways, and inside. Reflective and glass but also made of waterproof material that goes swish.
Wikipedia says safety orange is meant to contrast the azure of the sky.
Buildings in Quebec created to act as spaces of confinement were built by Jesuit missionaries between 1716 and 1726 in the settlements of Ville-Marie, Québec City, and Trois-Rivières, and consisted of an interrogation room, housing for the "gaoler," and two to four cells.1 Official institutions labelled prisons were later built in the same cities between 1805 and 1811.2 As more prisons were built under English control, and despite an earlier push towards "reform" via labour, the prisons remained places where "indocile" people (read: Indigenous and Black) were grouped together as a result of being "slaves punished by their masters, the children of criminals with nowhere to go, vagabonds of all sorts."3
As I am writing a new immigration detention centre is being built in Laval, a bigger institution to replace the current one which is falling apart.
A few months ago people released thousands and thousands of crickets into the offices of the architects who designed this new prison.4
Sheena Hoszko
Jacques Laplante, Prison et ordre social au Québec (Ottawa: Les Presses de l'Université d'Ottawa, 1989), 44.
"Life in Prison: Building Prisons," The Virtual Museum of Canada, 2009, accessed March 26, 2017, http://www.culturepop.qc.ca/prison/en/building-prisons.php.
Laplante, Prison et ordre social au Québec, 59 [Free translation].
"Anti-Construction Crew Releases Thousands of Crickets into Immigration Prison Architecture Headquarters," Montreal Counter-Information, April 18, 2018, https://mtlcounterinfo.org/anti-construction-crew-releases-thousands-of-crickets-into-immigration-prison-architecture-headquarters/.
Close
Sheena Hoszko is a sculptor, anti-prison organizer, and settler living and working in Tio'tia:ke (Montréal), in Kanien'kehá:ka territory. Her art practice examines the power dynamics of geographic, architectural, and psychological sites, and is informed by her family's experiences with incarceration, the military, and mental illness. Selected recent / upcoming exhibitions include Centre Clark and La Centrale (Montreal), A Space (Toronto), The New Gallery (Calgary), Blackwood Gallery (Mississauga), Musée d'art de Joliette, and La Ferme du Buisson (Noisiel). Hoszko recently presented at the Queens Museum (NYC) as part of Open Engagement. Her writing has appeared in M.I.C.E magazine and within Free Inside: The Life and Work of Peter Collins, published by Ad Astra Comixs.
Resources and Further Reading
Alter Justice, alterjustice.org
Architects/Designers/Planners for Social Responsibility, adpsr.org
Black Indigenous Harm Reduction Alliance, facebook.com/blackindigenousharmredux
Certain Days: Freedom for Political Prisoners Calendar, certaindays.org
Read more
Tings Chak, tingschak.com
Peter Collins, Free Inside: The Life and Work of Peter Collins (Montreal: Left-Wing Books, 2018)
Claire Culhane, Barred from Prison: A Personal Account (Vancouver: Pulp Press, 1979).
Angela Y. Davis, Are Prisons Obsolete? (New York: Seven Stories Press, 2003).
Giselle Dias, wlu.ca/academics/faculties/faculty-of-social-work/centre-for-indigegogy/faculty.html
Critical Resistance, criticalresistance.org
Ear Hustle Podcast, earhustlesq.com
End Immigration Detention Network, endimmigrationdetention.com
It's Going Down, itsgoingdown.org
Robyn Maynard, robynmaynard.com
Prisoner Correspondence Project, prisonercorrespondenceproject.com
Prison Radio Show, prisonradioshow.wordpress.com
Rustbelt Abolition Radio, rustbeltradio.org
Leanne Betasamosake Simpson, leannesimpson.ca
Solidarity Across Borders, solidarityacrossborders.org
Société Elizabeth Fry du Québec, elizabethfry.qc.ca
Third Eye Collective, thirdeyecollective.wordpress.com
Under New Management: A Brief History of Prisons and Resistance to them in So-Called Canada, itsgoingdown.org/wp-content/uploads/2018/03/canprison.pdf
Close
Event
Sculpture and Power
Wednesday November 7, 6:00 pm – 8:00 pm
Location: Mezz Hive Café Co-op, 1455 de Maisonneuve Blvd. West, Hall Building, H-290
In conjunction with Sheena Hoszko's exhibition Safety Orange: 2,864,751,589 of these orange cubes fit in the area of Greater Montreal, the Leonard & Bina Ellen Art Gallery is hosting Sculpture and Power, a collective discussion exploring how contemporary sculpture enacts and limits power. The discussion will center on writings by Anna C. Chave, Yaniya Lee, and Matthew B. Crawford, that participants are encouraged to read prior to the event.
This conversation, facilitated by Sheena Hoszko, Katrie Chagnon, and Kelly Jazvac, is organized in collaboration with the Concordia Sculpture MFA Program
The discussion will take place mainly in English.
Snacks will be provided to participants.
Please register with Robin Simpson to participate. Spots are limited.
Reading List
Anna C. Chave, « Minimalism and the Rhetoric of Power », Arts Magazine, vol. 64, no 5, p. 44-63.
Matthew B. Crawford, Shop Class ad Soulcraft: An Inquiry into the Value of Work, New York, Penguin Books, 2009, p. 5.
Yaniya Lee, « Piper's Threat », Flash Art Online, no 319 (March-April 2018). https://www.flashartonline.com/article/pipers-threat/
---
Thank you: Jonathan, Mark, @fucknomtl, Ted, Genevieve, Anna, Kiley, Michelle, Skye, Marie-Michelle, Miranda, Michèle, Katrie, Hugues, Robin, and the Leonard & Bina Ellen Art Gallery.
SIGHTINGS is located on unceded Kanien'kehá:ka territory. The prison system is an extension of the colonization of the lands of so-called Quebec and Canada.