TIM CLARK READING THE LIMITS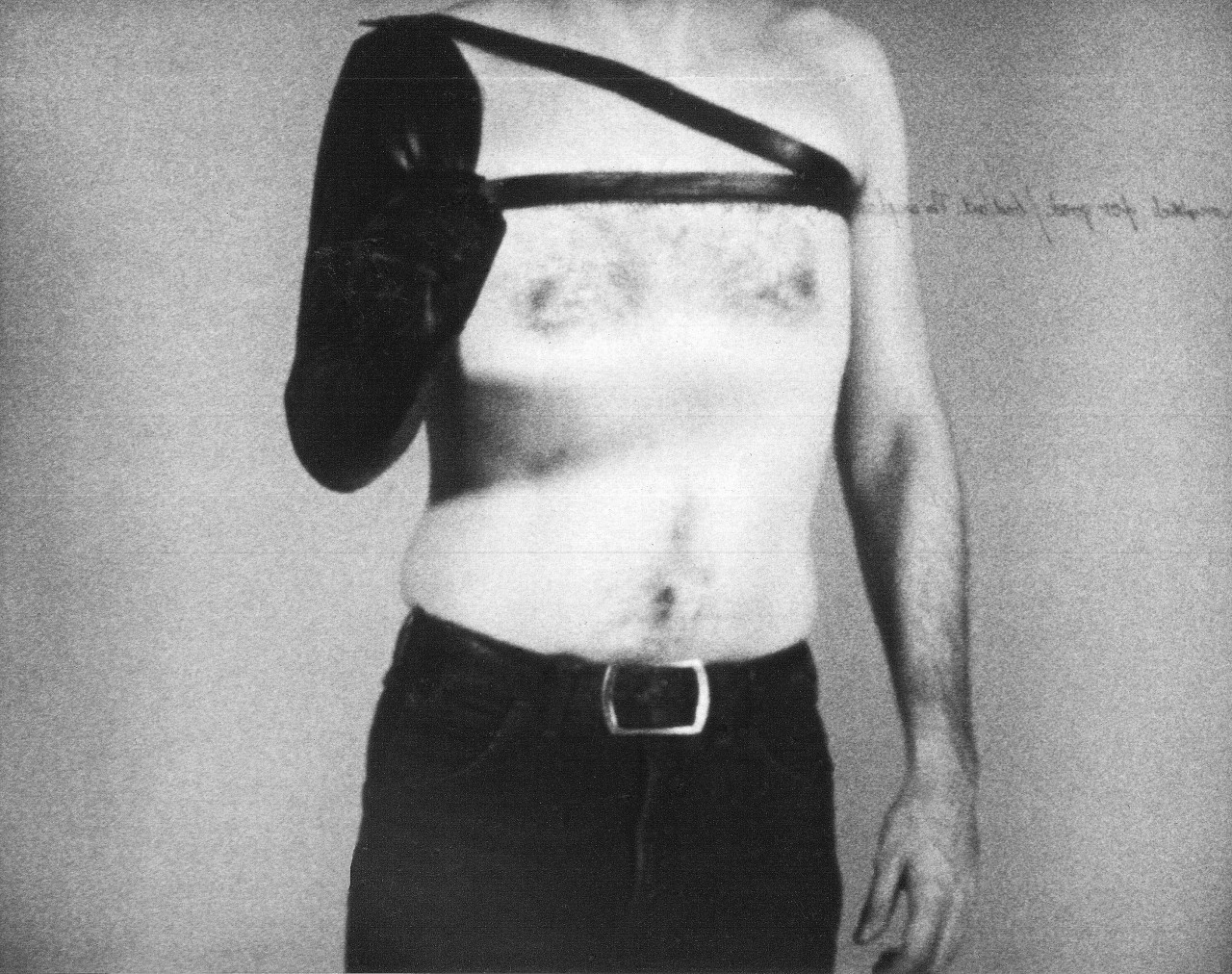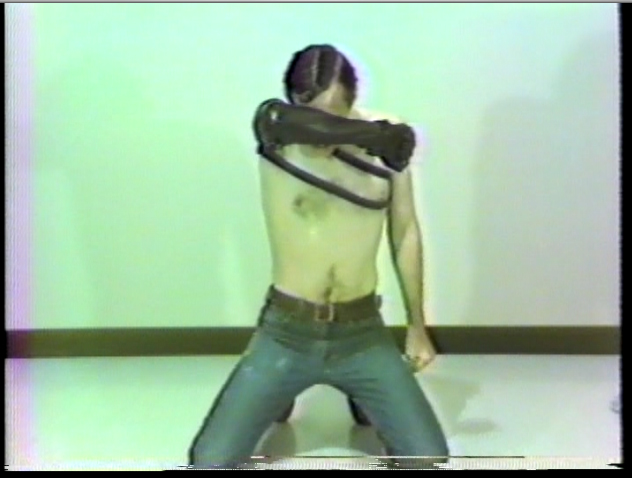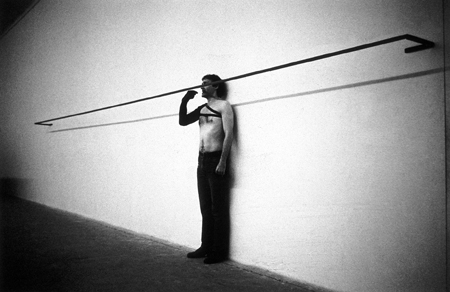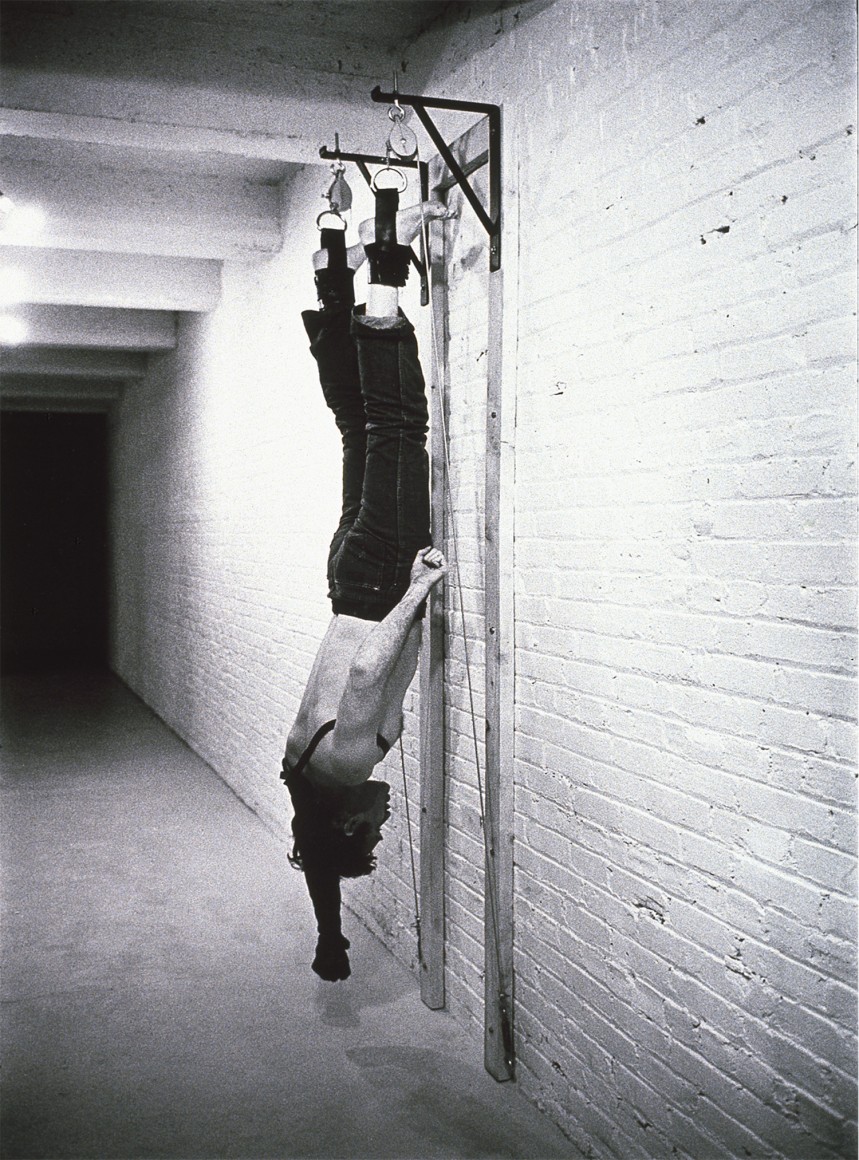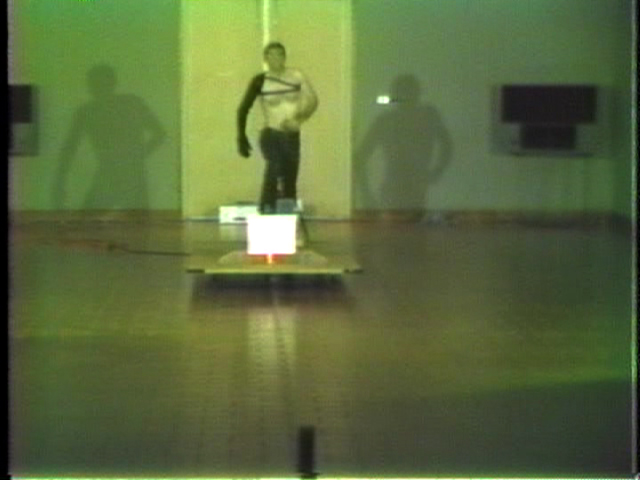 This exhibition is a retrospective look at the performance/installation work of Montreal artist Tim Clark. It begins in 1975 with Clark's early photo work and ends in 2003 with a video that is a visual articulation of Cormac McCarthy's novel Blood Meridian.
Clark's singular performance-based practice is significant for its engagement with the issue of the limits of art, particularly in relation to ethical and philosophical thought. In the late 1970s and 80s, Clark produced radical, latently violent performance and installation works that were enacted by means of intense readings of various texts, mostly of a philosophical nature. In the 1990s, he worked on a series of tables that became the site of a redeployment of performance practice in relation to the book, reading, and the philosophical subject.
CURATOR'S STATEMENT
Tim Clark. Reading the Limits provides an opportunity to address a number of important questions concerning both the history and the future progress of contemporary art in Canada. Moreover, it affords a rare glimpse into one aspect of the development of contemporary art in Quebec.
Read more
In light of the nature of Clark's work and his engagement with philosophical issues, this exhibition raises the question of the role played by performance art as a form of knowledge in the university, especially given the radical and often violent avant-garde history that has underpinned such an art form. How has the university redefined the nature of performance art, given the fact that it has transformed the social functions of the artist and the artwork since the 1960s, when artists first began to be trained systematically in its specialized disciplinary-based culture? This is a question that points to conceptual art's role in pioneering a special relationship with one of the university's basic social mandates (research) and with its privileged media (writing and the book)—which are the vehicles for the inscription and dissemination of knowledge. The artists of the 1960s and 70s used writing and book-based knowledge in their work in order to probe the limits of art as traditionally understood, and such strategies also redefined artists' social roles and aesthetic practices. Clark's performance work, his table installations, and his recent feature-length video point to the changing social functions of the artist. As well, these works are emblematic of how art fosters a transformation in forms of knowledge, especially in cases when artworks are used to explore and expand our understanding of what art is, of how disciplines operate, of how knowledge is constituted and disseminated, and of how knowledge can transform the world that we live in and share.
Tim Clark. Reading the Limits presents the full range of the work produced by this important yet little-known artist. The exhibition allows viewers to track and understand the nature of Clark's engagement with both conceptual art and philosophy over a thirty-year period. In so doing, visitors are also confronted with an underlying curatorial problem which has been addressed through the exhibition's mode of presentation. How does one present works that are transient to the point of leaving little or no visual traces? An answer to this question has been provided through the exhibition's conceptualization and layout.
– David Tomas, curator
ADDITIONAL SOURCES OF INFORMATION
Clark, Tim. Bruno Dumont, the Sacred, and Our Experience of Violence. Parachute 123 (2006): 94-119.
Clark, Tim. Carter's Cartesian Paraphrase and "Operational Autonomy": The Carter-Bostrom Anthropic Principle, the Principle of Mediocrity, and "Being No One . . ." Journal of Evolution & Technology 17 (March 2008): 59-70.
Clark, Tim. Introduction, Dissemination, and Education : Michel Foucault, "Integrated Intellectuals," and Writing on the Visual Arts in English Canada. Theory Rules : Art As Theory/Theory and Art. Ed. Berland, Jody, Will Straw, and David Tomas. Toronto : University of Toronto Press, 1996. 257-82.
Clark, Tim. Limits in Art. Montréal : Optica, 1979.
Clark, Tim. Tim Clark : Notes. Parachute 13 (1978): 40-42.
Tomas, David. Tim Clark's Deipnosophistae : an art of aesthetic vice? Parachute 71 (1993): 24-27.
Tomas, David, and Michèle Thériault, eds. Tim Clark. Reading the Limits Œuvres/Works 1975-2003. Montréal : Leonard & Bina Ellen Art Gallery, 2008.
Close
EXPLORE
reading, installation, and performance and how they interact in Tim Clark's work;
the relationship that exists between language and action and the ways in which it is explored;
the use of references and the act of referencing and how these intersect and diverge;
art as research and art in the context of university culture;
film, its influences on this work, and the ways in which its boundaries or limits are examined.
Read more
A FEW QUESTIONS
What is historiography and what are the processes by which historical knowledge is transmitted in Tim Clark's work?
How do the words, texts, and the book define and transmit ideas and, in the context of this exhibition, what are their roles in defining what an artist does?
In what ways are notions of performance and performative identity important in this work?
What kinds of philosophical and artistic influences form the basis of this work? Examine their integration in the work.
What is your sensory experience of this work? What references to violence are present and how do they affect this experience?
Close
ADDITIONAL SOURCES OF INFORMATION
à Kempis, Thomas. Of the Imitation of Christ. London : Oxford University Press, 1906.
Art Performances au Québec. Videorecording. Véhicule Art, Art Montréal, 1983.
Bataille, Georges. Story of the Eye. San Francisco : City Lights, 1987.
Read more
Bringhurst, Robert, ed., Visions : contemporary art in Canada. Vancouver : Douglas & McIntyre, 1983.
Britton, Susan, et al. The 11th Paris Biennale: The Canadians. Parachute 20 (1980): 4-15.
Byg, Barton. Landscapes of Resistance. Berkeley : University of California Press, 1995.
Firestone, Shulamith. The Dialectic of Sex : the case for feminist revolution. New York : Bantam Books, 1971.
Gilson, Etienne. Heloise and Abelard. Ann Arbor : University of Michigan Press, 1960.
Kaufmann, Walter Arnold. Nietzsche: philosopher, psychologist, antichrist. New York : Meridian Books, 1956.
Lyon, Danny. The Bikeriders. New York : Macmillan, 1968.
Meyer, Ursula. Conceptual Art. New York : Dutton, 1972.
Musée d'art contemporain, Montréal. Tendances actuelles au Québec. Montréal : Ministère des affaires culturelles, 1980.
Suppes, Patrick. Introduction to Logic. Princeton : D. Van Nostrand Co., 1957.
Racine, Rober. Festival de performances M.B.A.M. Parachute 13 (1978): 43-47.
Viereck, Peter. Metapolitics the Roots of the Nazi Mind. New York : Capricorn Books, 1965.
Warnock, Mary. Ethics Since 1900. London/New York : Oxford University Press, 1960.
Wittgenstein, Ludwig. Philosophical investigations. Oxford : B. Blackwell, 1958.
Wittgenstein, Ludwig. Tractatus Logico-Philosophicus. London : Routledge & Kegan Paul, 1971.
Close
Produced with the support of the Frederick and Mary Kay Lowy Art Education Fund.
Curator: David Tomas with the collaboration of Michèle Thériault and Eduardo Ralickas
Exhibition produced by the Leonard & Bina Ellen Art Gallery with the support of the Canada Council for the Arts
THE WORKS