The Leonard & Bina Ellen Gallery offers outreach programming that supports engaged, self-reflexive and critical forms of viewership on site, online, and beyond the Gallery and University. Working with our local communities in Montreal and circulating our exhibitions abroad, the Gallery's outreach programing privileges and amplifies the critical angles that context, standpoint and experience can bring to thinking about and engaging with art and exhibition making.
Mumtalakat مُمْتلَكات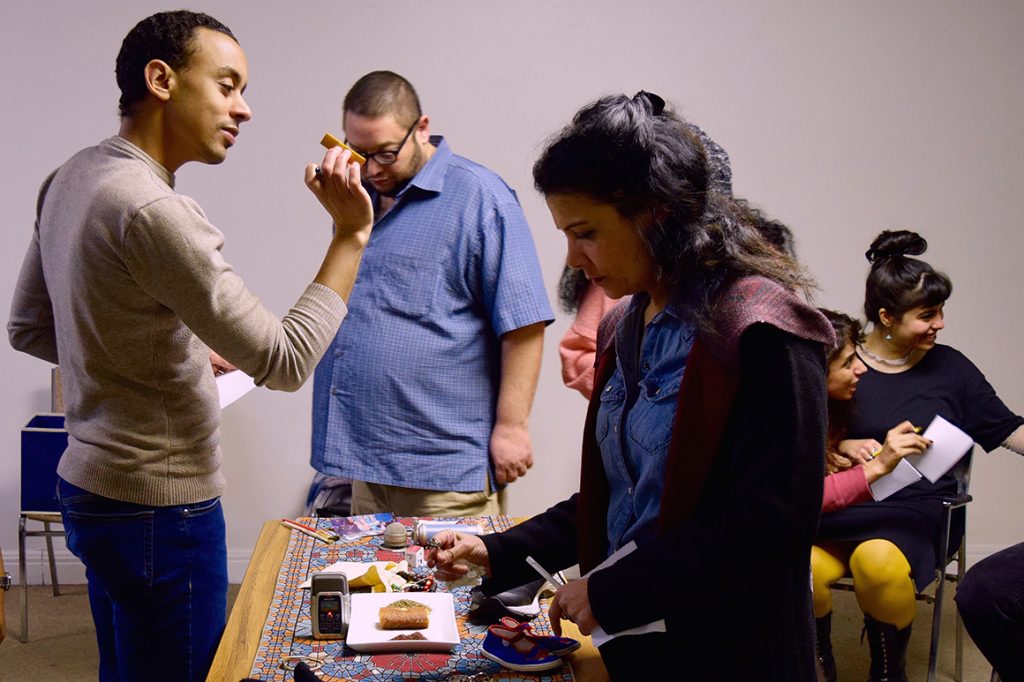 Kan Ya Ma Kan workshop, La Librairie du Moyen Orient, Saint-Laurent. December 12, 2019. Photo: Robin Simpson
«ممتلكات» هو مشروع تواصلي متعدد الأجزاء يستكشف المعاني المتجذرة في أغراض شخصية تعود لعدد من المهاجرين الناطقين باللغة العربية. ويرتكز المشروع على التاريخ الشفهي وتقوده المختصة بالحقل التعليمي إيما حركة، ويتألف من معرض وسلسلة ورش العمل «كان يا ما كان» وفعاليات عامة بالإضافة إلى موقع إلكتروني يضمّ المقابلات والنصوص. كما تدور فعاليات «ممتلكات» باللغة العربية وهي ثالث لغة مستخدمة في مونتريال، وتجري في الغاليري وخارجه وكذلك افتراضياً، اذ يهدف المشروع إلى خلق المزيد من المساحات والموارد للناطقين باللغة العربية من أجل المشاركة والإصغاء بشكل جماعي.
يرتبط أصل كلمة «ممتلكات» بمعاني المُلك والتمّلك، وهي بذلك لا تتعلق فقط بماديّة الأشياء ولكن بظواهر القوة والهيمنة. وبذلك فإن المشروع يقارب المقتنيات كعدسة ووسيلة للتأمل والحوار في محاولة لإضفاء معنى على تجربة الهجرة: ما الذي يمنح أغراضاً عادية هذه السطوة وكيف يمكن لها أن تتبوأ هذه المنزلة؟ وإلى أي مدى تستمد هذه الأغراض قدرتها من ذكريات وتجارب حيوات عاشت في كنفها؟
تبدأ الحكاية بكان يا ما كان وترجع العبارة إلى ما كان هناك أو لم يكن، بمعنى أن تكون الحكاية حقيقية أو خيالية. وتتوجه ورش عمل «كان يا ما كان» إلى الناطقين باللغة العربية، وتدعوهم إلى البحث والتداول في العلاقات ما بين السرد والإصغاء والمقتنيات، وخصوصاً تلك التي ترافقهم وتحتويهم.
Mumtalakat is a multi-part outreach program exploring the meanings embedded in objects belonging to Arabic-speaking immigrants. Grounded in oral history processes and led by educator Emma Haraké the program comprises an exhibition, the workshop series Kan Ya Ma Kan, public events, and eventually a website collecting interviews and transcripts. Working in the third most spoken language in Montreal and taking place on- and off-site as well as online, Mumtalakat aims to create more spaces and resources for Arabic-speakers to share and listen collectively.
Meaning belongings in Arabic, "mumtalakat" at its root suggests ownership, governance, and, consequently, power. As a program Mumtalakat asks how objects can become lenses and apparatuses by which to reflect upon, discuss and make sense of the immigration experience: What makes ordinary objects so potent and how do they attain such a status? To what extent does an object's power depend upon the memories and experiences embedded in them? Translating as "Once there was, once there wasn't," "kan ya ma kan" is typically used at the start of a story. As part of Mumtalakat, the workshop series Kan Ya Ma Kan brings Arabic speakers together to examine and discuss acts of telling and listening to stories, returning again to the belongings that accompany and carry them.