Following examinations of the issues of work/labour and pedagogy, the 2017-2018 program thematic for SIGHTINGS, developed by curator Katrie Chagnon, explores the area of psychopathologies, scrutinizing processes that disturb the contemporary psyche—be it individual or collective. In this context, the SIGHTINGS cube functions as an experimental apparatus: an observation room, a metaphor for mental space, a "black box" that has become transparent. Accordingly, SIGHTINGS will host a series of projects questioning the limits between the normal and the pathological, the self and the other, interiority and exteriority, as well as the structures (neurotic, psychotic, depressive, anxious, etc.) that condition our lives.
SIGHTINGS is located on the ground floor of the Hall Building at 1455 De Maisonneuve Blvd. West.
SIGHTINGS 22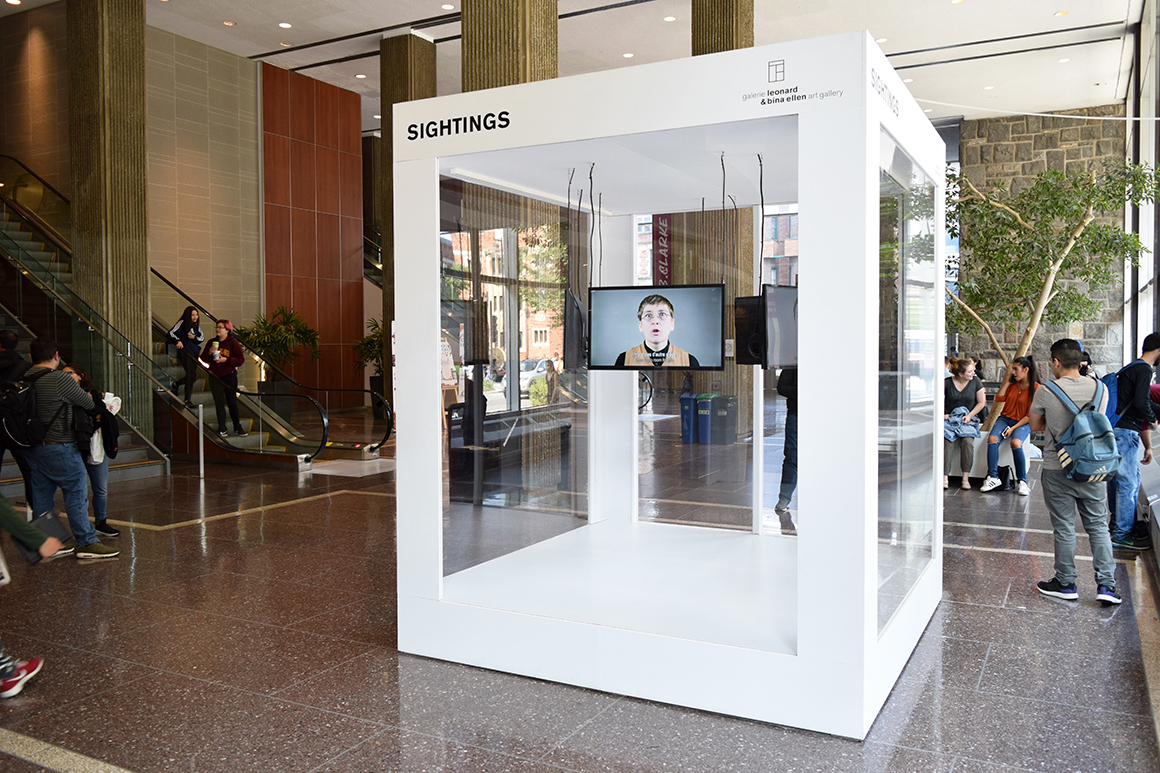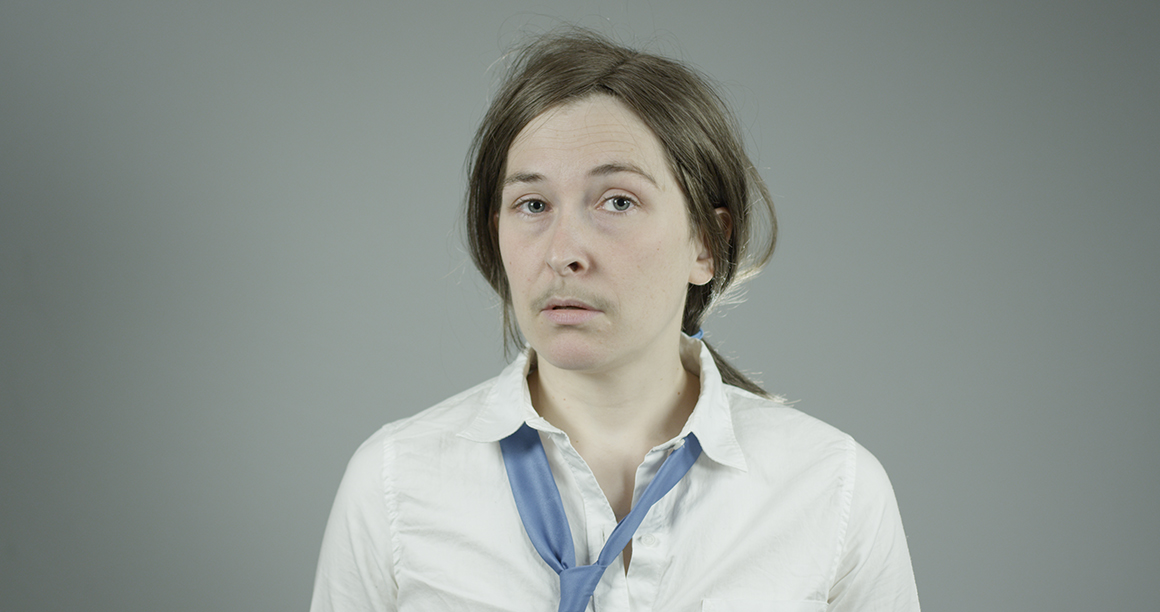 A est a si A is a est A
September 12 – December 21, 2017
A project by Marion Lessard
Events
Two Lectures
Wednesdays, October 11 and November 22, 2017
Location: Amphitheatre VA-323
Visual Arts Building
1395 René-Lévesque W.
---
Wednesday, October 11, 6 pm
A lecture by Claude Romain, a member of Marion Lessard
In this lecture, Claude Romain presented different central notions around which revolves the project A est a si A is a est A.
A partially bilingual lecture
---
Wednesday, November 22, 6 pm
A lecture by Marie Cherbat-Schiller, a member of Marion Lessard
During this presentation, Marie Cherbat-Schiller returned to questions left unanswered by Claude Romain in his lecture on October 11, in addition to openly reflecting on the key issue of the ambient manifestations of ambivalence as expressed by the various forms of circumvolutive rejection of the contemporary subject when confronting the pathologizing/pathologized projective expulsion of collective meta-structures, and all set within a perspective of decentralized framing of psychic economies in a context of organized disarray.
This lecture was made possible thanks to the support of ProCircex™.
In French or in English, or in both languages
The new cycle of SIGHTINGS on the theme of psychopathologies opens with A est a si A is a est A, a project by the collective Marion Lessard that problematizes various concepts such as unity, identity, order and framing through five voices that discourse on the Same and the Other, the Part and the Whole, Inwardness and Outwardness. Arranged in a circle, each in his/her own space, the five personalities making up "Marion Lessard" become, for the duration of their "exhibition" in the SIGHTINGS cube, both the subjects of viewers' psychological observations and projections and attentive witnesses to their behaviour in the surrounding space. Through multiple embodiments and linguistic inventions, the collective draws us into their puzzling imagination, while reflexively confronting us with our own psychological fabrications.
Katrie Chagnon, curator
In this durational performance piece, Marie Cherbat-Schiller, Jean-Nicolas Léonard, Claude Romain, Élisabeth M. Larouine and Alice Roussel, a collective better known as Marion Lessard, address common notions and issues in a complex entanglement of particular ideas.
As art historian Alethea Bakar puts it, "The five members, normally accustomed to performing in a closed circle, exhibit themselves in a cube, with the sole possibility of interacting with the exterior world through speculation. This 101 day-long non-immersive rendition of A. Roussel's song A est A si A is A est A, not only investigates global conceptual entities, but creates a degree of intelligibility in respect to specific concepts, acting both as what it is and as what it is not".1
The song by Roussel, translated here from the Italian version, provides a valuable entry point into the collective's approach, which has simultaneously been described as perspicuous and disconcerting, incongruous and coherent:
Here is there minus some t.
Was it a cat I saw? Is it a seat I see? Was AaAaA?
Is it a pool? A collection? A brain?
A bastion? A meeting? A retreat?
A circus? An altar piece? A hell?
Divides devise an other. At most totally.
Harmony was nothing but knots on Leibniz's knees. Shall we recollect? Along with shall we?
If one knows not, two will do for three.
Here is there minus some t. This is it to all, particularly.
Mind the gap you think shall be.
Claude Romain
Alethea Bakar, "What? Where? Why? Identification and (Dis)content in Marion Lessard's Contre-Performances," in Translating Forms and Norms (Montreal: Quinity Press, 2017) 131-158.
Marion Lessard is a collective consisting of Claude Romain, Élisabeth M. Larouine, Jean-Nicolas Léonard, Alice Roussel and Marie Cherbat-Schiller, whose practice in literature, drawing, video and performance unfolds around ideas and pursues objectives. Their work has been presented in exhibitions both here and there. Part of Marion Lessard is currently working towards an MFA in Fibres & Material Practices at Concordia University, where their research focuses on the connections between the myth of Narcissus and the nominal, palindromic forms of certain Western clusters, in a hermeneutic and post-historical perspective of reassessment with respect to cultural and echographic emerging in the context of a globalized and infra-fragmented world.
Marion Lessard wishes to thank Phil Hawes, Bogdan Stoica, Luigi Serafini, Manuel Bourget, Frédérik Dufour, Lise-Hélène Larin, Laurence Weyand and the forest.