Launched in 2012 in celebration of the 50th anniversary of the Leonard & Bina Ellen Art Gallery's Permanent Collection, the SIGHTINGS satellite exhibition program was conceived as an experimental platform to critically reflect upon the possibilities and limitations of the modernist  "white cube."
In 2015, the Gallery introduced a new yearly thematic program for SIGHTINGS. Following a first cycle of projects focused on the question of work/labour, the 2016-2017 edition addresses pedagogy, considered as a critical interface between the university, arts venues and social space. With this in mind, artists and curators are invited to use the spatial and conceptual structure of the SIGHTINGS cube to question the construction of knowledge inside and outside the academic "box."
Coordinator: Katrie Chagnon
SIGHTINGS is located on the ground floor of the Hall Building at 1455 De Maisonneuve Blvd. West.
SIGHTINGS 20
Souvenirs from the Jasmine Café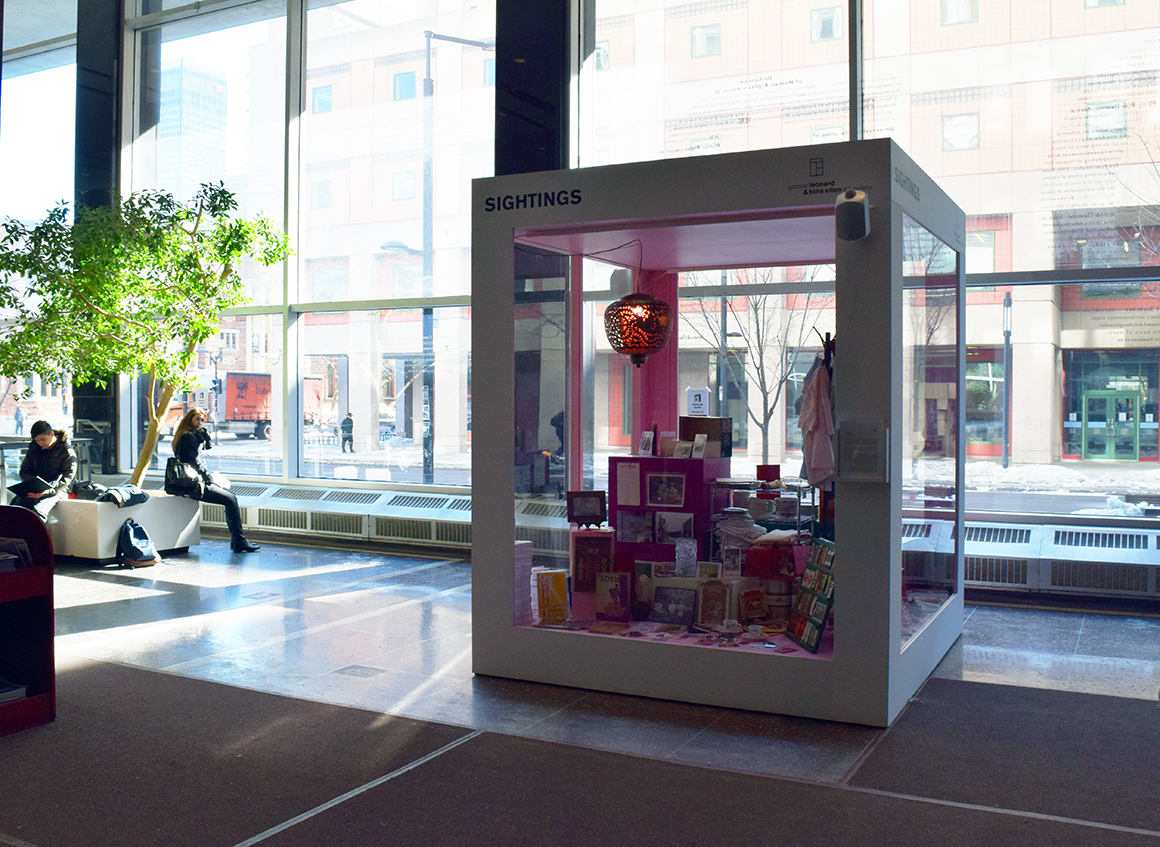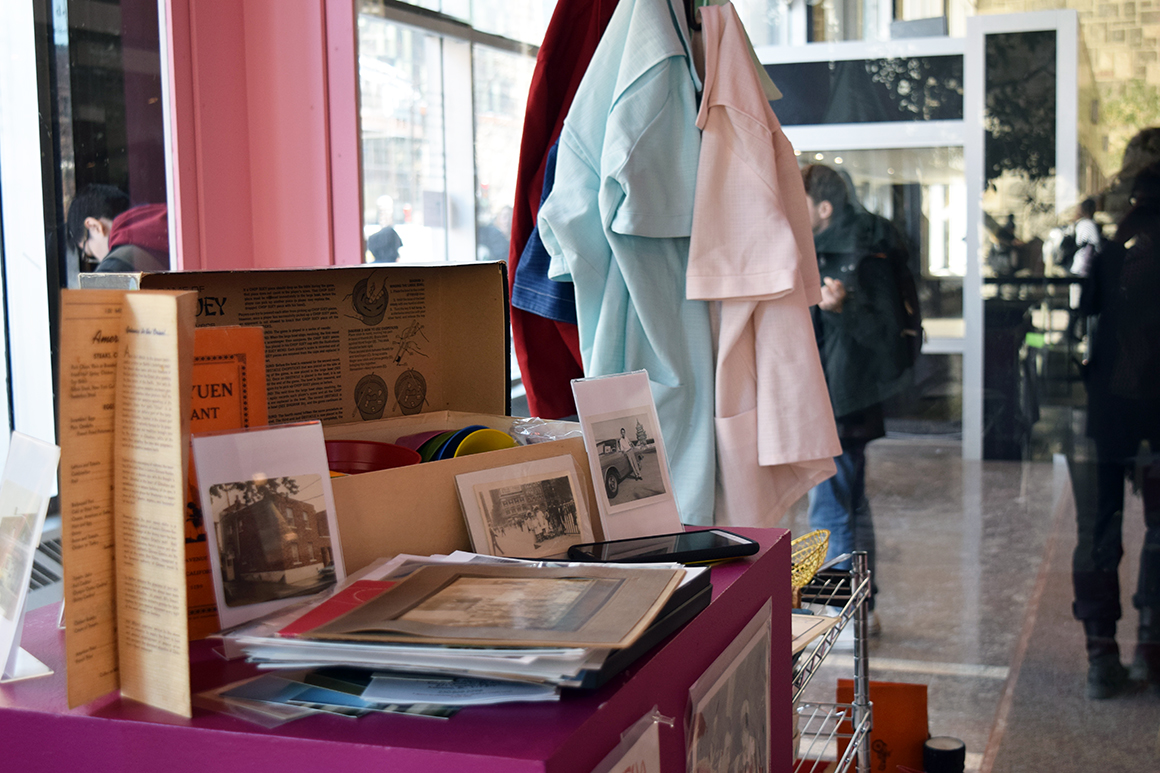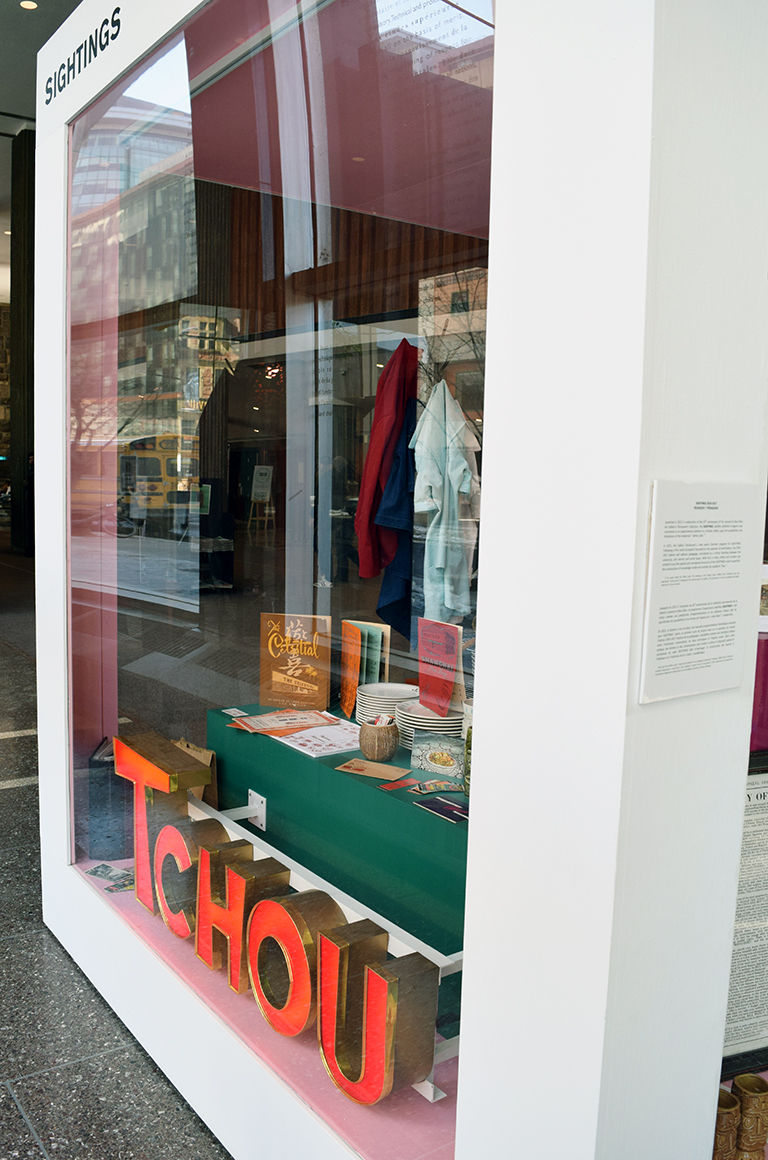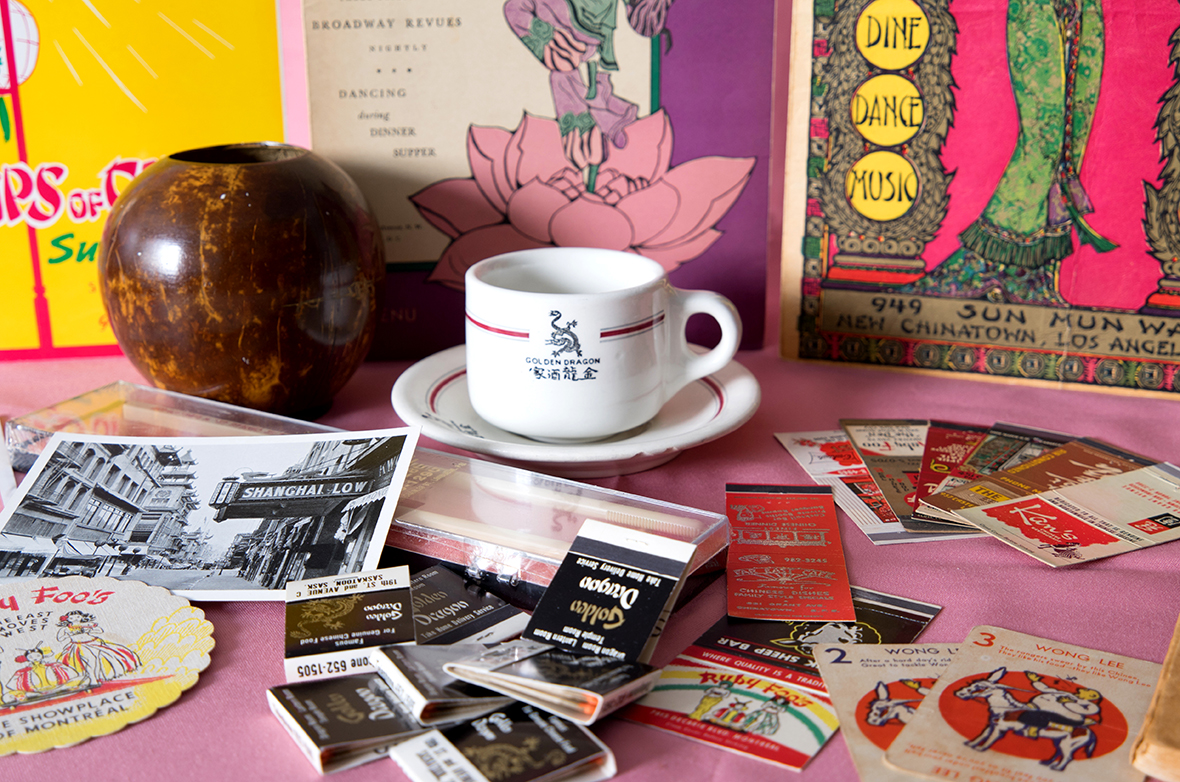 March 20 – June 17, 2017
A project by Karen Tam
Chinese Restaurants Hop
Thursday June 15, 2017, 2 pm to 5 pm
To mark the end of Karen Tam's project Souvenirs from the Jasmine Café, we are hosting a tasting tour of Chinese food from a few restaurants located in Concordia University's neighborhood. Tam develops her work in close dialogue with Chinese local communities and after visiting numerous Chinese restaurants in the area she has designed a gastronomic itinerary of five places who will offer a few of their specialties to taste.
This activity is free.
Meeting point: SIGHTINGS Cube
Hall Building, Ground Floor
1455 De Maisonneuve Blvd W.
In Souvenirs from the Jasmine Café, I revisit my long-time interest in the Chinese restaurant and propose an installation display of objects and documents from my collection of Chinese restaurant memorabilia that date from the 1920s to the 2000s along with newer restaurant 'artifacts' and souvenirs I have created. The North American Chinese restaurant is a fertile ground for the investigation of issues concerning race, the politics of display and representation. It is a living archive and collection of food, conceptions, images, and objects produced and consumed by those who work and/or eat there. The evolution of these establishments can be charted through their associated ephemera as they have adapted to suit shifting tastes over the decades.
…Recipe books, booklets, plates, glasses, teacups, teapots, chopsticks, ashtrays, swizzle sticks, bowls. Dining-in menus. Take-out menus. Souvenir menus. Souvenir photos. 4×5" negatives. Matchbooks, postcards, souvenir fans, trade cards, business cards, greeting cards, boxes, bags, napkins, fortune slips. Vinyl records, sheet music. Vintage Chop Suey games, neon signs. Red vinyl chairs, cash registers, polyester uniforms, t-shirts and chopsticks, lanterns. Coffee machine, meat grinder. Newspaper clippings, posters, coupons, raffle tickets…
Read more
Found in the home, in the basement, in the back of closets, in the attic, even in dust-covered boxes piled high in the garage, the archival materials of Chinese restaurants are the traces of lives spent behind in the kitchen, at the front in the dining rooms, of nights "slumming" in Chinatown while chowing down egg rolls and chop suey, of festive or special occasions, of petty disputes, legal notices, break-ins, hold-ups, and even murder. My collection of Chinese restaurant memorabilia took shape at around the same period when I began making artwork using the Chinese restaurant as a subject, prompted by my parents' decision to sell their restaurant. As a way of trying to hold on to a place and environment I grew up in, I began to document our restaurant through photographs, videos, drawings, etc. I produced artwork based on Chinese restaurants and at each place where I presented this work, I would connect with the local Chinese community and collect their stories, memories, family photos, and souvenirs of their time running restaurants. Over the years, I have augmented my collection by asking restaurants, retirees, friends and relatives for any spare menus or restaurant memorabilia, and purchasing matchbooks, postcards, newswire photos, and cookbooks off eBay. In some small way, I wanted to contribute and to capture the history and experiences of the restaurant communities I have come across.
Perhaps in collecting and creating an archive of these materials, not considered to be important enough to make it into an official version of history yet, they can be seen as counter-archives and acts of resistance to what has been erased, left out, and interpreted in public histories. As souvenirs of an 'exotic' place and of an experience of such spaces, these restaurant objects stand in for the absent racialized bodies and communities, raced by their location and purpose. In the storefront windows of the Chinese restaurant, there is a simultaneous seeing in and seeing out of what is on display and what is offered up to gaze. In re-presenting the ephemera in the the SIGHTINGS cube, a site not dissimilar to the exhibition vitrines and art displays at international airports where individuals are in transit and in between places, they are given a new life and can offer the chance to construct new meanings and new stories. Whether public or personal, collections and archives of these souvenirs can prove to be effective aids to comprehending the historical spaces of Chinese restaurants.
In choosing to examine places of commerce where the exotic has been domesticated and served up to meet the desires and needs of the visitor-tourist, I offer a gesture towards the reconceptualization of a dominant discourse (or a lack of it) on these hybrid Chinese places, and towards redressing the underrepresentation of Asian Canada in historic scholarship and archives. How may a collection such as this be linked to the neighbourhood surrounding Concordia University that has a large Asian presence? How did the menus and other printed materials change to reflect the demands of the time? What can be gleaned from materials like menus and postcards about restaurants and nightclubs? What can be read into the text, language, and imagery used? How can the collecting of restaurant souvenirs, photographs and ephemera expand Lily Cho's notion of the "archives of Chineseness" and act as remnants and evidence of the overseas Chinese restaurant culture as well as the building of a diasporic identity? Although most of the larger and more successful establishments could afford to promote themselves with newspaper ads, television commercials, postcards, matchbooks, etc. all of which now provide physical evidence of their existence in the Canadian and American foodscapes, smaller restaurants might not be able to compete at the same level. Menus, business cards, and a listing in the phone book or city directory might be the only trace of their existence. What is worth or what should be preserved? What is left out or left unheard and unseen is as important politically as who can produce, create, and distribute archival content.
Karen Tam
Close
Karen Tam is an artist whose research focuses on the various forms of constructions and imaginations of cultures through installations in which she recreates the spaces of Chinese restaurant, karaoke lounges, opium dens, curio shops and other sites of cultural encounters. Since 2000, she has exhibited her work and participated in residencies in Canada, Ireland, UK, Germany, Austria, USA, and China, in venues such as The Drawing Center (New York), Victoria & Albert Museum (London), Musée d'art contemporain de Montréal, and the Irish Museum of Modern Art. She was a finalist for the Prix en art actuel from the Musée national des beaux-arts du Québec in 2016 and shortlisted for the Sobey Art Award in 2016 and 2010. Upcoming exhibitions will be held at The Art Gallery of Greater Victoria (BC), Expression, Centre d'exposition de Saint-Hyacinthe (QC), and Musée régional de Rimouski (QC).
Tam holds a MFA in Sculpture from The School of the Art Institute of Chicago and a PhD in Cultural Studies from Goldsmiths (University of London). Her work is in the collections of the Irish Museum of Modern Art, Collection Prêt d'œuvres d'art du Musée national des beaux-arts du Québec, Caisse de dépôt et placement du Québec, Hydro-Québec, Canada Council for the Arts Art Bank, RBC Groupe financier, and in private collections in Canada, the United States, and the United Kingdom. She is represented by Galerie Hugues Charbonneau.