Jonathas de Andrade
Counter-narratives and Other Fallacies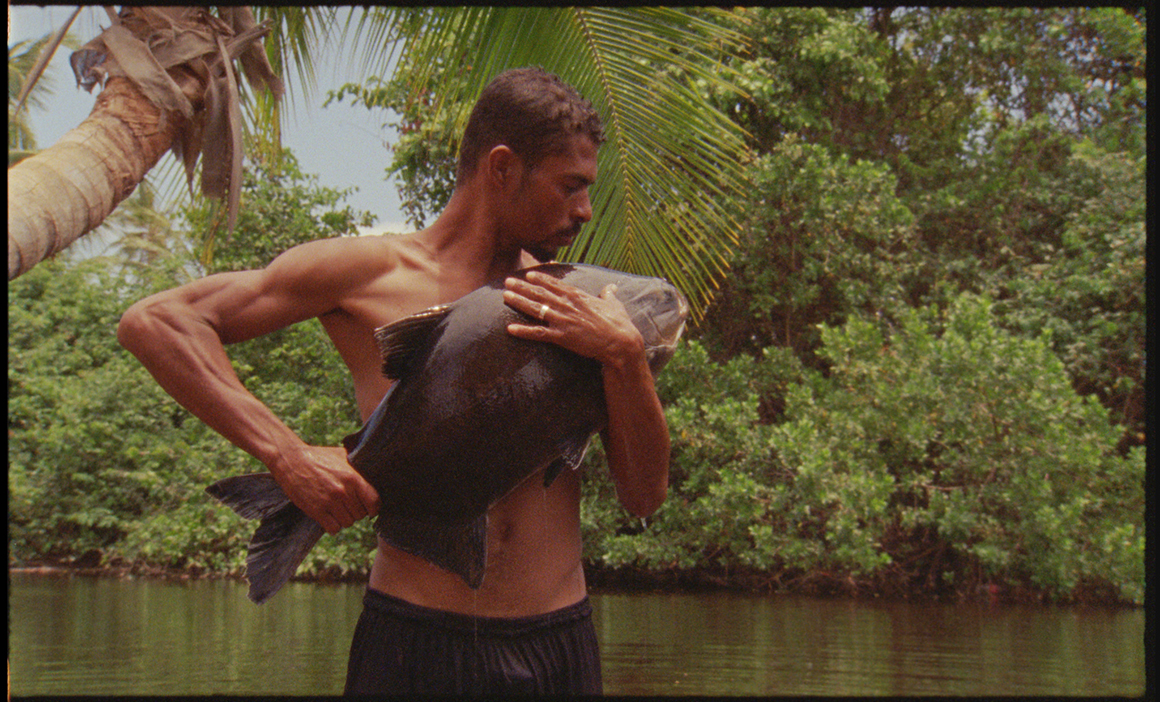 August 27 – October 12, 2019
Curator: María Wills Londoño, in collaboration with Audrey Genois and Maude Johnson
In partnership with MOMENTA | Biennale de l'image – 16th edition
In his research and documentation-based practice, the Brazilian artist Jonathas de Andrade addresses cultural and identity issues by exploring collective memory and historical narratives. Through photographs, videos, and installations, he deals with the blind spots and omissions of dominant narratives conveyed by the social, political, and ideological realities of the contemporary world. Historical perspectives, documents, and archives feed into interventions that highlight the systemic constructions arising from power relationships. Ambiguity is frequently used as a strategy to mobilize critical debate, as de Andrade seeks to uncover the relations of domination and inherent violence of these discourses.
Read more
In the  exhibition Counter-narratives and other fallacies, de Andrade presents the photo installation Eu, mestiço (2017) and the video O Peixe (2016). As its starting point, Eu, mestiço looks at Race and Class in Rural Brazil (1952), a book documenting the results of an anthropological research project that sought to identify recurring examples of racism and, more broadly, reveal the structural genesis of racism in Brazil.
Much like the ethnographic films made by anthropologists to document the cultures and traditions that they study, O Peixe depicts what appears to be a ritual among fishermen from a coastal village in Brazil. In front of the camera, a fisherman catches a fish and hugs it gently until it dies.
With these two works, de Andrade addresses the paradoxes that link corporality and violence. O Peixe examines the power relationships and dynamics of domination that humans enact over animals, but also toward their fellow human beings. The work plays with plausibility by offering a deliberately exoticized portrait of the Other. For its part, Eu, mestiço further complicates issues of representation and presence. The installation outlines current issues of racism in Brazil, while reassessing the methodologies and study results behind Race and Class in Rural Brazil, and the problems that it raises and conditions. The theatrical and performative relationship at the centre of these works creates a distancing that allows for the critical reappropriation and dislocation of "corporalized" violence: a possible deobjectification.
Translated by Kathe Röth
Close
Jonathas de Andrade was born in Maceió and lives in Recife, in northeast Brazil an area which is often the focus of his work
The Life of Things
September 5 – October 13, 2019
Under the theme The Life of Things, MOMENTA 2019 explores the nature—or even the personality—taken on by objects conveyed through images. Considering the relationships between people and things, the biennale also delves into the issues associated with the notion of power that is accorded to living beings while being withheld from the "non-living." Through the eyes of 39 artists from 20 countries, the biennale examines the economic, social, and cultural contexts in which material production is prevalent.
This poetic proposal was set out by curator María Wills Londoño and developed in collaboration with Audrey Genois and Maude Johnson. Together, they wanted to enrich our understanding of the complexity and ambivalence of our relationships with the objects that inundate our planet and alienate us, even as, paradoxically, they express aspects of our identity.

Shuvinai Ashoona
ᓄᓇᙳᐊᓕᐅᕐᓂᖅ ᓄᓇᕐᔪᐊᙳᐊᓂᒃ
Mapping Worlds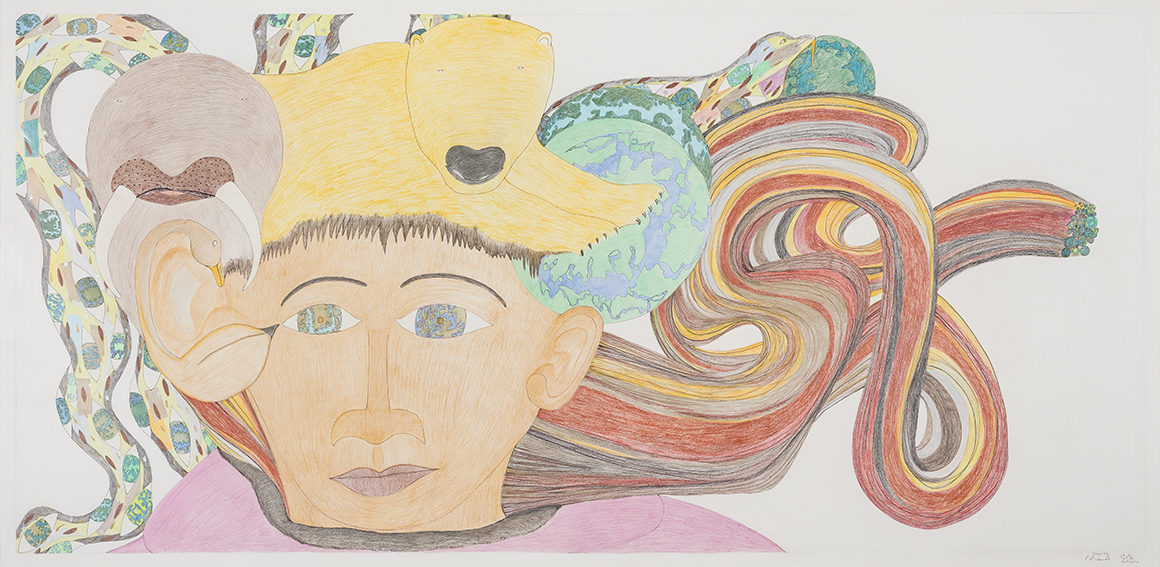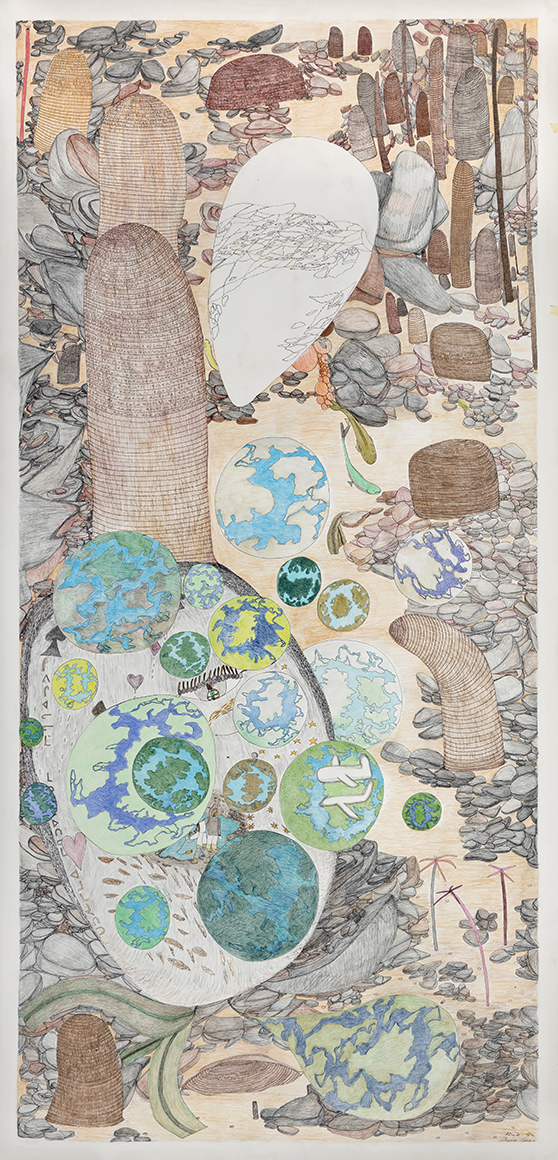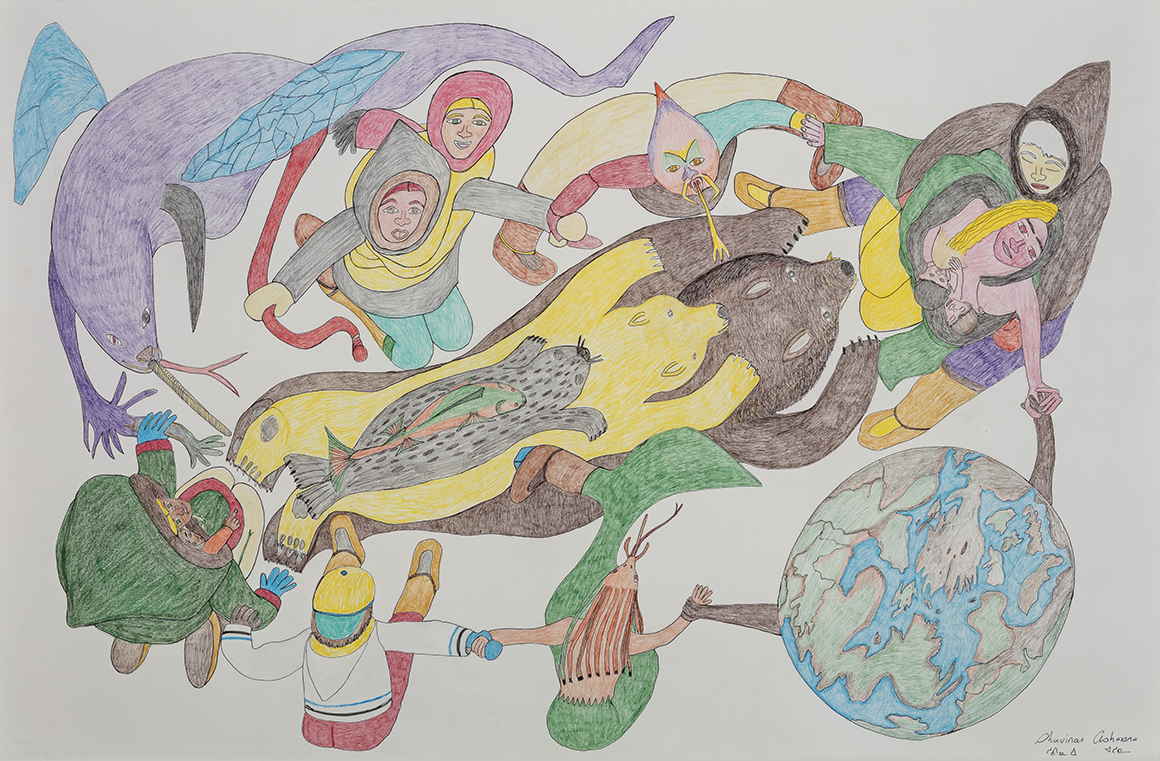 October 31, 2019 – January 8, 2020
Curator: Nancy Campbell assisted by Justine Kohleal
Mapping Worlds features drawings produced by Shuvinai Ashoona over the past two decades. Many of the artist's early drawings depict scenes of Kinngait (formerly known as Cape Dorset), Nunavut, continuing an artistic tradition begun by the Ashoona family, including her grandmother Pitseolak Ashoona (1904–1983) and cousin Annie Pootoogook (1969–2016). Ashoona is best known for her highly personal and imaginative iconography, with imagery ranging from closely observed naturalistic scenes of her Arctic home, to monstrous and fantastical visions.
Her drawings imagine the past and present fused into a prophetic future such as human-animal hybrid creatures, women birthing worlds, and mystical or otherworldly landscapes clearly inspired by the terrain of her northern home. Unlike many settler visions of the future that seem to dwell on clashes between humans and nature, humans and other humans, or humans and otherworldly 'invaders', Ashoona's earthly and extraterrestrial worlds exist within a kinder intergalactic future. By appropriating images from her fascination with horror films, comic books and television, Ashoona merges different imagery with everyday narratives to redraw the map of the boundaries between reality and fantasy, past and future.
Shuvinai Ashoona born 1961, Kinngait, Nunavut, Canada, lives and works in Kinngait. Solo exhibitions of Ashoona's work have been organized at Nunatta Sunakkutaangit Museum, Iqaluit (2013); MacKenzie Art Gallery, Regina (2012); Carleton University Art Gallery, Ottawa (2009); and Art Gallery of Alberta, Edmonton (2006). Her work has been shown in group exhibitions at venues including the Esker Foundation, Calgary (2017); Art Gallery of Ontario, Toronto (2017); Mercer Union, Toronto (2016), National Gallery of Canada, Ottawa (2014) and SITE Santa Fe (2014). Most recently, Shuvinai Ashoona received the 2018 Gershon Iskowitz Prize.
The exhibition is organized and circulated by The Power Plant Contemporary Art Gallery, Toronto with the support of The TD Ready Commitment, Major Donors The Schreiber Sisters, an Anonymous donor, the Canada Council for the Arts and the Ontario Arts Council.