Ways of Thinking is designed for anyone interested in exploring contemporary art and its exhibition frameworks. It offers contextualizing information on the concepts of the Gallery's exhibitions and programs, the artists and the works featured. You can find a general presentation, areas of inquiry and ideas to reflect upon as well as suggested Internet links and bibliographic references that allow you to gain a general understanding of the artist's approach to artmaking, the works featured and the curatorial framework adopted. It also offers a forum in which "ways of thinking" can be shared and compared: Within the ongoing program of the Gallery, and amongst the artists, curators, writers, and other contributors and participants including visitors. This takes on facets of physical and virtual forms, all of which are being collected here. Together, they form an information database and research repository that is accessible to students, teachers and anyone interested in the Gallery's programs. This archive is an active one, because it renders the meeting points between the individual parts of the Gallery's programs tangible.
OUT of SIGHT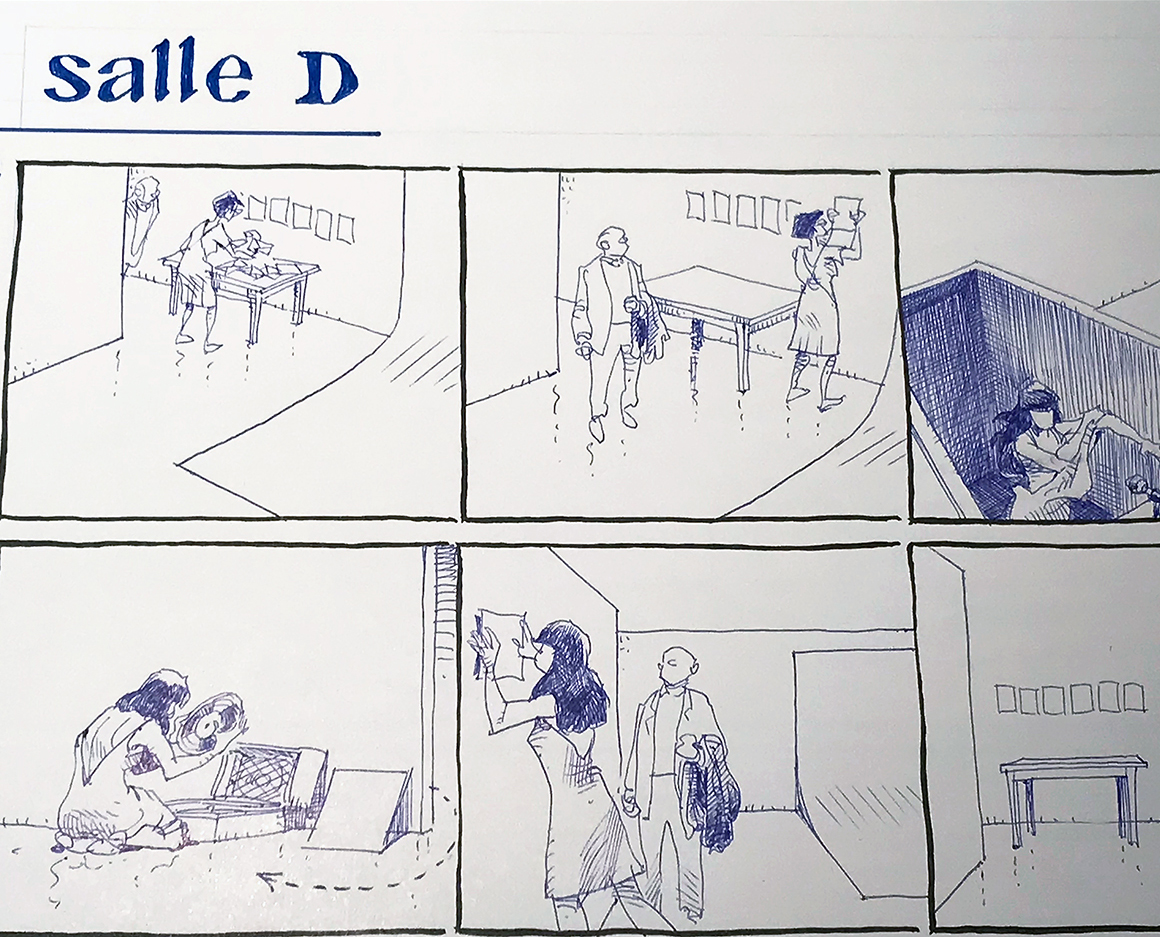 Stepping into the vestibule, before entering the gallery proper you are immediately presented with its maquette, a common but rarely public institutional tool usually shared between the curator and technical staff. Leaning over it permits a birds-eye view of the gallery and its five exhibition spaces. Using a model like this is one way to plan and test out an exhibition: miniature artworks and other elements are shifted around, architectural interventions are rehearsed, possible approaches to and transitions between the rooms are studied. Inviting projection and speculation the model suggests a certain primary form for the gallery and its role is to support the institution's study of its own space. With its roof removed it provides a comprehensive and simultaneous view of the exhibition space, one that is entirely unavailable when standing within the gallery proper.
Looking up from the model, you're a visitor again. You look out and around the gallery, instead of down and over. As a visitor you can generally circulate freely from work to work and room to room. Here, K (Karina) and LG (Lynda Gaudreau) approach you as you step into the gallery. They greet you and offer a guided tour.
Read more
The exhibition turns out to be only half complete, its centre piece an unfinished film staring K. As K leads you through the gallery it might become apparent that in the absence of a resolved work, one of your roles as a viewer is to take on a cinematic function. You're following a storyboard still in the works, testing out edits, linking images and performing transitions between rooms set as distinct scenes: a stage that K steps up on to, a room painted black and hung with works from the permanent collection and elsewhere, a photo studio, a lone electric organ, and a passage opening on to a corridor inside one of the walls. This is further assisted by a few key architectural interventions: the narrowing of door frames, hard-edged black angles painted along the walls that skew your perspective, changing soundtracks, and selective lighting.
By consenting to the tour you're asked to play the camera, to provisionally frame the missing scenes, to take in both the project's frayed edges and the excess of live performance and advance through the storyboard. Sometimes you're surveying the gallery by stepping into its walls or walking through an exhibition of paintings embedded among the sets. Still others you're pulled back into another form of exchange in spectatorship as K's tour shifts between narration and dance.
At the end, on your way out you need to return to the vestibule, where you can pass by the model and peer back down onto the idea of the gallery.
– Robin Simpson, Public Programs and Education Coordinator
Close
BIBLIOGRAPHY
Auslander, Philipe. Liveness: Performance in a Mediatized Culture. London: Routledge, 1999.
Auslander, Philipe. Presence and Resistance: Postmodernism and Cultural Politics in Contemporary American Performance. Ann Arbour: University of Michigan Press, 1992.
Blau, Herbert. The Audience. Baltimore: Johns Hopkins University Press, 1990.
De Marinis, Marco. The Semiotics of Performance. Translated by Áine O'Healy. Bloomington: Indiana University Press, 1993.
Fraser, Andrea. "Museum Highlights: A Gallery Talk." October 57 (Summer, 1991): 104-122.
Read more
Féral, Josette. "De la performance à la performativité." Communications 92, no. 1 (2013): 205-218.
Féral, Josette. "The Production of Theater: Stakes and Paradoxes." Revista Brasileira de Estudos da Presença 3 no. 2 (2013): 566-581.
Foster, Susan Leigh. Reading Dancing: Bodies and Subjects in Contemporary American Dance. Berkeley: University of California Press, 1986.
Gabler, Neal. Life: The Movie. New York: Knopf, 1998.
Giannachi, Gabriella, Nick Kaye and Michael Shanks, eds.. Archaeologies of Presence: Art, Performance and the Persistence of Being. London: Routledge, 2012.
Gil, José. "Paradoxical Body." TDR: The Drama Review 50, no. 4 (Winter 2006): 21-35.
Goffman, Erving. The Presentation of Self in Everyday Life. Woodstock, N.Y.: Overlook Press, 1973.
Guy, Georgina. Theatre, Exhibition, and Curation: Displayed and Performed. Basingstoke: Taylor & Francis, 2016.
Lehmann, Hans-Thies. Postdramatic Theatre. Translated by Karen Jürs-Munby. London and New York: Routledge, 2006.
Merz, Christian. Impersonal Enunciation, or the Place of Film. Translated by Cormac Deane. New York: Columbia University Press, 2016.
Pontbriand, Chantal. "Lynda Gaudreau, Jocelyn Robert en entretien avec Chantal Pontbriand." Parachute 102 (April/June 2001): 114-12.
Porter, Jenelle. Dance with Camera. Institute of Contemporary Art, University of Pennsylvania, 2009.
Rodenbeck, Judith. Radical Prototypes: Allan Kaprow and the Invention of Happenings. Cambridge, Mass.: MIT Press, 2011.
Rosen, Philip. Narrative, Apparatus, Ideology: A Film Theory Reader. New York: Columbia University Press, 1986.
Sontag, Susan. "Film and Theatre." The Tulane Drama Review 11, no. 1 (Autumn, 1966): 24-37.
Schechner, Richard. "Drama, Script, Theatre, and Performance." The Drama Review: TDR 17, no. 3 (1973): 5-36.
– – – – -. "Selective Inattention: A Traditional Way of Spectating Now Part of the Avant-Garde." Performing Arts Journal 1, no. 1 (Spring, 1976): 8-19
Uroskie, Andrew V. Between the Black Box and the White Cube: Expanded Cinema and Postwar Art. Chicago: University of Chicago Press, 2014.
Vardac, A. Nicholas. Stage to Screen. New York: B. Blom, 1968.
Close
Produced with the support of the Frederick and Mary Kay Lowy Art Education Fund.
Translation: Simon Brown
Artist
Lynda Gaudreau
Lynda has been leading an international career in the field of choreography. Since 2003 her work has increasingly shifted away from the "black box" of the theatre stage towards the "white cube" of the gallery space. Her research transposes choreographic practices into other artistic languages (visual art, architecture, film) to investigate the perception of space, the human figure and the object.
Her choreographic approach involves a constant dialogue with architecture, visual arts and cinema. She has created stage works, installations, exhibitions, concerts, films, publications and laboratories in various contexts (festivals, theatres, public spaces, museums, galleries). Her current preoccupations relate to the performativity of space and its aesthetic, social and political dimensions.
In 2009 Gaudreau initiated her OUT series, which includes a commission for the Festival d'Avignon (2009) and choreographed exhibitions for the Leonard & Bina Ellen Art Gallery (Montreal, 2010) and the M Museum (Leuven, 2012). Out of Mies, an installation and film project about Mies van der Rohe, premiered at the Architectural Association in London in March 2014.
Fermer
VIEWPOINTS
EXPLORE